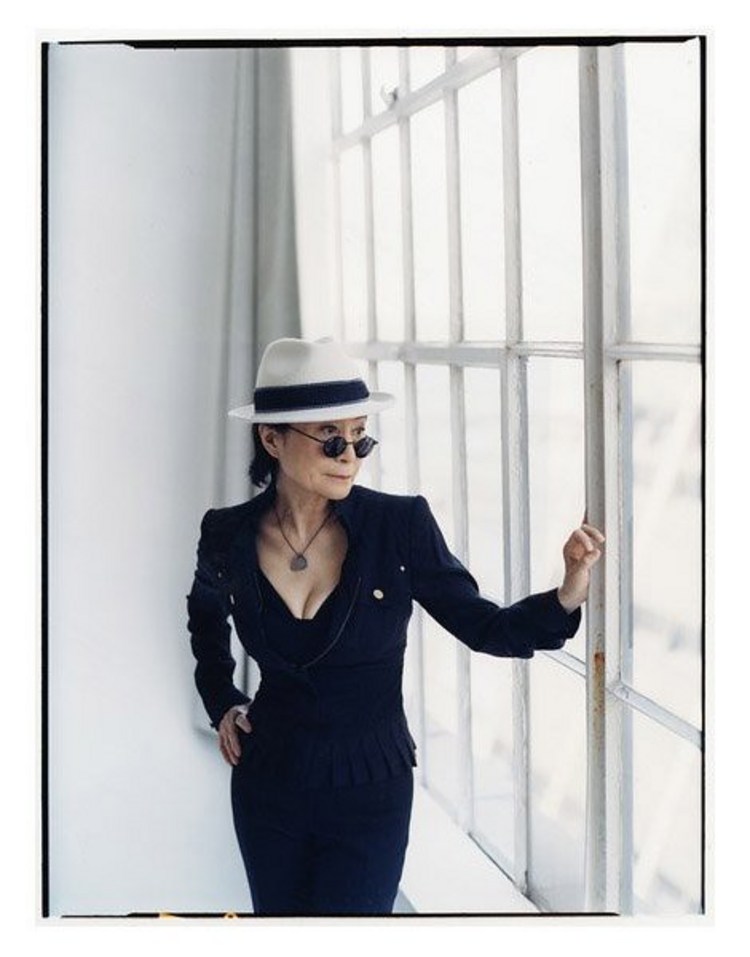 YOKO ONO: IMAGINE PEACE
(PID:2891999645)
Source
posted by
Yoko Ono
alias
Yoko Ono official
on Saturday 27th of September 2008 05:04:33 PM
By: Forrest Reda www.JamBase.com By definition, the term avant-garde represents a pushing of the boundaries of what is accepted as the norm or the status quo, primarily in the cultural realm. Yoko Ono represents the very essence of avant-garde. Throughout her career she has consistently pushed the envelope artistically and politically. Ono has led a remarkable life, first as a member of the influential Fluxus movement from the early '60s and most famously as the wife of John Lennon. Ono met Lennon in 1966 at an exhibition of her work in London. At the time Lennon was one of the most famous people in the world. Ono's indifference with his celebrity, the positive energy that she radiated and the interactivity of her work intrigued Lennon. Ono recognized a man in need of something that his fame had not given him. Ono's Wikipedia entry states that Lennon's first personal encounter with the artist involved her passing him a card that read simply, "Breathe." For the next two years Ono and Lennon corresponded frequently and their relationship deepened. George Harrison's ex-wife, Pattie Boyd, wrote in her autobiography that while Lennon was in India with the rest of The Beatles and their assorted wives or girlfriends, Ono sent him a note that read, "If you see a cloud in the sky today, know that it is me sending you my love." In the spring of 1968, Lennon sent his first wife Cynthia away on a vacation and the night before her return, he invited Ono to his country home. They stayed up all night and recorded some experimental music entitled Two Virgins. The title was related to the fact that they consummated their relationship at dawn after the recording session. It was the first glimpse of the music of Yoko Ono, and when it was released in 1970 it was met with derision by the music press and Beatles fans. Her guttural screams and tribal whining was not meant to please anyone except herself. It was merely the music inside her head, expressed as best she could at the time. Perhaps Lennon recognized the potential, or at least he respected the honesty. Because of the perceived notion that she came between Lennon and the rest of The Beatles, the music media and fans persecuted her. The Beatles would have broken up regardless. They were trapped inside a fishbowl and touring had become impossible because of all the attention they received. Ending the band was the only way each of them could move forward musically, and the many years together had frayed their friendships. They were looking for a way out. Lennon later admitted to Rolling Stone that he used Ono to drive a wedge between him and the band, saying, "It was like, now I have the strength to leave, because I know there is another side to life." Lennon recorded some of his best work post-Beatles, including "Imagine" and "Happy Xmas (War is Over)," but slowly changed his focus away from music. Ono and Lennon devoted themselves to the peace movement and the lifestyle of activists. Hounded by authorities and ostracized by a music press that just wanted The Beatles back together, the "two gurus in drag" were destined to wait for the world to catch-up with their musical ideas. John and Yoko were seldom apart, save for an 18-month-long "lost weekend" that Lennon spent in Los Angeles getting a last gasp of the single life before he returned to New York in 1974, and dedicated himself to Ono. They had a son, Sean, whom he doted after lovingly for the later half of the 1970s. When Lennon heard the B-52's song "Rock Lobster" in 1979, he decided to get back to work. "It sounds just like Ono's music," he told Rolling Stone, "so I said to myself, 'It's time to get out the old axe and wake the wife up!'" Lennon set out to work on new music with his wife. He was returning home from the recording studio, having just finished mixing the song "Walking On Thin Ice," the night he was shot outside his hotel residence. He died in Ono's arms on a cold night in December, but his spirit lives on, enduring through their message of peace. After her husband was murdered, Ono completed the album they were recording. Season of Glass was a critical breakthrough for her, and she would continue to release albums in the 1980s that would influence the new wave and electronic music movement. While the art world embraced her early on, the music press and Beatles fans have maligned Ono based on the misnomer that she broke up The Beatles and the unfair and untrue characterization that she capitalized on Lennon's musical legacy. She and Lennon were musical partners. It was Ono who first said that, "Woman Is The Nigger of World," an expression and idea her husband would later write a song about. Her art and music has consistently shocked people, but on her MySpace page, Ono writes: "People think that I'm doing something shocking and ask me if I'm trying to shock people. The most shocking thing to me is that people have war, fight with each other and moreover take it for granted. The kind of thing I'm doing is almost too simple. I'm not interested in being unique or different. Everyone is different. No two persons have the same mouth shape for example, and so without making any effort we're all different. The problem is not how to become different or unique, but how to share an experience, how to be the same almost, how to communicate. Basically I am interested in communication and therefore participation of everybody. I'm just part of the participation and the thing to participate should be basically a mind sort of thing. I can express it in any medium, just as you use water in everything for cooking." Ono has endured criticism from those who do not understand her music, but that hasn't stopped her from continuing to create the music that she hears in her mind. In the process, Yoko Ono became a pioneer for punk music, indie music and electronica, which has provided her a perfect medium for the beats that have been playing inside her head for so many years. Her influence on these varied genres has never been more apparent. In 2006, Ono collaborated with some of today's indie and electronic darlings including The Flaming Lips, Cat Power, Spiritualized, The Polyphonic Spree and Le Tigre for an album seemingly named for all her critics. Yes I'm a Witch became a surprise hit, with the song "Walking On Thin Ice" reaching the top of the dance charts. Two more remix singles followed, "Every Man/Every Woman" and "No, No, No." Another single, "You're the One," was the number six club record of the year. Not bad for a woman who turns 75 this month. The reworked versions of Ono's music pulsate with energy. It may be electronica but the underlying energy is organic and powered with love. Yoko Ono's music is more relevant and important then ever, but success and critical adoration is not what she is after. She wants to create peace on Earth. Ono capped her amazing year by dedicating the Imagine Peace light tower in Iceland to her late husband in December. The light tower had been a sketch in her notebook that Lennon took note of and suggested she build. Now, each year on December 7 a beam of light shoots up from Iceland to commemorate Lennon's life and his vision of peace on Earth. Carrying on the legacy of Imagine Peace that she and Lennon started, Ono travels around the world as a peace ambassador. Her message is simple: Imagine Peace. It sounds too simple to be effective but Ono says, "You can't be sad or resentful or attacking somebody when you are just imagining peace." Ono has a strong online presence and blogs regularly on her MySpace page. She writes that she is constantly dancing through life – in her mind – and invites everyone to join her. In a phone conversation with JamBase, Ono talks about her collaborative spirit, why artists need to push the status quo and (with apologies to Neil Young) why music can still change the world. Q: You enjoy remixing and having others remix your songs, and collaborating with different musicians on projects. What drives this collaborative spirit? Yoko Ono: I like the idea of so many people remixing "Oh No" because I think the song itself is so strong, and it can take so many different kinds of mixes. I'm an experimental artist. At the start, I was an avant-garde artist, so I've always liked the idea of experimenting. Q: During your entire career you have encouraged your patrons to take part in the experience, for example the "Painting to be Stepped On" or the "Cut Piece". Y: Yeah, exactly. Boy, it's amazing you knew that [laughs]. Q: [Laughs] Well, I've been doing a lot of research. Y: It's amazing you know anything about us [laughs]! Q: A lot of your work I discovered while I was in college, and I'm jumping the gun here a bit with my questions, but I remember listening to John Lennon's Live in New York City and hearing "Woman is the Nigger of the World" for the first time and being absolutely floored. It's such a powerful song. Then I found out that song was based on something you said in an interview. Y: Some people think, "Oh my god, what did she do?" They get very upset about it, even now. Q: Even today, it's still a very shocking thing, but the way that the song is written and performed by John, I feel like it's a love song. Y: Yes, it is, isn't, it? [Here is a live performance of the song and further background on the tune.] Q: JamBase: You first said that statement in the 1960s. Is it still true today? Y: I think it's still true. A lot of things are still not right and not just. Q: Besides feminism, what are the themes of your new music? Y: I'm getting more and more political now. Well, that's not quite correct, because I've always been political in a way, but right now that is where my emphasis is because it's an age where you really need to try and change the world. Q: It seems like you caused John to become more political in his work. Y: Well he was always political. He had that side to him but he couldn't bring it out when he was in the band, you know? Q: You've had the chance to work with many of the most influential musicians of the past 50 years, and your own music has transcended many different genres. Who have been your best teachers, and what have they taught you? Y: Well, I don't know, I think that the whole planet is my teacher. I was always just doing my own thing in a way. I don't feel like I specifically learned something from anybody. Q: It seems critically and commercially, the music world has finally caught up with you. Y: I don't know, maybe they think that there's something going on. Q: It's remarkable really, the success you've had in the past year on the dance charts. Y: I know, I'm surprised, too. Q: Was this something that you expected 20 years ago? Did these songs sound like this inside your mind or has it been a new process to adapt them? Y: I was just doing paperwork in my head. I was just making songs. I didn't think that they would ever be accepted. Q: Do you think the old meaning of pop music has faded, or has alternative music become the new mainstream? Y: Yeah, alternative music is IT. Indie music is IT, and never was before, you know? I was the first indie music [laughs]. Q: I think you were the first indie rocker, the first punk and maybe the first electronic artist, too. Y: But the thing is no one really knows that. Isn't that funny? Q: It's almost like you and many other artists were kind of paving the way, pushing open the door to music that the commercial music press resisted. Y: It's so interesting to stretch the horizon of what you can do. It's very important, or shall we say that I feel that if you are not doing that, what are you doing? Q: What's the point if you aren't inspiring change? Y: Exactly. Q: Is electronic music the new rock 'n' roll, in terms of it being the voice of the young against the establishment? Y: Yeah, well, it's very important always. It's good for the establishment to be pushed. They start to get more aware. Q: How does music affect politics today? Does it have the social impact it once did? Y: It's starting to have more impact. It's working very slowly. What is happening in the world is unheard of. We never had this kind of situation. It's really on a very big level that the war machine is working, so in order to try and make peace in the world in this type of situation it doesn't happen in one day. Q: In one of the clips on your MySpace page you say that we need more people working in the peace industry. Y: We need more people in the peace industry, yes. We need to keep enlarging the peace industry to the point that the war industry is finished. Q: You would think that as humans we would rather do something to help humanity rather than hurt humanity. Y: I just can't believe that some people are willing to hurt humanity [but] for what reason? Q: I suppose it's for greed, power and money. I would hope that as a planet we turn that around so that people are motivated for peace. Y: The money doesn't help most people. Most of the people are getting poorer and poorer, because they are using all the money for war. It's a very strange situation. Q: What is the state of the peace movement now? How does it compare to the 1960s and 1970s? Y: In those days we were waving flags, so it was clear that something was going on. But now, I think people are doing it in a different way. They are not waving flags, but they really visualizing peace, and I think it's going to work out. Q: Your message of "Imagine Peace" is inspirational and relatively easy for individuals to practice. Y: People are saying, "Isn't there more to do than just imagining peace?" But look what's happening now. Think about it, even on a logical level, when you are imagining peace, you can't be angry or you can't be violent. I think [the idea] "Imagine Peace" is pretty strong. Q: If everyone just took the time for a little meditation each day... Y: Exactly. Also, you can't be sad or resentful or attacking somebody when you are just imagining peace. Q: Has consumerism been employed to distract us? Y: We are just being entertained to hell. It's a sad situation. Q: Describe the differences that you see in personal liberties in the United States in the 2000's with George Bush, compared to the 1970s under Richard Nixon. Y: Anyone can try [to take our personal liberties away] but it's not going to happen because thoughts are really inside us, and they can't control our thoughts. JamBase | Worldwide Go See Live Music!
License and Use
This Young M.a Relationship - yoko-ono-imagine-peace on net.photos image has 470x600 pixels (original) and is uploaded to . The image size is 41525 byte. If you have a problem about intellectual property, child pornography or immature images with any of these pictures, please send report email to a webmaster at , to remove it from web.
Any questions about us or this searchengine simply use our contact form
Published

12.01.21

Resolution

470x600

Image type

jpg

File Size

41525 byte.