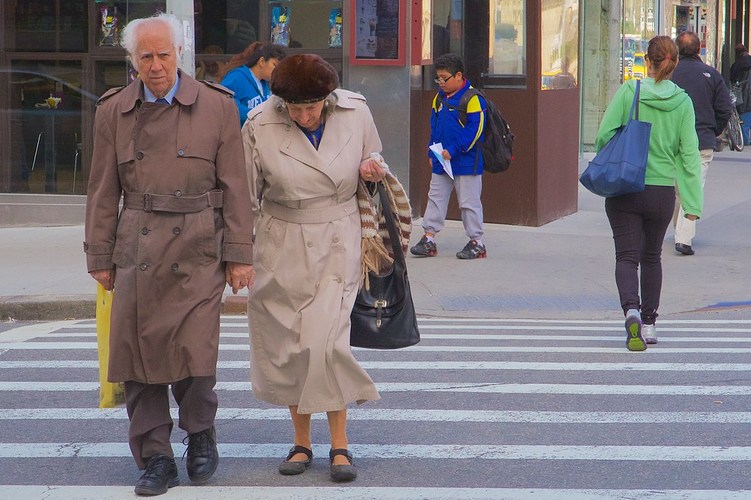 Still crazy for each other, after all these years ...
(PID:17888490922)
Source
posted by
Ed Yourdon
alias
Ed Yourdon
on Wednesday 20th of May 2015 10:06:40 AM
This was taken at the northwestwest corner of Broadway and 95th Street. Of course this is a couple! Why would you think otherwise? Having become almost as old as the couple that you see in this photo, I can tell you an interesting thing about the reaction from all of the other relatively-young people that you see in this photo: they simply don't notice the old couple at all. They are invisible, and it's a wonder someone doesn't knock them down as they walk along the street. But I noticed them, and it made me smile to see that, after all these years, they still hold hands. Note: a day after I took this photo, I saw the same couple on Broadway again, at roughly the same time in the afternoon. But they were a little further south -- on Broadway between 94th and 93rd St. They were wearing different coats, but she was still wearing the same beret ... Note: I chose this as my "photo of the day" for May 20, 2015. ********************************* I am fascinated by the couples I see out on the street, and have decided that I should devote a Flickr album to show you some of the examples I've seen. It's only been the past couple of days that I've decided to focus on couples specifically, so it will be a month before I feel that I can review and edit the new photos I've taken, without being too subjective about what I like and dislike. In the meantime, I'll go through the photos I've already taken—which extends back over 45 years—to see which couple-related photos look worthy of bringing to your attention. Why am do I find couples so interesting? The simple answer is: public displays of affection. I'm a sucker for situations where I see a couple embracing, hugging or kissing; and I can't help smiling even when I see an ordinary couple walking down the street, holding hands. Sometimes it's even more subtle: it may be only the body language that shows you something special is going on. Indeed, sometimes I have to be very careful: the mere fact that two people are walking side-by-side on a crowded street does not necessarily mean that they even know each other, let alone that they are a formal couple. But you can usually tell by watching for a few seconds: even if they are not holding hands, a "real" couple will tend to adopt a common stride, and they'll move their legs and feet in tandem. Sooner or later, one of them will look at the other; or one of them will reach across and grab his/her partner's hand. Sometimes it's not the affection that catches my interest, but the individuals themselves. If it's two beautiful people, I can't stop help staring in amazement and appreciation. And if it's two ugly people, I often think to myself, "Thank goodness the two of you found each other!" Sometimes one of them is beautiful, and the other one is not; and then I find myself thinking, "What on earth is he doing with her?" Or, obviously, the converse: "What on earth is she doing with him?" Sometimes the situation does not cry out, "These two don't belong together," but merely, "Who on earth would have predicted that these two would have found each other? I wonder how that ever happened?" Of course, the very term "couple" can be a little tricky these days — especially in a large, multicultural city like New York. Most of the couples that I see are old-fashioned traditional "straight" couples; but more and more of the couples are gay pairs, of one persuasion or another. I'm delighted that the gay couples look happy and unembarrassed; and I'm even happier that nobody (at least here in NYC) pays any attention to them. Indeed, my definition of "couples" is broader and more general than just two adults who have some kind of relationship. I'm equally interested in couples that consist of parent and child, or brother and sister, or even two friends who get along well but who may not have any romantic association at all. And it doesn't have to be a twosome: three or four close friends, or a parent with several children, or any other reasonable combination, is still something I'm likely to notice and photograph. So I'll start this album by adding any existing couples that I've already photographed in the past (and who have thus appeared in one or more other Flickr albums of mine), and will add some notes to indicate why I think they are an "interesting" couple. That should keep me busy for a while, and within a few weeks, I'll start adding "new" couples that I've seen on the street, and that I've decided photograph primarily they are couples. If you see any of my other Flickr photos that you think should be included here, please let me know. This is the continuation of a photo-project that I began in the summer of 2008 (which you can see in this Flickr set), and continued throughout 2009-2014 (as shown in this Flickr set, this Flickr set, this Flickr set, this Flickr set, this Flickr set) ), this Flickr set) ), and this Flickr set) ): a random collection of "interesting" people in a broad stretch of the Upper West Side of Manhattan -- between 72nd Street and 104th Street, especially along Broadway and Amsterdam Avenue. These are the people in my neighborhood, aka "peeps in the 'hood." As I indicated when I first started this project six years ago, I don't like to intrude on people's privacy, so I normally use a zoom telephoto lens in order to photograph them while they're still 50-100 feet away from me; but that means I have to continue focusing my attention on the people and activities half a block away, rather than on what's right in front of me. Sometimes I find an empty bench on a busy street corner, and just sit quietly for an hour, watching people hustling past on the other side of the street; they're almost always so busy listening to their iPod, or talking on their cellphone, or daydreaming about something, that they never look up and see me aiming my camera in their direction. I've also learned that, in many cases, the opportunities for an interesting picture are very fleeting -- literally a matter of a couple of seconds, before the person(s) in question move on, turn away, or stop doing whatever was interesting. So I've learned to keep my camera switched on, and not worry so much about zooming in for a perfectly-framed picture ... after all, once the digital image is uploaded to my computer, it's pretty trivial to crop out the parts unrelated to the main subject. Indeed, some of my most interesting photos have been so-called "hip shots," where I don't even bother to raise the camera up to my eye; I just keep the zoom lens set to the maximum wide-angle aperture, point in the general direction of the subject, and take several shots. As long as I can keep the shutter speed fairly high (which sometimes requires a fairly high ISO setting), I can usually get some fairly crisp shots -- even if the subject is walking in one direction, and I'm walking in the other direction, while I'm snapping the photos. With only a few exceptions, I've generally avoided photographing bums, drunks, crazies, and homeless people. There are plenty of them around, and they would certainly create some dramatic pictures; but they generally don't want to be photographed, and I don't want to feel like I'm taking advantage of them. There have been a few opportunities to take some "sympathetic" pictures of such people, which might inspire others to reach out and help them. This is one example, and here is another example. The other thing I've noticed, while carrying on this project for the past six years, is that while there are lots of interesting people to photograph, there are far, far, far more people who are not so interesting. They're probably fine people, and they might even be more interesting than the ones I've photographed ... unfortunately, there was just nothing memorable about them. They're all part of this big, crowded city; but for better or worse, there are an awful lot that you won't see in these Flickr sets of mine...
on topic
License and Use
This Young M.a Relationship - still-crazy-for-each-other-after-all-these-years- on net.photos image has 1024x682 pixels (original) and is uploaded to . The image size is 191005 byte. If you have a problem about intellectual property, child pornography or immature images with any of these pictures, please send report email to a webmaster at , to remove it from web.
Any questions about us or this searchengine simply use our contact form
Published

07.02.22

Resolution

1024x682

Image type

jpg

File Size

191005 byte.