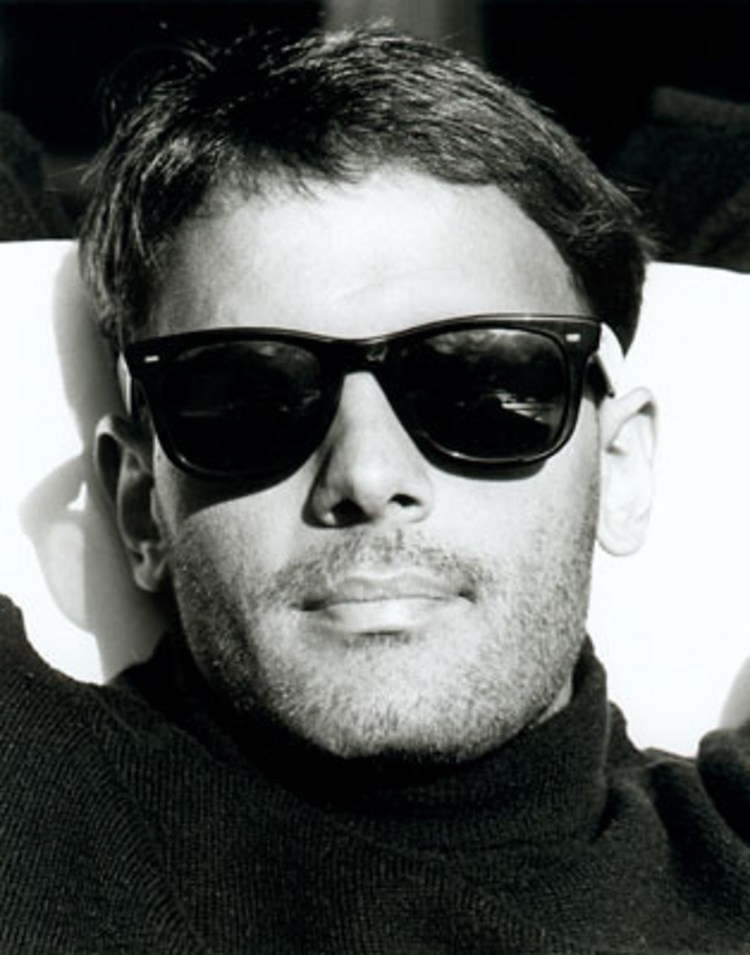 CAZUZA (1958/1990): "Os idiotas são mais felizes. Eles não sabem que vão morrer"
(PID:5192650530)
Source
posted by alias
dagmar do carmo-dgc
on Saturday 20th of November 2010 05:44:12 PM
para me lembrar a doce brisa rebelde que um dia (bem distante!!!!..eitah!...'=Ó ...! .) soprou e acaricou suavemente o meu pensar enquanto eu era uma adolescente... .............................................. "Amar é abanar o rabo, lamber e dar a pata..." - Cazuza .................................................... Medieval 2 Composição: Cazuza / Rogério Meanda Você me pede Pra ser mais moderno Que culpa que eu tenho É só você que eu quero Às vezes eu amo E construo castelos Às vezes eu amo tanto Que tiro férias E embarco num tour pro inferno Será que eu sou medieval? Baby, eu me acho um cara tão atual Na moda da nova Idade Média Na mídia da novidade média Olha pra mim, me dê a mão Depois um beijo Em homenagem a toda Distância e desejo Mora em mim Que eu deixo as portas sempre abertas Onde ninguém vai te atirar As mãos vazias nem pedras Eu acredito nas besteiras Que eu leio no jornal Eu acredito no meu lado Português, sentimental Eu acredito em paixão e moinhos lindos Mas a minha vida sempre brinca comigo De porre em porre, vai me desmentindo Será que eu sou medieval? Baby, eu me acho um cara tão atual Na moda da nova Idade Média Na mídia da novidade média vídeo - youtube: www.youtube.com/watch?v=cL4PPakSpds ....... Cazuza by Cazuza Cazuza - 1990 My music is part of a story that started when my grandfather, owner of a sugar mill and plantation in Pernambuco (a state in the northeast of Brazil), decided to live above the Leblon beach in Rio de Janeiro, he was the third person to settle there. My father, João Araújo, was born there, and he married a beautiful young girl, Lucinha who sang like a bird. A woman who became important in the music scene and who had her recording of the song "Peito vazio" (Empty breast) (by Cartola) included in the soundtrack of one of television's first telenovelas. I enjoyed watching her sing and I think it influenced my future a lot. My father was also a deciding factor. He always worked with records and when I was a boy, we had a house full of artists. Singers came and went the whole time. I met Elis Regina, the Novos Baianos, Jair Rodrigues, who liked to swing me up in the air, and other singers. At our house we breathed music all the time. At that time I wanted to be a great architect and all I was interested in was drawing little maps of the city, tracing streets and sketching buildings. This habit stopped when I decided to take the entrance exams for university and I saw I was no good at math. As with the maps, I also wrote poetry secretly, hidden from my parents, because I was a romantic, a guy full of heartaches. Being an only son has its good and bad sides. My mother and father, because of their professional life had to lead quite a bohemian lifestyle - which I ended up inheriting as well - and always left me with my maternal grandmother. She was a fantastic woman, very crazy, open and she left a big hole in my life when she died. I was left alone, without a brother to share the happiness and the sorrow with me. I didn't have the courage to tell my parents about my poetical vocation, because I thought they would be against it. So I discussed verses, rhymes with my granny. She was the person who most influenced my childhood and adolescence. My mother and father weren't repressive. At 13 I had the house keys and my dad's car to drive. I started sex late in life, at 15. My friends had already experienced women for a long time but I was worried about the romantic side of things. That's why I never went looking for prostitutes with my friends and could only have relations if the girl was my girlfriend. My first was an older woman who gave me great lessons in sex. I got my diploma straight off. I left and went straight to my father and told him everything. I've thought of joining up with some woman because I feel very lonely. But I can't find anyone who understands me and at this stage I don't know how to share anything anymore, let alone an apartment. I haven't got the patience to be expected to do things and women don't understand that I like being alone with my verses, listening to music or then simply in silence. I even did, actually, live with one, but it didn't work out. I've always been an OK guy, without the rebelliousness of the young guys of today. Of course I sometimes ran away from home, but I always returned like a good boy. At 17, I started to discover that my poetry could become lyrics, but I only fully assumed it at 23, when I became a member of Barão Vermelho. Before that I looked to find out everything I could about theater, because I knew it was a good way for me to become a singer. I went and spoke to Perfeito Fortuna, of the Circo Voador(Flying Circus), to enter his drama course. I then started rehearsing the play they were putting on, "Pára-quedas do coração" (Parachutes of the heart). I got excited on opening night when Léo Jaime, who was also in the play, told me he knew of a rock group that was beginning that needed a singer. It was a band called Barão Vermelho (Red Baron). I went to meet them the next day and there my story started. What I saw was four boys making a lot of noisy music: Roberto Frejat (guitar), Maurício Barros (keyboards), Dé (bass) and Guto Goffi (drums). Dé was 16 years old and the eldest were Frejat and Guto, who were 18. They didn't know I was the son of the president of the Som Livre recording company. They were just a group of guys who didn't care who was son of this or that important father. They just wanted to make music, be successful and get the public's attention. We started doing small shows around town, in the underground night-life. Almost a year after having done many shows, Ezequiel Neves deigned to listen to a tape we had done. He made a big scandal and as he was the producer for Som Livre he went to convince Guto Graça Mello, artistic director of the company to give us a chance. He also agreed, saying he was impressed with the group's aggressiveness. It was take it or leave it because he felt that we could go to another recording company. My father had difficulty in accepting the idea, even faced with Zeca and Guto's arguments. He was against it all the time. He believed the critics would crucify me and it would look like a case of flattery, of protection of the boss's son. But we recorded our first LP in 48 hours in the studio, a totally garage thing. And , to top it all, the studio recording accentuated a defect I have, my lisp. I lisped a great deal. Of course no radio would play it, because it was totally different from the normal radio broadcasting's. But it just so happened that Caetano Veloso opened his show "Uns"(Some), at the Canecão, and included in his repertoire "Todo amor que houver nessa vida"(All the love in this life), music by Frejat with my lyrics. Soon after, we had a hit, "Pro dia nascer feliz"(For the day to be born happy), from our second record, and next came "Bete Balanço", theme of the film by Lael Rodrigues. Our third LP, "Maior abandonado"(Of Age and Abandoned), gave us a golden record. After that the battle was won. The misunderstandings with Barão started with Rock in Rio. It was really just jealousy of the boys wound up by the press, who always put me first in interviews, or even the public itself who shouted my name out in shows. I suddenly felt that only child thing, that won't share anything with anybody, who always says he made the goal because the ball is his. And also there shouldn't be pain. And pain was starting to happen. I wanted to do stuff and they disagreed. We were just about to go into the studios to record our fourth LP when I decided to drop out. It was great for both sides. The pain finished, I continued to be friends with them, my partnership with Frejat got even better and "it's only rock'n'roll and we like it"! My parents were very understanding when I started admitting to being bisexual in interviews. They just thought I was exaggerating, exposing myself, but that's their role. If there is something wrong, it's with me. I look for the answers through life. When I'm old and die, no one is going to remember this side of me. Only the music will remain. That's all the public will get from Cazuza. I don't plan anything to compose. I think that I'm the most disorganized person you can imagine. Everything happens to me suddenly, because I never know what the outcome of things will be. Now, when inspiration comes, then I work hard, I'm very systematic. When I sit at my table and work, I really do. If no ideas turn up I sit there till they do. I'm only disciplined in my work. It can even be at four o'clock in the morning. But if I start a lyric it's got to come out. Then I can spend weeks perfecting the images, the rhymes. Ever since the first record with Barão, Zeca has called my attention to my transgressor side. I've always bared myself in my lyrics. He said: "Take it easy, we're in 1982, times are tough. Say everything that's on your mind, but if you want or no, I'm sending different lyrics to the censure, inoffensive ones. They'll approve and then you can sing and record whatever you like." It almost always worked out okay. And that's only because in the case of "Só as mães são felizes"(Only mothers are happy), I screwed up and sent the true lyrics. Of course they vetoed them. They didn't understand that it was a moralist thing, post-Nelson Rodrigues. I used strong images to speak of my prejudice about the fact that no mother in the world should be allowed to go through the tough times I was going through. It was as if I was saying that mothers are to be put on an altar and worshipped. But the funniest thing happened when we sent the lyrics of "Exagerado" (Exaggerated) for Leoni to put to music. There were about thirty or so verses. He had to shorten it slightly. Only he shortened it too much. The title could have been "Shy", because he'd cut out great hunks. I need only say that the verses: "Por você eu largo tudo(For you I'd leave everything) / Carreira, dinheiro, canudo(Career, money, straws) " were no longer. But the music was good so all we had to do was put the cut out verses back in again. That's what we did and that song became my calling card. My literary influences are totally crazy. I never had any method to read this, then that. I read everything at once, mixing Kerouac with Nelson Rodrigues, William Blake with Augusto dos Anjos, Ginsberg with Cassandra Rios, Rimbaud with Fernando Pessoa. I loved to follow Carlos Drummond de Andrade in his walks in Copacabana. I felt important accompanying the steps of that Great Poet through the streets in the afternoons. But my bedside book was always "A descoberta do mundo" (The discovery of the world), by Clarice Lispector. I love waking up and opening it at whatever page. For me it works much better than I Ching. My lyrics have a lot to do with all these 'sorcerers'. I don't have a refined voice, I never studied singing and I have a lisp. But singing rock isn't easy. I'm not putting down what I sang up to today; it's just that it's always been easy, for me, to sing rock. I'm not a great singer, nor have I got a big voice extension. That's why I shout when I sing. There is also the possibility of reciting the words, like Lou Reed and Marianne Faithfull do. There's all that noise going on behind and you come in more or less screaming the emotion. This doesn't happen with the slower songs, they have more nuances in the melodies. Singing them is pretty difficult. Although I always make a point of saying I'm not a singer but an interpreter, I confess to having worries about perfecting my voice as much as I can. The bossa nova "Faz parte do meu show" (It's part of my show) I sing with a child's voice that I never imagined I could do, A beautiful thing that passed through many idols of my past. It passed by João Gilberto, by Chet Baker. I like everything, from Janis Joplin's screams to Bessie Smith. I love Dalva de Oliveira and Elvira Rios. I think this is healthy for an artist. When it comes to music I'm not at all radical. But I found myself in rock. Suddenly, I smoked a joint, went out on the streets and saw a bunch of people just like me. I flew kites and played racket ball at the beach to the sound of rock. It was freedom, the same way that jazz was for the 40s generation. I didn't go crazy about the Beatles, I didn't give it much importance, I saw it as a slightly hysterical thing. But I loved it as well. I'd sing "Help!" in a language I'd invented… It was only when Caetano appeared with "Alegria alegria" (Happiness, happiness) that I found something modern. Gal singing "a cultura, a civilização, elas que se danem…(Culture, civilization, they can be damned)" Macalé and the 'morbid romanticism' of Wally Salomão. I really got to know rock through Caetano and Tropicália, Os Mutantes, Rita Lee, Novos Baianos. When I was 13 years old, I'd go to the pier in Ipanema; I'd be a hanger on from afar, I'd try and offer them some joints, but nobody asked. Roberto Carlos is also a very important person for me, because he's part of my childhood. I grew up loving the Jovem Guarda. I had everything with the logo 'Calhambeque'( 'Old Car', one of Roberto Carlos' hits): clothes, lunch box, shoes. And one of the most emotional moments in my life was when, at ten years old, my father took me to the Som Livre studios, where Roberto Carlos was recording. He invited me to go for a soda at the drug store nearby. I wanted to walk slowly, so people could see that here was a child proud to be walking next to him. The other day he needed the studio where I was recording, so he called and said: "Hi, my Baron..."And I answered that I wasn't a Baron anymore, but he said I'd be one forever. And he's right. I will always be a Barão Vermelho(Red Baron). He is the King and made me his Baron. The foreign stuff came from the Rolling Stones, but when Janis Joplin died I didn't even know who she was… I only found out two years later, in 1972, when I was expelled from Santo Inácio college, which is a college run by priests, and went to the Anglo-American school, much more liberal, where we listened to Rolling Stones at recess. But then a friend showed me Janis, that I knew from television, between one or another telenovela by Janete Clair. It went like this: "Jimi Hendrix and Janis Joplin killed by drugs." For me that was horrible. But when I heard that woman I discovered she was a genius. I then understood what the blues were, and through Janis I discovered Billie Holiday and even Dalva de Oliveira. Everything I already enjoyed but thought corny. By the way, I am corny, I admit it. I like words like ingratitude. I'm sort of Augusto dos Anjos: "Escarra na boca que te beija.(Spit on the mouth that kisses you)" What I pass on to people is much more my work than what I do outside of work. Of course there exists some folklore around my name. Any press material that mentions bars, for example, has to have my name because I really do go out a lot at night. But what truly stays with the people who enjoy my work is the romantic message that comes across in what I write. My work deals a lot in the pain of love. It's the dark side of love that people enjoy in me. I even think that, today, very few composers use this subject. Before there were loads of them: Dolores Duran, Lupicínio Rodrigues, Noel Rosa, Cartola, Maysa and many others. After that came a phase in which it was old-fashioned and corny to talk of suffering. I'm not being pretentious, but many students of popular music have told me that I revived this heartache music. Of course that all happened in rock's framework. Every Brazilian, every Latin American is teased about dealing with the wounds of love. And always likes subjects related to unrequited love. That's the different and maybe polemic side to my work. To be on-stage is everything for me. A sort of uncontrollable sensual side of me takes over. Sometimes I go on with a hard-on, it happens even before I get on the stage... Other times I go on feeling scared to death, but singing relieves the tension. No joking, it really is a sexual thing. Off stage I'm shy, a little boy, I feel extremely awkward. But on-stage I'm Superman, I can put my cape on and fly off. I feel sex sprouting, I look at people and feel that there is something there, something that answers. Because I'm showing something beautiful that I composed: I'm not humble, I really like what I do. It's a pleasure thing, the public and me having great sex. There are people who get mad at me, because I sing that everyone's going to get their briefcases and go to work in their suits the next day, while I go to sleep after the greatest night of getting laid. But everyday life isn't poetic, everyone working hard and some one being held up or run over every minute. So let's transform this boredom into something bigger. I read someplace that you live I don't know how many thousand hours and you can resume all the good things to five minutes. The rest is just every day stuff. A look, a tear that falls, a hug... That's not much in life. So that's worth more than anything for me. I'd rather not believe in the Day after, in the end of the world, in the apocalypse. One day I'm going to ride in the Columbus spaceship. Drunk of course, but I will! Meanwhile, the thing that gives me pleasure besides music is french-kissing. The thing about the kiss being a "lighted match on the dry straw of love". The kiss starts everything; its from the mouth that the relationship starts… the first time you enter a person. For me, it's essential. I'm capable of getting a hard-on if I kiss some one. I'm happy when I think that mankind differs from animals and plants because he can love without reproducing - although the Pope doesn't like it. Man makes love for pleasure. So it can be man with man, woman with woman, with diaphragm, with the pill, with whatever... Homosexuality is a normal thing. And hetero, and bisexuality. Man can love independently of sex, because he is not an animal, he is not a plant. If the guy doesn't want to, doesn't feel attracted, that's OK. But there are no general rules for love. When you get horny, I'm with Tim Maia and Sandra de Sá: "vale tudo(everything goes)"! I'm eclectic, but I think that those who aren't are OK too. If the guy is a soul rocker, like my brother and faithful partner Roberto Frejat, like Dé and Guto Goffi, devoted to rock, it's great. Rock'n'roll is like a great lay, it's all linked to sex and drugs. For example , the law in relation to drugs is ridiculous. Never did people drink more in the USA than at the time of the prohibition. Who gains by ilegal drugs? The Bolivian Mafia, the Colombian one, the Brazilian Mafia. Because it's the Bolivian government itself that gains by it. That's why they marginalize it... In Freud's time cocaine was sold in pharmacies. Marijuana is smoked by the indians their whole life. So it's in the government's interest to marginalize it, because other sorts of drugs are sold in pharmacies. Anybody who's 21 and has a doctors receipt could buy them... That's what I think: Drugs should be sold in pharmacies. I fight against this Christian guilt I have. I studied in a school run by priests for almost ten years. So my life itself is a fight to overcome that. It's difficult to talk about because it's something very personal, education stuff. I've overcome many barriers, but we always have more to knock down. I went to therapy for a while to discover what new barriers I had. I went for five months, but I left, I discharged myself because I decided what I wanted at that moment. You go to the doctor's because you're sick, then you get better and you don't have to keep on going. If you get sick again you go back. My head got better. So I go to the beach instead of going to therapy. I have hopes of being very happy, more than I am now. My ideology is that of change. No political parties. It's this thing of changing Brazil, in whatever dimension. I don't have a party, serious. But I'm with the people who can change something, I give them all my support. I'm a socialist by vocation, by nature, by love really. Because I think socialism is in the middle, it's between authoritarian communism and savage capitalism, at a point where private initiative can get somewhere too. When I made "Ideologia"(Ideology), I didn't even know what it meant, I looked it up in the dictionary. There it was written that it indicates a body of similar ideas etc. ... The song itself is very pessimistic because it's in reality the history of my generation, the 30 year olds, that lived in all this emptiness. It's slightly bitter because we thought we were really going to change the world and Brazil is almost the same , we were hit by an enormous sense of frustration. The concepts about sex, behavior, something changed, but a lot was left along the way. We fought so hard and now what? Where did it get us? Which foot does our generation stand on? Firstly, patriotism changed. For me patriotism isn't about symbols, like the flag. It has more to do with a feeling. When I wrapped myself up in the flag in Rock in Rio, I believed. The thing about spitting on the flag, three years later, was against the theatrical act of the spectator. I was spitting on the symbol, on the flag that really symbolizes the Orleans e Bragança family. I don't think it's time for theater with a flag. The moment is one of criticism, of turning the tables, of getting out of this shit. When I wrapped myself up before it was in that Tancredo Neves atmosphere. I was, as was everyone, intoxicated by a feeling of change, of hope. A let's get ahead feeling, something beautiful, a sincere movement that was emptied by mistakes made by politicians. In Rock in Rio, I sang for ten minutes with the flag, I dreamt, I believed. When I was a teenager I also believed. We hadn't discovered vaseline, the conspiracy. We went in there with pure guts. I don't even know if the new generation of teenagers have these guts. Anyway, the Church and the Right have complete control of the situation. I don't even think it was the CIA who dispersed the AIDS virus in the world. They simply used the illness. They would say on television that AIDS kills so people would be horrified by it. It's all a plot. So much so that in Europe things are treated differently, without that medieval morality. But here they really used the stuff. They used it but it didn't work. I see people loving each other a lot, everybody's fine, with or without condoms. They didn't win. And that is Light. In the record I'm going to release next, the songs are like this, very happy, very up, full of light. But Brazil's problems seem to be the same since the discovery. Concentrated wealth, the majority of the population with no access to anything. The middle classes pay the burden of living in a miserable country. Things that, it seem, will continue forever. We would have a way out, because our industrial structure would permit it. Brazil's problem is the dominant class, nothing else. The politicians are dishonest. The Brazilian's mentality is too individualist: he loves getting the best in everything. Education is the only thing that could change this picture. Brazilians are rude, uneducated, because they don't think of the community, they throw garbage on the streets, spit, they don't care. This community spirit would come with culture. I think maybe socialism can bring us bigger access to mass culture. Do as Mao Tse-tung did with China. Educate every one by force. We have to study, read, have access to books. Hell is here. Our minds are hell. And this thing about "hell is other people" I don't know… For me, who depend a lot on friends, on tenderness from others, I don't see life as being against someone. It can be naive of me. This vision of heaven and hell: I don't see hell as a bad thing and heaven as good. Heaven might be really boring and hell a fun place. Actually, the picture we have of hell is always one where we place the devil, people having sex, orgies. Hell is a carnival ball at the Monte Líbano club. I finally defined what my role is in this big world. It's to pass my energy on to people. It's to learn and in each job I do, in each record I make, be able to pass on my conquests. I conquered life a year ago and I want to pass this on to others. It's a kind of Christian thing. You know, you pass on all the love you kept and people love it. Sometimes I'm sad, but I just can't feel unhappy. I think boredom is the most modern feeling that exists, that defines our times. I try to escape from that, because I have a certain tendency to be bored. But, happily I'm very enthusiastic. I'm too enthusiastic to be bored. I am very, very enthusiastic, anything will get me going. If you invite me to go to Barra da Tijuca, I'll immediately say: Let's gooooo!!! Any silliness will get me going. Nothing that I've already been through in my life has managed to take that away from me. I always feel as if I'm receiving gifts. If I do an interview and read it later in the newspaper, I think everything is great, the text, the photo... I'm always receiving toys. My life is like this: always laughing, never bored. And do you want to know something? What saves us is futility. Biography: www.cazuza.com.br/
License and Use
This Young M.a Relationship - cazuza-1958-1990-os-idiotas-s-o-mais-felizes-eles-n-o-sabem-que-v-o-morrer- on net.photos image has 314x400 pixels (original) and is uploaded to . The image size is 34223 byte. If you have a problem about intellectual property, child pornography or immature images with any of these pictures, please send report email to a webmaster at , to remove it from web.
Any questions about us or this searchengine simply use our contact form
Published

12.01.21

Resolution

314x400

Image type

jpg

File Size

34223 byte.