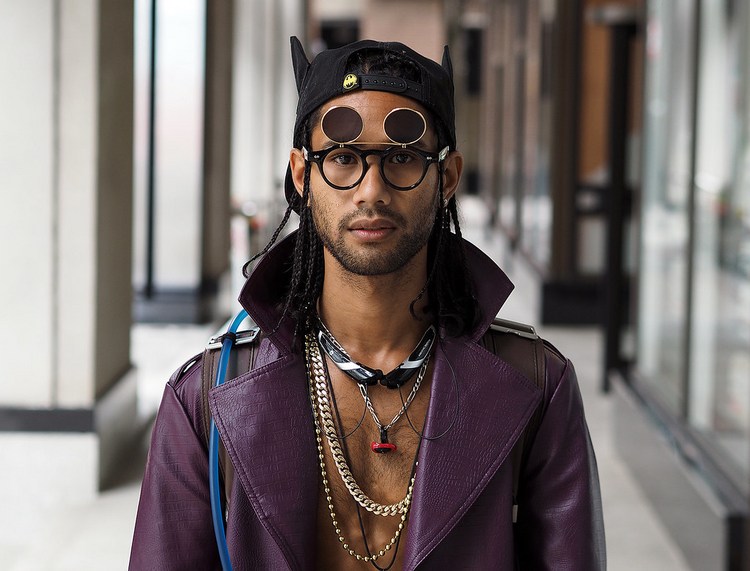 Brandon
(PID:28571893071)
Source
posted by
Jeff Bowen
alias
jeffcbowen
on Saturday 30th of July 2016 01:51:33 PM
Anyone with an interest in street life would have had his radar lit up by the sight of the bulls-eye backpack in the distance. I couldn't tell if it belonged to a man or a woman and I wasn't sure I was going to be able to catch up since we were traveling at pretty much the same pace as we both walked up Toronto's Yonge Street. Luck was with me when a streetlight turned red, giving me a chance to catch up and see that it was this young man sporting a collage of superhero clothing and bling. I broke the ice by complimenting him on the Batman hat and he seemed pleased by my friendly interest. We crossed the street together, chatting, and on the other side I introduced myself and my photo project. Meet Brandon. Brandon was more than pleased by my interest in him and his outfit and could hardly contain his excitement at my Human Family project. He told me that he has been wanting to add the purple leather "Joker" coat to his superhero wardrobe but had just managed the purchase this morning. He figured a good day had just gotten that much better because of our meeting and my interest in making so photos. I gave Brandon a copy of my contact card and suggested we walk a few paces to make use of a storefront colonnade nearby as a setting for the portraits. Brandon, 27, said he had plenty of time before he was due at classes. He's a first year acting student at the Toronto Film School. We made several photos while we talked, pausing between photos as pedestrians entered and exited the shops. We checked the photos on my camera and we were both pleased. The backpack is pure Captain America and appeared to contain a water bag (judging by the sipping hose which was draped over his shoulder). Not surprisingly, Brandon is a great fan of popular culture and superheroes in particular. Yes, he said, he attended Fan Expo earlier this year. I asked how people react to his walking downtown in costume and he smiled. "Most people are like you; they enjoy it and those who are outgoing stop to compliment me on the look." Brandon was very animated and friendly and I could tell he enjoyed our spontaneous encounter every bit as much as I did. He was quite open and explained that he had been a very high-energy, creative student while going through the school system. "I think a lot of people would see me as Calvin in the Calvin and Hobbes comic strip." I was familiar with the comic strip but looked it up on Wikipedia when I got home. Calvin is described as "a precocious, mischievous, and adventurous six-year old boy." I could imagine that description fitting Brandon. I guessed that school must have been a challenge for him since bright, highly active kids often struggle in school. "Oh no. Not at all" he said. "I was a really good student and was very successful at school. I went on to university but didn't enjoy it very much at all. It was such a big, anonymous environment that I had trouble finding my place and luckily my father accepted my decision to leave university. Film school has turned out to be the perfect environment for me and a much better fit. I want to be an actor and my dream would be (not surprisingly) roles in superhero films." When I asked Brandon how he would describe himself to someone who didn't know him he reflected on the question. "Hmmm, that's a really good question but a difficult one." I waited. "I am the eternal optimist but with mood swings. I'm friendly and I really like helping people." I asked what advice he would give his younger self and he thought for a moment, then said "I would say to lighten up and not take things to personally." As for a message he would like to share with the world, Brandon said "A lot of people are shocked by this but we should never forget that we are all going to die some day. Knowing that, it's particularly important to engage with today and enjoy it to the fullest." He went on to explain that he's been on a bit of a "spiritual journey" for the last couple of years. "I believe love is everything and I had my heart broken by the ending of an important relationship." I think what Brandon was telling me is that in spite of his fun-loving and friendly self, this experience made him more reflective and appreciative of life's gifts. A bit self-conscious about his reflections he said with a laugh "Hey, I told you I'm a bit of a weirdo!" If Brandon is a bit of a weirdo, it's in the nicest sense of the word. "Here I am just babbling away, but I'm just really excited about meeting you and being part of your great project. This is just perfect." Wrapping up what had been a delightful encounter with this super-nice young man, I expressed my interest in his background. Born and raised in Toronto, Brandon's father is from South Africa and his mother is from the Philippines. It is an interesting blending and one more example of how the world is shrinking as people of different cultures move around the globe and find one another. I hated to say goodbye but I had someplace to be and Brandon had already shared much more than the five minutes I had asked for. Thanks Brandon, for a fun and interesting meeting and thank you for taking part in The Human Family Group on Flickr. I wish you success in school and hope to see you on the big screen in the future! This is my 291st submission to The Human Family Group. You can view more street portraits and stories by visiting The Human Family.
License and Use
This Young M.a Relationship - brandon on net.photos image has 1023x779 pixels (original) and is uploaded to . The image size is 184650 byte. If you have a problem about intellectual property, child pornography or immature images with any of these pictures, please send report email to a webmaster at , to remove it from web.
Any questions about us or this searchengine simply use our contact form
Published

11.28.21

Resolution

1023x779

Image type

jpg

File Size

184650 byte.