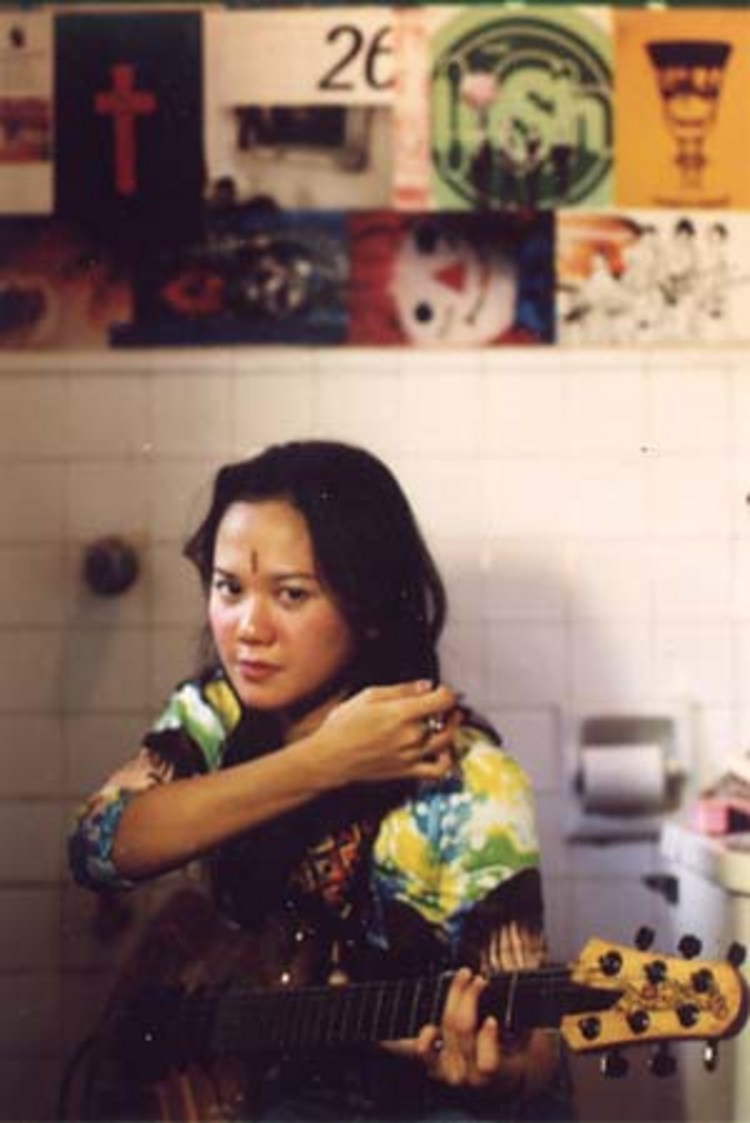 Tagged Unedited
(PID:3180315694)
Source
posted by
Xiomara the ='ᴥ'=
alias
Vixie Vaporous
on Thursday 8th of January 2009 05:45:15 PM
This is the unedited tag entry. It was too long to post as my tag but I'm reposting it just for shyts and giggles... Well heck, since this is no longer the official tag list then I am adding to it...taking a queue from Farkletush :D 1.ORIGINS: I hail from a tiny archipelago of 1,700 islands in the Asia Pacific called the Philippines. It is the land of beautiful beaches, skinny people, wonderful climate and poor plumbing. 2. SIBLING REVELRY: I am the youngest in the brood of four. Growing up, my siblings were never around to play with because they were always in school so I made friends with Wendy, my imaginary friend. When I hear strange creaks in the house or when I lose things and find them where I had been looking earlier, I just think it's Wendy saying hi. My twin brothers and my sister are the best people in the world. 3. PRE-SCHOOL ANTHROPOMORPHISM : I was a very greedy kid. So greedy that I begged my mom to stop giving me birthday parties when I turned six. The idea of giving away candies and ice cream to other kids was too much for my greedy little hands to bear. My dad told me this cautionary tale involving turning into a crow if one refuses to share one's candies. The moral lesson I saw fit was...at least I can fly away with all my candies. 4. DO or DIE: I am a highly creative person. I have to make stuff or I will get depressed. Creating gives me a high. I work as an illustrator professionally. Even though it's a very coprorate-y job, I get along so well with people at work. They are my 2nd family. I've been working there for 7 years. 5. GEOGRAPHY and YOUNG LOVE: I decided I wanted to come to the US after seeing The Neverending Story. I fell in love with Noah Hathaway/Atreyu and I resolved to find him and be his girlfriend. The terms "stalking" and "restraining order" didn't exist in my pre-nubile vocabulary. The whole paperwork was in progress for me to come to the US but I realized that I'd miss my folks too much. 6. I ROCK.: I secretly think that I can count all the rocks and stones on earth. It's not a secret anymore and I don't think I can. 7. PX GOODS: We used to own a beauty parlor which was right across the street from a erhmmm...a house of ill-repute. Every Saturday, a tour bus full of Japanese men would arrive to take the ladies out. When the women came back from their jaunts, they'd give the neighborhood kids candies and all sorts of Japanese goodies. I marveled at those women who did nothing but sit pretty and make men smile so when one of my mom's friends asked me what I wanted to be when I grow up, I told her I wanted to be like the ladies from across the street. After that, I wasn't allowed to take the candies from the ladies as if those candies had influential powers of shaping my future. 8. LITTLE FISH, LITTLE POND: I used to sing and play guitar for a band called Robotballoons. We wrote and recorded 8 songs that people only heard from the radio but never owned copies. No one knows how to get hold of copy of those songs...except me. It's in my mp3 playlist. Hah...hey... I love my own. 9. THE GREEN FAIRY. When I was in college, I was reputed to be a party girl, the kind who smoked and drank so much because I hang out with a bunch of serious drunks. So it was more of a contact drunkeness which resulted in hideous reputation by association. I never touched alcohol till I was 25 and it was a freakin' wine cooler. I realized that I never did any crazy shyts for real. It's really too late to make up for it...I have bills and mortgage to worry about. I may give myself cool points (which I do all the time, anyway) that I have drank absinthe and I keep a bottle of it in my kitchen cabinet. I am not sharing...says the crow as she flies away into the night... 10. a.k.a. JUDY: I always have to spell both my first and last names every time I give it out. When people ask me how to pronounce my name I say "Judy" just to see how they'd react. 11. SCARY ASIAN CHICKS: I hide in closets when I am upset. Thad eventually told me to quit doing that after we saw The Grudge. 12. SOCIAL MOTH: I hate social gatherings. I don't act like myself. All of a sudden I am this garrulous talkative person. I am just really masking an insecurity. I don't go out. Since I'm a transplant I have all these "new" friends in real life who are all into things I'm not. It seems like the folks who get me are those who haven't even met me. I miss my old friends and it's really hard to connect with people you don't have anything in common with. 13 .HOLD ME, THRILL ME,KISS ME: I own the complete Bantam published Barbara Cartland books, all 183 of them. I only read the books that have the covers illustrated by a certain Francis Marshall. Unfortunately, he died in 1980 and Dame Cartland still wrote books well till she died. If she could, she'd probably dictate her stories from the grave. I haven't read those books because they were illustrated by someone else. To me, a Barbara Cartland story is not complete without the Francis Marshall illustrations of simpering, virginal heroines in the arms of aristocratic stoic heroes. Also, BC books gave me a wealth of proper English vocabulary. Of course, I can't employ it in the real modern world but it is quite helpful when I go on my imaginary tea parties with Queen Victoria. 14. HEAD IN THE PURPLE CLOUDS: I am obsessed with everything otherworldly, the 70s or anything with ties to my childhood, Blythes, vintage children's books, dollhouses, gardening, housecleaning, my dog, Thad, period films, solace and Cool Ranch Doritos...not in that order. 15. HELLO SUN: I love how everything looks under an 8:00 sunlight. 16. INVISIBLE FRIENDS: I marvel in the kindness of strangers. I have met people here on flickr who have the potential of becoming my lifelong friends. I wish they live nearby... 17. EAT ME: I cannot eat anything with a face carved, imprinted, embossed, molded on it. Gummy bears, teddy grahams, character shaped cookies.... I don't want my snack to smile back at me while I bite its head off *cringes* It goes back to childhood when my brother would put faces on fruits and make them "talk" to me. Afterwards, I wouldn't eat them because they were my friends...
License and Use
This Young M.a New Song Mp3 - tagged-unedited on net.photos image has 300x449 pixels (original) and is uploaded to . The image size is 26369 byte. If you have a problem about intellectual property, child pornography or immature images with any of these pictures, please send report email to a webmaster at , to remove it from web.
Any questions about us or this searchengine simply use our contact form
Published

01.22.22

Resolution

300x449

Image type

jpg

File Size

26369 byte.