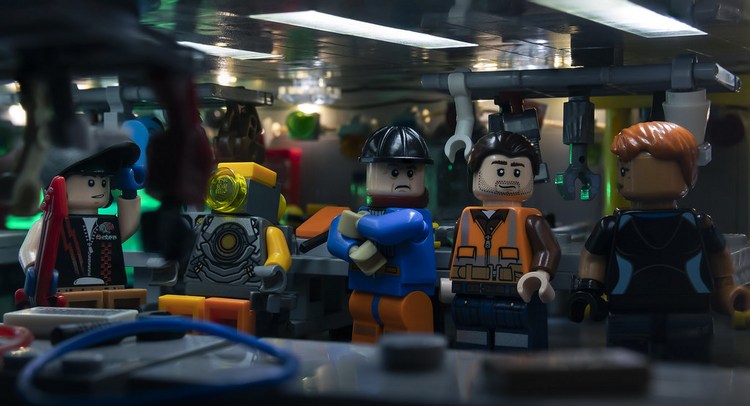 The Homefront__3
(PID:51571674830)
Source
posted by alias
Immediate~C
on Sunday 10th of October 2021 02:59:52 AM
Eventually, Paul finished wiring up the proxy's arm. Leaning back to fully take in his work, he nodded. He flipped the welding mask up, combing down his tall red mohawk and revealing his young, square-jawed face. "Okay, should be good now." He said. "That's what you said ten minutes ago." Delaney replied. "And like I said, different power rating." Paul snapped back. "Should be good, now with the right wiring." "Holdin' my breath in anticipation..." Bradford said in a sarcastic tone. Paul flipped a switchboard connected to the robot. The familiar sound of a proxy booting up hummed as Paul wheeled himself over to an adjacent table. An ancient, repurposed laptop was set up with even more wiring snaking from it and leading to the proxy. He typed in a string of commands on the computer's hard-interface keyboard and hit enter. He abruptly shoved off from the table and rolled back to his previous spot. Set behind him was a beat-up electric guitar leaning against one of the tables. He reached around and grabbed it in one hand. He stopped over the dormant proxy, glancing back and forth between it and the laptop screen. Suddenly, the robot's arms jerked to life, holding them out at waist height as its hands grasped blindly at the air. Paul placed the guitar in front of it as it instinctively found its grip. A rudimentary artificial intelligence program. It promptly levelled the instrument into a traditional playing posture and froze in waiting. Satisfied, Paul went back over to his diagnostics laptop, started the next command prompt, and turned to the proxy. The four of them waited for a moment in silence. The proxy jerked the slightest bit, readjusting its finger positions accordingly. It then began strumming out the first half of 'Ace of Spades'. Part of Paul's 'dexterity tests' for proxy units. The fingers raced back and forth across the strings, while the rest of the body remained unnervingly still. Paul grinned viscously, let out a cackle, and banged his head to the beat. The momentum flicked his welding mask back down over his face, startling him. He quickly swung it back up, gave a brief awkward look, before resuming his headbanging as if nothing happened. The last note hung in the air as it reverberated through the room. With the sequence ended, the proxy froze and loosened its stiff grip on the guitar. Paul grabbed the instrument by the neck and swiftly snatched it from the robot's lap. He looked up at the group. "Never gets old!" he beamed. "Yeah, but how's that apply with remote operation?" Delaney said. "Look buddy, if it can match Fast Eddie, it'll do anything." Paul replied plainly. "As long as you can still work a stud welder without turning into butterfingers, that's all I care about." Bradford added. "Just gotta do a few more tests, make sure there ain't any kinks..." Paul began. Kelly pushed off from the workbench. "Well, it seems you boys are having fun here. But I've got to go pick up my girl from the tram station." "Oh!" Paul jumped up, as if remembering something. "Since you're here, Bradford was mentioning a job offer earlier. Something you might be interested in?" "A job? You?" She turned her attention to Bradford with a brow raised. "What kind of job?" "Aaahh," Bradford hand waved. "It was just small-talk. Salvage job across town. Nothing concrete at the moment, but me and a few 'a the boys think there's somethin' to it." "Well, keep in touch with Paul. Its about time he starts organizing his own outings." "Hey, that Bakery Square op' two months ago was all mine!" "Hopefully it won't be nearly as sloppy as that one was..." She said under her breath. "Right now, I've got my own job to wrap up." ------------------------------------ I have mixed feelings how this part turned out. It was a lot more complicated than I initially thought, but the end result is still pretty good. Not much visual story-telling going on though. I want to try improving on that with upcoming parts. Also did more focus stacking for this, because I'm a masochist who loves creating needless amounts of extra work for myself. And to top things off, a lot of facial edits on the figures (which I'll admit aren't the best). If you fave, comment as well!
License and Use
This Young M.A - the-homefront__3 on net.photos image has 1024x554 pixels (original) and is uploaded to . The image size is 131555 byte. If you have a problem about intellectual property, child pornography or immature images with any of these pictures, please send report email to a webmaster at , to remove it from web.
Any questions about us or this searchengine simply use our contact form
Published

12.02.21

Resolution

1024x554

Image type

jpg

File Size

131555 byte.