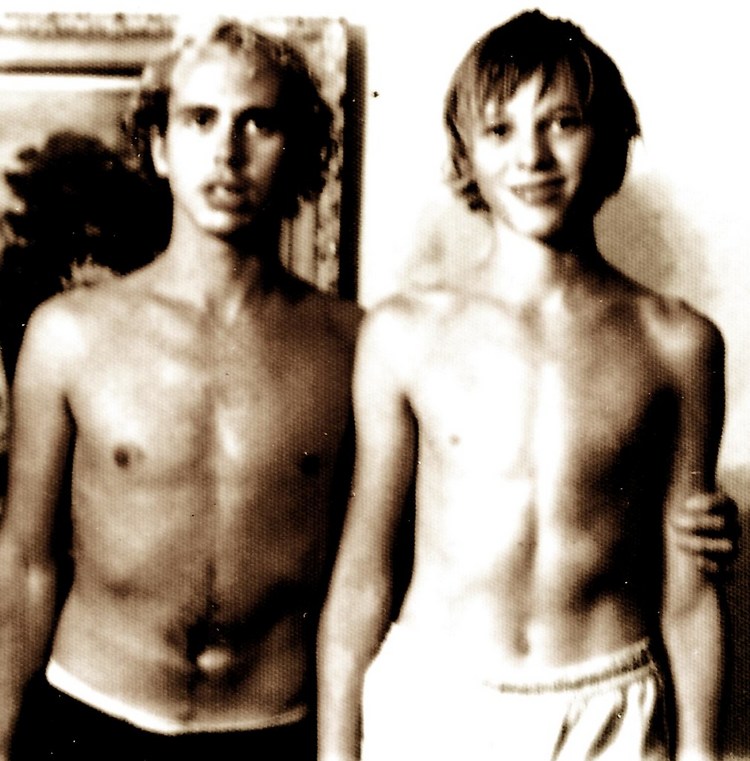 A Day At The Lake
(PID:859612527)
Source
posted by
john
alias
Blindspot1330
on Friday 20th of July 2007 06:54:18 PM
This is the day we almost died. On the back of the photo all you'll see is "7/76." No mention that about an hour before this my brother and I could've drowned on a man-made lake. Jeff just turned 14 the month before. I was a few weeks past 21. Maybe it was a few days after the Fourth of July. Or before. Seriously, I don't remember. But I won't forget what happened that day. For the middle of summer, it was a shit day. Drizzly, about 60 degrees. Gun metal gray skies. Still, there was a family picnic to go to. And my uncle wanted to show off his new sailboat. My mother bitched. My dad said we had to go. It was his family. You know how that works. So there we were. In the parking at the lake. There's my uncle. And we're all looking for his sailboat. I mean someone says sailboat to me and I see President Kennedy skimming across the white tops off Hyannis Port. Yeah, well, there's no Jack or Jackie in sight. Instead my uncle's carrying around a piece of plastic about six feet high and two and a half wide. That's the boat. The sail's basically a triangle of plastic on a patio table umbrella pole. No America's Cup here. So no one really wants to go sailing with him. Seriously, it's about 55 degrees at the lake. Wind's blowing hard enough to make the spit of a rain feel like someone's driving finishing nails into your skin. My uncle's up to his ankles in the water when my brother says he'll go. My mother asks about life preservers. My uncle and dad roll their eyes and say stop worrying. They push off and I watch my mom and dad and aunt set up the picnic tables. My younger cousins and my other brother start playing in the sand, because they're little kids. And I'm wishing I was home figuring out how to play some Jackson Browne songs on my guitar and getting high. I mean, Christ, I'm 21. What the hell am I doing here? No one really noticed at first. Until the sky turned a dark black green. Except for one hole in the center that almost radiated a crystal blue light. That's when I saw them. My brother and uncle. Treading water about a hundred feet off shore. Beside the slab of plastic with its sail barely floating on the surface. The adults by now surrendered on the picnic idea, hustling the little kids and food into the cars. I point out my uncle and brother to my dad. By now it's nearly black as night. They're not going to make it in, I shout. We gotta do something. My dad can't swim. Doesn't like boats. They'll be fine he says. But I can tell by the way my uncle is waving his arms that he doesn't agree. Let's put the picnic stuff in the cars, my dad says. But I just watch them in the lake. By now, all the other boats are in. Except for one guy in what was the world's smallest motor boat. Just as he pulls into the dock, I jump on board and tell him we got to get the two guys stuck out there. The guy's wearing old style rimmed glasses. Has a mustache. Looks a little like Mr. Whipple from the Charmin commercials. He turns his head a bit and sees them. I hear his wife scream Oh my God. They're going to drown. And off we go. Almost as soon as we reach them, the sky goes totally dark. We can't see three feet in any direction. I haul my brother into the boat and the guy tells us to be careful to not all sit on one side. My uncle stays in the water, afraid he'll tip the boat if he tries to get in. He's a big guy. The guy driving the boat asks if I remember which direction the shore is. I point it out. And he goes the opposite way. The waves will turn us over if we go that way, he yells. I look at my brother. He's nearly white and I can hear his teeth banging together. Are you scared, I ask. No, he tells me. Just cold. Somehow my uncle manages to keep a grip on the boat as we bounce over the tops of waves about three feet high. The guy's wife starts praying. And I'd wish she'd stop because the only person she asking Him to save is my brother. I figure I'm a little too young to die, too. On we bounced. With no idea where we were headed. Or when the storm might stop. And then we bump into another shore. Mostly a hillside. We jump out and pull the boat up the slope as much as we can. I mean, we'll need a ride back. Maybe for 10 minutes we sit there. The rain slamming us. And no one really says much except You okay? Then it stops. The wind. The rain. And a haze of light sifts through the clouds. We all jump back into the boat. During the storm we drifted about 20 minutes from the dock. As we glide back, no one says a word. I stick my hand in the smooth, still water that barely ripples as we cut through it. From the boat i spot my parents and aunt. They're all sobbing. Even from that far away I could tell. Closer to the shore, I jump out. Splash toward them. Fall on my knees and kiss the ground. Because I'm an ass like that. They don't laugh. After the hugging and I thought you were all dead cries of joy, I ask my dad one question. Why didn't you do something? All he can say is I had to get the picnic stuff in the car before it blew away. I'm ready to say something angry to him when I turn my head to the dock. I see the guy's boat. But not the guy. Or his wife. I run to the parking lot. Still no sight of them. i want to thank them. I keep looking. My dad yells at me. Come on. We're going back home to eat. I yell back that we need to find the guy and thank him. But my dad says What for? Hurry up before it starts raining again. So we drive back. In the rear of the Dodge Colt I'm thinking about this guy. How he had no idea who we were. How he put his life on the line for strangers. When all my dad could worry about was the paper plates blowing away in the wind. I don't know who snapped this photo. Someone told us to smile. But i couldn't. Not that I wasn't grateful. No, all I could think of is that this picture wouldn't be happening if that guy in the boat had pulled into shore a minute earlier. No one in my family talks about this day. I found this photo in the garbage one day many years ago. Maybe the person who tossed it in the trash doesn't remember that day. But I bet he didn't forget. And neither will I.
License and Use
This Young M.A - a-day-at-the-lake on net.photos image has 1009x1024 pixels (original) and is uploaded to . The image size is 172573 byte. If you have a problem about intellectual property, child pornography or immature images with any of these pictures, please send report email to a webmaster at , to remove it from web.
Any questions about us or this searchengine simply use our contact form
Published

11.27.21

Resolution

1009x1024

Image type

jpg

File Size

172573 byte.