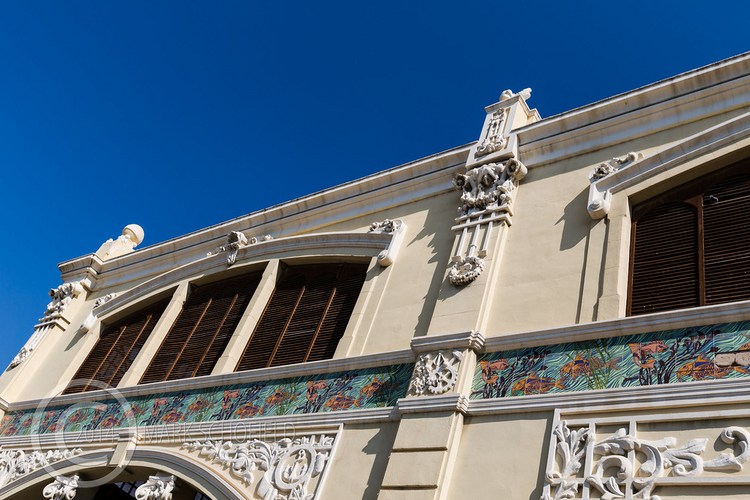 Valencia 2014 (6) 104 - Renovated - and empty! - building near the marina
(PID:15652403715)
Source
posted by
Mark Schofield
alias
Mark Schofield @ JB Schofield
on Tuesday 28th of October 2014 06:31:46 PM
We decided to go for a city break rather than sun in Tenerife again this September. Other than a few days in the North East we haven't been away since last March and wanted a change and hopefully some sun. The problem is getting flights from the north of England to the places we want to go to. We chose Valencia as we could fly from East Midlands – which was still a pain to get to as it involved the most notorious stretch of the M1 at five in the morning. In the end we had a fairly good journey, the new Ryanair business class pre-booked scheme worked quite well and bang on time as usual. It was dull when we landed with storms forecast all week, the sky was bright grey – the kiss of death to the photography I had in mind. I was full of cold and wishing I was at work. It did rain but it was overnight on our first night and didn't affect us. There has been a drought for eleven months apparently and it rained on our first day there! The forecast storms didn't materialise in Valencia but they got it elsewhere. You May notice discrepancies in the spelling of some Spanish words or names, this is because Valencian is used on signs, in some guide books and maps. There are two languages in common use with distinct differences. There may also be genuine mistakes - it has been known! Over the course of a Monday to Sunday week we covered 75 miles on foot and saw most of the best of Valencia – The City of Bell Towers. The Old City covers a pretty large area in a very confusing layout. There was a lot of referring to maps – even compass readings! – a first in a city for us. The problem with photography in Valencia is that most of the famous and attractive building are closely built around, some have poor quality housing built on to them. Most photographs have to be taken from an extreme angle looking up. There are no high points as it is pan flat, there are a small number of buildings where you can pay to go up on to the roof for a better view and we went up them – more than once! The modern buildings of The City of Arts and Sciences – ( Ciutat de Las Arts I de les Ciencies ) are what the city has more recently become famous for, with tourists arriving by the coachload all day until late at night. They must be photographed millions of times a month. We went during the day and stayed till dark one evening, I gave it my best shot but a first time visit is always a compromise between ambition and realism, time dictates that we have to move on to the next destination. I travelled with a full size tripod – another first – I forgot to take it with me to TCoAaS! so It was time to wind up the ISO, again! Needless to say I never used the tripod. On a day when rain was forecast but it stayed fine, albeit a bit dull, we went to the Bioparc north west of the city, a zoo by another name. There are many claims made for this place, were you can appear to walk alongside some very large animals, including, elephants, lions, giraffe, rhino, gorillas and many types of monkey to name a few. It is laid out in different geographical regions and there is very little between you and the animals, in some cases there is nothing, you enter the enclosure through a double door arrangement and the monkeys are around you. It gets rave reviews and we stayed for most of the day. The animals it has to be said gave the appearance of extreme boredom and frustration and I felt quite sorry for them. The course of The River Turia was altered after a major flood in the 50's. The new river runs west of the city flanked by a motorway. The old river, which is massive, deep and very wide between ancient walls, I can't imagine how it flooded, has been turned into a park that is five miles long. There is an athletics track, football pitches, cycle paths, restaurants, numerous kids parks, ponds, fountains, loads of bridges, historic and modern. At the western end closest to the sea sits The City of Arts and Sciences – in the river bed. Where it meets the sea there is Valencia's urban Formula One racetrack finishing in the massive marina built for The Americas Cup. The race track is in use as roadways complete with fully removable street furniture, kerbs, bollards, lights, islands and crossings, everything is just sat on the surface ready to be moved. We found the beach almost by accident, we were desperate for food after putting in a lot of miles and the afternoon was ticking by. What a beach, 100's of metres wide and stretching as far as the eye could see with a massive promenade. The hard thing was choosing, out of the dozens of restaurants, all next door to each other, all serving traditional Paella – rabbit and chicken – as well as seafood, we don't eat seafood and it constituted 90% of the menu in most places. Every restaurant does a fixed price dish of the day, with a few choices, three courses and a drink. Some times this was our only meal besides making the most of the continental breakfast at the hotel. We had a fair few bar stops with the local wine being cheap and pleasant it would have been a shame not to, there would have been a one woman riot – or strike! On our final day, a Sunday, we were out of bed and down for breakfast at 7.45 as usual, the place was deserted barring a waiter. We walked out of the door at 8.30 – in to the middle of a mass road race with many thousands of runners, one of a series that take place in Valencia – apparently! We struggled to find out the distance, possibly 10km. The finish was just around the corner so off we went with the camera gear, taking photos of random runners and groups. There was a TV crew filming it and some local celebrity (I think) commentating. Next we came across some sort of wandering religious and musical event. Some sort of ritual was played out over the course of Sunday morning in various locations, it involved catholic priests and religious buildings and another film crew. The Catholic tourists and locals were filling the (many) churches for Sunday mass. Amongst all of this we had seen men walking around in Arab style dress – the ones in black looked like the ones from ISIS currently beheading people – all carrying guns. A bit disconcerting. We assumed that there had been some sort of battle enactment. We were wrong, it hadn't happened yet. A while later, about 11.30 we could hear banging, fireworks? No it was our friends with the guns. We were caught up in total mayhem, around 60 men randomly firing muskets with some sort of blank rounds, the noise, smoke and flames from the muzzles were incredible. We were about to climb the Torres de Serranos which is where, unbeknown to us, the grand, and deafening, finale was going to be. We could feel the blast in our faces on top of the tower. Yet again there was a film camera in attendance. I couldn't get close ups but I got a good overview and shot my first video with the 5D, my first in 5 years of owning a DLSR with the capability. I usually use my phone ( I used my phone as well). Later in the day there was a bullfight taking place, the ring was almost next to our hotel, in the end we had other things to do and gave it a miss, it was certainly a busy Sunday in the city centre, whether it's the norm or not I don't know. There is a tram system in Valencia but it goes from the port area into the newer part of the city on the north side, it wouldn't be feasible to serve the historic old city really. A quick internet search told me that there are 55,000 university students in the city, a pretty big number. I think a lot of the campus is on the north side and served by the tram although there is a massive fleet of buses as well. There is a massive, very impressive market building , with 100's of stalls that would make a photo project on its own, beautiful on the inside and out but very difficult to get decent photos of the exterior other than detail shots owing to the closeness of other buildings and the sheer size of it. Across town, another market has been beautifully renovated and is full of bars and restaurants and a bit of a destination in its own right. A downside was the all too typical shafting by the taxi drivers who use every trick in the book to side step the official tariffs and rob you. The taxi from the airport had a "broken" meter and on the way home we were driven 22 km instead of the nine that is the actual distance. Some of them seem to view tourists as cash cows to be robbed at all costs. I emailed the Marriot hotel as they ordered the taxi, needless to say no answer from Marriot – they've had their money. We didn't get the rip off treatment in the bars etc. that we experienced in Rome, prices are very fair on most things, certainly considering the city location. All in all we had a good trip and can highly recommend Valencia.
License and Use
This Woman In The Window Review Book - valencia-2014-6-104-renovated-and-empty-building-near-the-marina on net.photos image has 1024x683 pixels (original) and is uploaded to . The image size is 235474 byte. If you have a problem about intellectual property, child pornography or immature images with any of these pictures, please send report email to a webmaster at , to remove it from web.
Any questions about us or this searchengine simply use our contact form
Published

01.26.22

Resolution

1024x683

Image type

jpg

File Size

235474 byte.