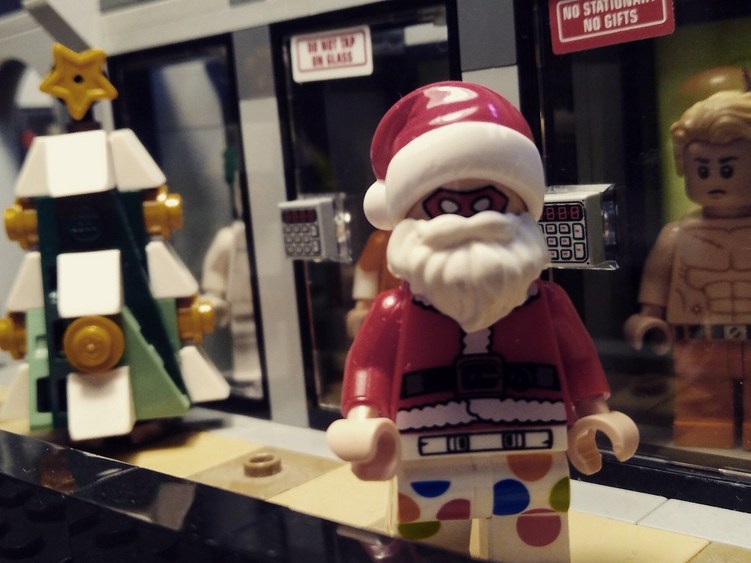 Walker in a Winter Wonderland (1/1)
(PID:50732280693)
Source
posted by
Killer Moth
alias
Duncan C. Young
on Friday 18th of December 2020 01:41:58 PM
==Van Cleer Manor. 2017== Twas the night before Christmas in Casa De Moth, Not a nitwit was stirring, be it hippie or goth; Gaige lay on the sofa, a harpoon in hand, Dripped on his clothes, was his homemade beer brand; The booze took its' toll, and hand to his head; "The hell is a sugar plum?" he drunkenly said; Miranda was dozing, but I couldn't wait; Santa was here, and he'd come to our state; So I looked out the window, and looked at the lawn; footsteps lay pressed, several hours from dawn. So up to the rooftop, did I draw my eye, Not Santa our guest, but my dear Firefly "Drury," he uttered, fresh sweat on his brow, "I upset the Batman, he's right on my bow;" "Oh crumbs," did I mutter, "Oh crap," did I sigh, The Batman was coming, and though I did try, My weapons were useless, my gun out of gunk, My wings out of fuel, ours prospects had sunk "Miranda," I whispered, I tug at my wife, "Gar bullied the Bat, and caused us some strife," She rubbed her eyes open, she glared at my chum "So tell me then, Gar, are you always this dumb?" He started to mutter, but I shook my head "You insult the woman and you'll end up dead" A plan was soon hatched, our friends we did seek; Misfits and morons we'd brought up shit's creek Stood there in the garden, all armed to the teeth From Zodiac Master and Magpie the thief An army of sorts, to defend our old friend Some crazy, some evil, they liked to pretend And out in the moonlight, the Batman did soar Through villains and henchmen, how swiftly he tore! He broke Magnet's arm, and he cracked Irving's skull He kicked down my plant pots, and called Charlie dull ~ And far across Gotham, another sat snug, A spotted white menace, oh ever so smug They called him the Polka Dot, Mister or Man He travelled through portals, and odd jobs he ran He looked through the vortex, to check on our home, He let out a chuckle, and kidnapped a gnome. "The Bat has gone barmy, the bug has gone mad It's a good thing it's Christmas or else it'd be sad." Though he'd heard our summons and heard our request, He'd claimed he was busy, and couldn't get dressed. "I have TV to watch and cookies to eat, Drinking 'till midnight, and jobs to complete; Oh well," he did think, as he dropped through the void, "There'll be a next Christmas for me to avoid," He taped on a beard, and he found a new route; To Arkham Asylum, where he carried clout For Krill had been thinking, (he'd terrible debt), He'd steal their presents, whilst all of them slept And sell them online, on his eBay account, To pay off his bookie, a handsome amount Is what it would cost to keep him off his back And save a bit extra in case of attack. Down the chimney he tumbled, (he did it for fun), "A shame that," he murmured, "I'd not made a pun. I'm ever so clever, and handsome to boot So I'll pilfer these presents, then back up the chute; Sure," he lamented, "I could give them back, But I'm moody and vengeful, and drugged up on crack:" And then the lights flickered; cells sprang into life "It's Santa!" Zsasz bellowed, "Now hand me a knife," Krill glanced at the company, springing awake "Oh? That was the light switch? For goodness sake..." But trapped in their cells, they could only watch As he grabbed the last presents, a bottle of scotch, Gifted to Two-Face by Mr Bruce Wayne, And a dirty old teddy, recovered for Bane His task now completed, Krill ran on ahead, As inmates and lunatics wished he were dead Ivy stood there in shock, her hands pressed on the glass, As the inmates each processed all that had passed. "And the worst thing?" she added, "That imp took the tree! It was potted and planted and cared for by me." So, hour by hour, the villains did plot; Vengeance on Santa, was all that they sought The Riddler was tired; he fell to his knees "Which supe-loving Santa could dress up with ease? Of course!" he decreed, "It must be Santa Klaus! He's German and ugly and big as a house." "I'll break him," Bane growled, "I'll snap him in two!" "Oh, really, Bane? Really? Is that what you'd do?" Sionis yelled back from his cell down the hall. "You'd pump up on venom and make yourself tall?" "Be mindful Sionis, or I might break you too." "Well, I should be surprised, and yet somehow I knew," Sionis did quip as he lay back in bed, "And guess what, you prick? I stand by what I said." Bolton slammed on the cell doors, and turned off the lights. "Lights out, you scumwads, enough of the fights. You don't deserve presents, or riches or joy, Or chocolate chip cookies or friends to annoy," "We all know that, Lock-Up," the Joker protested, "You know that's the reason we all got arrested!" At the end of the hallway, the TV did blare, The guards watched their specials while Crane did despair; At first he was quiet, then a "ho" then a "hee!" "If there's one thing for certain- I really hate Glee. The people are pretty, their singing is flaccid. If I had the chance, I would melt them with acid. Or else, I could gas them, to see what they fear Mountains of regionals year after year?" Sitting adjacent, aware of the sin, Harley harboured a crush on the star, Grant Gustin. Though given the choice, she'd still choose Mister J, His minced beef mince pies were the jewel of her day. Secretly, Joker had murdered a horse, And put that in the pies he'd served as first course. Croc wouldn't mind, nor would Mr Stirk, Though had he told Penguin, he might go berserk As they all lay there, all wrapped in their sheets, The inmates were longing for their stolen treats. Their target decided, they planned to escape And track down that Santa who looked like an ape ~ Across the bay, and back at the manor, The Misfits were beaten, the Bat held a scanner He held it aloft, as he walked through the yard Searching for Lynns, all burned up and charred "Batman!" I chuckled, and "Walker," he spoke, "I'm looking for Firefly." "And I'm just the bloke? Well, I'm flattered, old buddy, I mean it, I do, but Gar has been missing since 12:52." Don't know how he did it, but somehow he knew, That Gar was just hiding, his helmet askew The Bat raised an eyebrow and straightened his back. He tilted his cowl, and gave me a smack. "Something's wrong, Walker, look, people are rhyming, It started with Lynns, but just think of the timing It's the holiday season, a time that brings joy, Turned to a weapon that's sure to annoy." "If that is the case then, what does it mean?" Miranda asked, worried, her face turning green. "Hand me his helmet," the Batman replied, "There might be a clue that is hidden inside." We obliged, awfully nervous he might take us in, But he tapped on the helmet, and hand to his chin, Declared rather calmly that he knew the source, The culprit, the hideout, and with unseen force, Leapt into his cockpit and summoned us close, And in a low whisper, a tone so verbose Explained just what happened, "The mask was the key, It sent out a signal, now can't you all see? Only one man could think up a plot quite so cruel, And he just escaped Arkham by tainting the gruel." We followed his trail, to Dekker's old club, Gar tried not to vomit and hid by a shrub. When last he was here, he'd got a bit high, Spilled secrets to Chancer, and things went awry Dekker let out a giggle and gave me a hug, He winked at my woman, and held up a mug "Eggnog, my darlings?" he offered, delighted, "We're looking for someone," Miranda recited Batman stepped forward, a hand on his shoulder, "Keep in mind, Dekker, you're several years older. We're hunting a meta, and one that can rhyme, He's stolen a satellite, and run out of time." "Of course, my darlings, of course, right this way! And if you need a new drink, you need only say." Miranda grimaced, and shook her head firmly "Touch me again, and you'll lie on a gurney." "See, what did I say?" I winked back at Gar. "Y'know, sometimes Drury, you take it too far," Gar murmured glumly, our quartet moved forward "You're geeky, you're creepy, you're ever so awkward." There, in the backroom, a man tapped his foot, He wore dark rimmed glasses, and let out a "Shoot." "The Meister, I take it," the Batman presumed, "The master of music, an agent of doom. How did you do it, make everyone sing?" "Oh, that little ditty? It's kinda my thing. You locked me up once, and what's worse, you forgot. I once ruled the world, until I got caught. I took hold of the airwaves, the radios too, And sent out my signal from here to the zoo." "Well, it's over now Meister, in jail you belong." "You can try your best, Bat, but it won't be for long! I've got friends in the Court, and a League of my own There are Monarchs in Blackgate, and I own the throne!" I tapped on his shoulder, and said in his ear, "What's the real harm, Bats, in some holiday cheer? Sure, he's messed with the radios, and boy, that is scary Yet I think that I'd take that over more of Ms Carey." The Bat shook his head, and he pushed us aside, He drew up Gar's helmet, and made sure to chide All of us present, he pressed on a button, And with the flick of his wrist, the signal was broken. Meister looked up in horror. "What have you done?!" he asked angrily, grasping his cane tightly. "Simple," Batman smirked. "You transmitted that signal through the radios, microphones, even through Lynns' helmet, all I had to do, was invert the broadcast." "You reversed the polarity..." Meister muttered glumly. "I reversed the polarity," Batman confirmed, as he drew a pair of handcuffs from his belt, and escorted Meister outside. "What about us?" Gar asked. "You were a victim of Meister's broadcast, that's all. You're free to go, Lynns." "Batman, wait!" Drury called after him. Bruce tilted his head back, and sighed heavily. "Yes, Walker?" "I was just wondering..." Drury began, as he kicked the ground bashfully. "Christmas dinner? My place?" he finished, looking to Miranda for support. Batman nodded. "Perhaps." "You too, Gar!" Drury said excitedly. Beside them, Lynns smiled faintly. "Alright then." "Does that offer go out to everyone?" Dekker asked, standing in the doorway, a large smear of eggnog staining his lips white. Miranda tapped him on the back, and walked past him. "Merry Christmas, Paul," she said stiffly, as the bugs departed. ... "Was- Was that a yes?" ==Abner Krill's Residence. Gotham== Krill finished putting the last of the decorations up, and sighed contently. On the floor, was a stack of unwrapped presents, each one a gift taken from an Arkham inmate. He'd taken the discarded wrapping paper and formed a makeshift snowman out of it. Finally, he poured a shot of Dent's scotch into a glass, and gulped it down thirstily. Then, the doorbell rang. Krill checked his watch, and grunted loudly, as he rose to his feet. He swung the door open. Standing at the bottom of the steps, twiddling his thumbs rather awkwardly, was Chuck Brown. "Hi, uh, Ivy sent me here. Something about a tree?" he said, rather unsure of himself. "Of course," Krill smiled heartily. And promptly slammed the door in his face.
License and Use
This Woman In The Window Plot - walker-in-a-winter-wonderland-1-1- on net.photos image has 1024x768 pixels (original) and is uploaded to . The image size is 126690 byte. If you have a problem about intellectual property, child pornography or immature images with any of these pictures, please send report email to a webmaster at , to remove it from web.
Any questions about us or this searchengine simply use our contact form
Published

12.05.21

Resolution

1024x768

Image type

jpg

File Size

126690 byte.