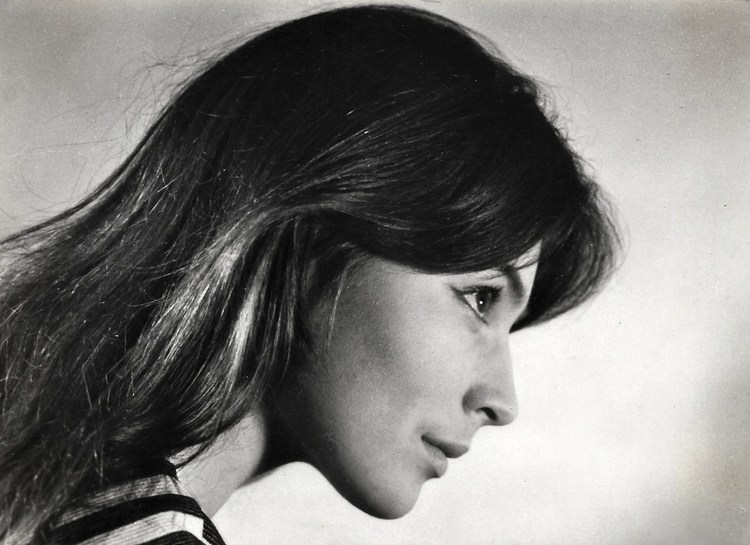 Emília Vásáryová
(PID:49010942863)
Source
posted by
Truus, Bob & Jan too!
alias
Truus, Bob & Jan too!
on Monday 4th of November 2019 07:25:33 AM
Big Czech postcard by Nakladatelstvi Orbis, Praha (Prague), no. F 09-31449. Photo: G. Skoumalova. Slovak actress Emilia Vasáryová (1942) is the first lady of the Czechoslovakian stage. She also appeared in nearly 100 films and TV productions. During her over five decades long career, she has received numerous awards, most recently the honorary degree Doctor Artis Dramaticae Honoris Causa (2010) as the only female to date. Emilia Vasáryová or Emilie Vasáryová was born in 1942 in Horná Stubna, First Slovak Republic (now Slovakia). She is the older sister of actress and former diplomat Magda Vásáryová. She was raised in Banská Štiavnica, where both her parents were teachers. Her father, Jozef Vášáry, taught Slovak literature and grammar at the local gymnasium, and her mother Hermína taught German language. Since her childhood, Vášáryová played amateur theatre, but she also participated in gymnastics. While at JSŠ highschool in Štiavnica, she was chosen for a cameo role in the Slovak/Hungarian film Szent Péter esernyöje/St. Peter's Umbrella ( Frigyes Bán, Vladislav Pavlovic, 1958), with Sándor Pécsi and Mari Töröcsik. She played a servant-girl with only one line "I'm coming, I'm coming!". At Christmas 1958, the film was released in both regions, but her name was not credited. She decided to study languages or history of art at the university. However, the Communist Party of Czechoslovakia gave her no permit and Vášáryová had to study theatre at the Academy of Performing Arts in Bratislava. During her college years, she played supporting roles in two films, Na pochode sa vzdy nespieva/Marching Is Not Always Fun (Frantisek Kudlác, 1960) and Polnocná omsa/Midnight Mass (Jirí Krejcík, 1962) with Jozef Kroner and Margit Bara. In Mladé letá/Young Ages (Ján Klimo, 1962) she made her television debut. Her breakthrough came with the lead role as Diana in Vojtěch Jasný's Az prijde kocour/The Cassandra Cat (1963), in which a magic cat reveals the true nature of everyone he looks at. The film premiered at the Cannes Festival in May 1963, and won two major awards in France. The Cassandra Cat continued to win awards at international festivals in Spain, Greece, Colombia and Italy. Her next film was Tvár v okne/A Face at the Window (Peter Solan, 1963) with Ladislav Chudík and Štefan Kvietik in the leads. Both would have a significant impact on Vášáryová's career: Chudík on stage in the next year, and Kvietik as her frequent "husband" in many films. In 1964, Chudík offered Vášáryováto to join the ensemble of the Slovak National Theatre. Earlier, she had spent one season at New Scene, where she appeared in four productions under the direction of Magda Husáková-Lokvencová, the first spouse of the final President of Czechoslovakia, Gustáv Husák. Her debut at the National Theatre was as Ophelia in a production of Hamlet. For her roles as Shakespeare's Helena in A Midsummer Night's Dream, and Lope de Vega's Florelle in the comedy The Dancing Master, she received the Janko Borodáč Award in 1967. In the cinema, the actress appeared in the satirical slapstick comedy Blaznova Kronika/A Jester's Tale (1964), which brought director Karel Zeman two international festival awards. Her other films included Námestie svätej Alzbety/St. Elizabeth Square (1965), Majster kat/Master Executioner (Palo Bielik, 1966), Lidé z maringotek/Trailer People (Martin Fric, 1966) with Jan Triska and Vlastimil Brodský, The Drak sa vracia/Dragon's Return (Eduard Grecner, 1967) and Niet inej cesty/There's No Other Way (Jozef Zachar, 1968). Simultaneously, Vášáryová began a television career. In 1968, she won the first edition of the TV national contest Golden Croc as the Most Popular Actress of 1967. During the 1970s, Emília Vásáryová continued to act on stage in Herodes and Herodias by Pavol Országh Hviezdoslav, Gorky's Vassa Zheleznova and The Last Ones, Palárik's Thanksgiving Adventure, Sophocles's Antigona and Tolstoy–Piscator's War and Peace. She also developed her television career. She was also cast in several films. Medená veza/The Copper Tower (Martin Hollý Jr., 1970) earned a Special Prize at the 21st Film Festival of Proletariats (FFP) in 1970. Den, ktory neumrie/The Day Which Does Not Die (Martin Ťapák, 1974) also received domestic awards for director Ťapák and leading actor Štefan Kvietik. The second half of the 1970s became a very successful period for the actress, and her work in films as well as in the theatre was much appreciated. As Zuza in the drama Kto odchádza v dazdi/Who Leaves in the Rain (Martin Hollý Jr., 1975), Vášáryová received in Prague the award of Best Actress at the 13th Festival of Czechoslovak Film (FČSF) in 1975. Another popular film was Cervené víno I-II/Red Wine (Andrej Lettrich, 1977), which received the State Prize of Klement Gottwald for the direction. Lettrich directed her again in Advokátka/The Lawyer (Andrej Lettrich, 1977), which won the Best Film award at the 16th Festival of Czechoslovak Film (FČSF) in České Budějovice in 1978, and brought Vášáryová herself her second ZČDU Award at the 21st Karlovy Vary International Film Festival (1978). The 1980s were not significant years for her, although she appeared in more than 30 television films. Her film career stalled after she reached her forties. The only two pictures she co-starred in were fairy-tale Plavcík a Vratko/Plavčík and Vratko (Martin Ťapák, 1981), and About Fame and Grass, a short story by Peter Solan (1984). She began to focus solely on her stage career. She played the lead role in Iphigenia in Tauris. At the end of the decade, Vášáryová began lecturing at the Academy of Performing Arts in Bratislava. In 1991, Emília Vásáryová was awarded the prize for her lifetime contribution, by the Ministry of Culture. In her fourth active decade on TV, Vášáryová acted in sixteen productions. She played opposite Martin Huba in Marguerite Duras' play La Musica, for which she won in 1992 a Telemuse Award as Best TV Actress. At the same time, and almost eight years since her last appearance onscreen, the actress returned to the cinema as Silvia in Cerveny cigán/Red Gypsy (Branislav Mišík, 1992). She co-starred with Marek Vašut in Hazard (1995), Roman Petrenko's debut, based on a true story. Tomáš Krnáč directed Vášáryová in the short film, The Higher Power (1996), in the role of a diva diagnosed with a serious illness. In the theatre, she was acclaimed for her performance as the Younger Sister in Thomas Bernhard's play Ritter, Dene, Voss in 1996. Since the second half of the nineties, 50 years-old Vášáryová successfully rebuilt her legend on the screen with challenging roles. She appeared as a mother in Martin Šulík's Orbis Pictus (1997), which was lauded at the International Filmfestival Mannheim-Heidelberg. She also played a mother in Eva Borušovičová's official debut Modre Z Nebe/Blue Heaven (1997) that received nominations on several festivals. Another success was Návrat ztraceného ráje/Return to Paradise Lost (Vojtěch Jasný, 1999) In her next picture, the bittersweet coming-of-age story Pelisky/Cosy Dens (1999), she was directed by Jan Hřebejk. In the 2000s, she became this director's protégé. For her stage role of Agnes in the Edward Albee play A Delicate Balance, she received the Crystal Wing in 1999 as Best Artist in Theatre/Film. As the Old Woman in Ionesco's absurdist tragedy The Chairs, she received the Dosky Award, Jozef Kroner Award and Literature Fund award (all in 2000). In 2001, Vášáryová was rated in a national journalist pool as the "Actress of the Century" in her native country. During this period, she performed some ten roles including Maria Callas in McNally's Master Class, and the main role in Mother Courage and Her Children by Brecht and Desseau. She also appeared in such films as the drama Horem pádem/Up and Down (Jan Hrebejk, 2004), and the seriocomedy Václav (Jirí Vejdelek, 2007). In Eva Nová (Marko Skop, 2015), she featured as a once-famous film star who battles with substance abuse while trying to reconnect with her estranged son. Marko Skop's fiction-feature debut world premiered at the 2015 Toronto International Film Festival. Emília Vásáryová was married to Horský, but they divorced. Her second husband was costume designer Milan Čorba. She is the sister-in-law of Milan Lasica. Sources: AllMovie, Wikipedia and IMDb. And, please check out our blog European Film Star Postcards.
License and Use
This Woman In The Window Cast 2019 - em-lia-v-s-ryov- on net.photos image has 1023x743 pixels (original) and is uploaded to . The image size is 155394 byte. If you have a problem about intellectual property, child pornography or immature images with any of these pictures, please send report email to a webmaster at , to remove it from web.
Any questions about us or this searchengine simply use our contact form
Published

11.28.21

Resolution

1023x743

Image type

jpg

File Size

155394 byte.