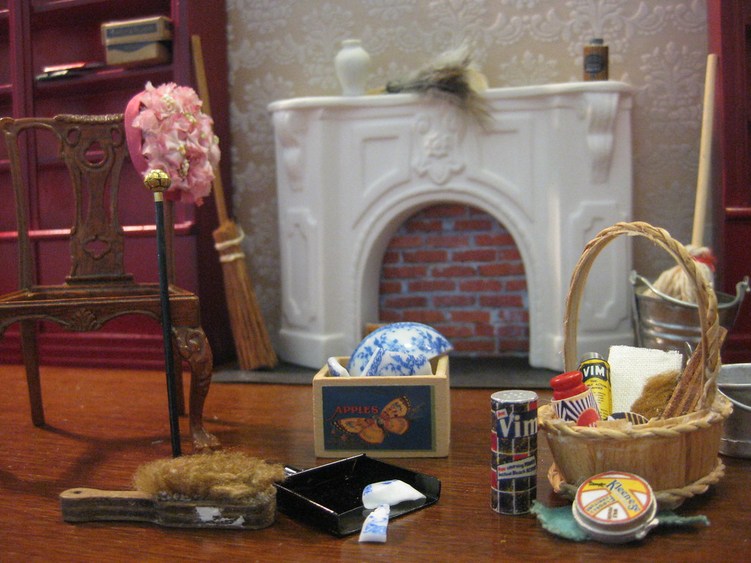 What Lettice Found at Wanetta Ward's Flat
(PID:51287657752)
Source
posted by alias
raaen99
on Sunday 4th of July 2021 06:55:58 AM
Cavendish Mews is a smart set of flats in Mayfair where flapper and modern woman, the Honourable Lettice Chetwynd has set up home after coming of age and gaining her allowance. To supplement her already generous allowance, and to break away from dependence upon her family, Lettice has established herself as a society interior designer, so her flat is decorated with a mixture of elegant antique Georgian pieces and modern Art Deco furnishings, using it as a showroom for what she can offer to her well heeled clients. Today however we are not in Lettice's flat. Instead, we have followed Lettice south-west, through the neighbouring borough of Belgravia to the smart London suburb of Pimlico and its rows of cream and white painted Regency terraces. However, Lettice is not standing before one of these, but before a smart red brick Edwardian set of three storey flats on Rochester Row. Looking up, Lettice admires the red and white banding details of the building, macabrely known after the Great War as 'blood 'n' bandages' stripes. The beautiful façade features bay windows and balconies with ornate Art Nouveau cast iron balustrades. One of them is now the residence of recently arrived American film actress Wanetta Ward. Approaching the front door Lettice sees the newly minted shiny brass plaque amongst those of the residents with Wanetta's name emblazoned on it in neat, yet bold, engraved letters. She pushes open the heavy black painted front door with the leadlight windows and walks into the deserted communal foyer and takes the stairs up to flat number four, her louis heels echoing loudly throughout the cavernous space illuminated by a lightwell three floors above. Stopping on the first floor landing before a door painted a uniform black, but without the leadlight, bearing the number four in polished brass, she presses the doorbell. From deep within the flat the sound of a bell echoes hollowly, implying what Lettice hopes – that the flat is now empty of its previous resident's possessions. She waits, but when no-one comes to open the door, she presses the doorbell for longer. Once again, the bell echoes mournfully from deep within the flat behind the closed door. Finally, a pair of shuffling footsteps can be heard along with indecipherable muttering and a familiar fruity cough as the latch turns. "Mrs. Boothby!" Lettice exclaims, coming face-to-face with her charwoman* as the old Cockney woman opens the door to the flat. "Well, as I live an' breave!" she exclaims in return with a broad and toothy smile. "If it ain't Miss Lettice! G'mornin' mum!" She bobs a curtsey. "You must be 'ere to see Miss Ward. C'mon in." Lettice walks through the door held open by Mrs. Boothby and steps into a well proportioned vestibule devoid of furnishings, but with traces of where furniture and paintings once were by way of tell-tale shadows and outlines on the floor and walls. "Come this way, mum. She's just through 'ere in the drawin' room." Mrs. Boothby says, leading the way, her low heeled shoes slapping across the parquetry floors. "But how is it that you are here, Mrs. Boothby?" Lettice asks in bewilderment. "Well, you know 'ow I 'as me friend Jackie, what cleans for you when I's sick?" Lettice nods pointlessly to the back of the old woman's head, but she continues as if sensing it through the rear of her skull. "Well, she got this cleanin' job to tidy up after the last man up an' left, and couldn't do it on 'er own, so she asked me to 'elp. So ere I is, and we is just in 'ere." The pair walk through a door into a light filled room devoid of furniture except for an old chair without its cushioned seat and two rather imposing built-in bookshelves either side of an old white plaster fireplace. A second charwoman is busy sweeping up the broken fragments of an old blue and white bowl with her dustpan and broom and depositing them into an old wooden crate that must once have held apples according to the label. The room is silent, but for the sound of sweeping and the clatter of crockery shards, and the sounds echo throughout the empty space. In the world outside Lettice can hear the clatter of horses hooves and the purr of a motor cars from street below. Lettice immediately spots Wanetta's lucky pink hat covered in silk flowers hanging off the back of the solitary chair and her brass handled walking stick that she uses for affect leaning against it. And there, silhouetted against the light pouring through the bay window overlooking Rochester Row stands the elegant and statuesque figure of Wanetta Ward, the morning highlighting the edges of her hair in auburn. "S'cuse me mum, I's gotta get back to me dustin'." Mrs. Boothby says as she goes over to the fireplace and picks up a feather duster. "Miss Chetwynd, darling!" Miss Ward exclaims with delight, spinning elegantly around and striding towards Lettice with open arms. Lettice allows herself somewhat awkwardly to be enveloped by the American's overly familiar perfumed embrace. Dressed in a smart black suit, Lettice notices the accents of pink that match Wanetta's lucky hat on the collar of her jacket and the hem of her calf length skirt. "How do you do Miss Ward." "Oh, just tickety-boo**, I think you British say." Miss Ward enthuses. "Except you're still calling me Miss Ward, and not Wanetta, like I told you to." She wags a grey glove clad finger at Lettice. "I think," Lettice remarks, carefully choosing her words but speaking firmly. "That would add a certain… overfamiliarity to our professional relationship. I'm sure you'll agree." "Oh you British are such stuffed shirts***," Miss Ward flaps her arms dismissively at Lettice. "But have it your own way. So," She spins around, stretching out her arms expansively in a dramatic pose. "What do you think?" Lettice looks around at the spacious room. "It's very elegantly proportioned from what I've seen so far." "So, do you think it will suit a young up-and-coming film star?" "I take it the screen test went well then, Miss Ward?" Lettice smiles at her hostess. "Meet Islington Studio's**** newest actress!" the American woman exclaims with a cocked manicured eyebrow as her painted pink lips curl in a proud smile. "Congratulations Miss Ward! That's wonderful news!" "Thank you, darling. I play my first part next week." "Excellent! I shall look forward to hearing more as the weeks go by." "You mean?" Miss Ward gasps, clasping her hands in hope. "You'll take me on?" "I think so, Miss Ward." Lettice replies. "It will be quite fun to have a completely clean slate to work with." "Oh, you darling, darling girl!" Miss Ward jumps up and down on the balls of her feet in delight. Mrs. Boothby's friend Jackie looks up from her floor polishing and discreetly shakes her head at the American woman's dramatic outburst. "Miss Ward, tell me about the treatment you were hoping for in here." Lettice asks, looking around at the old fashioned flocked wallpaper. Miss Ward starts to stalk around the room. "Now, I want colour, darling! My favourite colour is yellow, so I was thinking yellow vases, lamps, glassware, that sort of stuff." "I see," Lettice listens attentively, nodding. "I can see if my Italian contacts can find some nice Murano glass for you." "Excellent! Excellent!" The American claps her painted fingers in delight. Gesticulating energetically around the room to imaginary tables and pedestals she adds, "And remember, I want oriental too!" "I have an excellent merchant right here in London who imports the most wonderful items from the far east. You might even find you possess a little piece of Shanghai, Miss Ward." "Sounds perfect, darling! Now, I was thinking that with these bookcases pulled out, this will make a wonderful wall for vibrantly coloured wallpaper." She stretches her arms dramatically in two wide arcs, as if representing the daring colour that she envisages in her mind. "Something with a bold pattern." "And how does your new landlord feel about you having these bookshelves removed?" "Oh! Captain Llewellyn? He won't mind, so long as I smile prettily and bat my eyelashes enough." the American woman giggles. "That's not Captain Wynn Llewellyn, by chance, is it Miss Ward?" "Why yes darling!" She beams another of her bright smiles. "Do you know him?" "Yes, Miss Ward. He's a family friend." "Gosh! What a small world!" "Too right it is!" pipes up Mrs. Boothby from in front of the bookshelves she is busily dusting, whilst carefully eavesdropping on every word in the conversation between the two ladies. "She knows me 'n all!" "You do?" Miss Ward gives the old charwoman a doubtful look and then Lettice a questioning one. "Mrs. Boothby cleans for me every week, Miss Ward." Lettice elucidates. The American nods. "Well, a girl like you must know everyone there is to know in London, darling." Lettice blushes at the candid remark and looks away, hiding her embarrassment whilst she composes herself. "Well, at least in this case I know your landlord, so there shouldn't be any trouble with removing the bookshelves. Now, I must say that with such wonderful light in here, I really do think you'll need some white to offset the bold colours you want." "White?" Miss Ward whines. "But I just said I want colour. No white!" She pouts her lips petulantly, which silently Lettice admits gives her a smouldering look which perhaps explains how she succeeded with her screen test. "White is so… so… white, and boring." "It won't be boring the way I use it, Miss Ward, I can assure you." Lettice wanders over to the fireplace, carefully and politely avoiding the area that Mrs. Boothby's friend Jackie just polished. Picking up a small white vase sitting on the mantlepiece she continues, "You need something to temper bright colours. If I am to be your interior designer, Miss Ward, you are going to have to trust my judgement." She turns the vase over in her hands thoughtfully. "I promise you that I won't lead you astray." "Alright," Miss Ward replies, looking doubtfully at Lettice. "But not too much white." "With bold colours and patterns, dark furnishings, some golden yellow elements and white accents as I suggest, your flat will exude elegance and the exoticism of the orient," Lettice purrs reassuringly, replacing the vase on the mantlepiece. "Just as you desire." "Well…" "Where will you be staying whilst your flat is redecorated, Miss Ward?" Lettice boldly speaks over Miss Ward, swiftly crushing any disagreement. "At the Metropole***** near the Embankment." "Excellent. What I will do is create some sketches for you with my ideas for your interiors and then we can meet at the Metropole for tea, in say a week or so. Then you can see my vision and you may pass your judgement." "Very well, darling." the American woman replies meekly. "Wonderful!" Lettice smiles happily. "Now, you'd best show me around the rest of the flat so I can envision what it could look like. It's quite inspiring, you know!" "Then please, step this way and I'll show you my future boudoir." Miss Ward says, suddenly regaining her confidence and sense of drama. Purposefully, she strides towards the drawing room door, indicating for Lettice to follow her with a flourishing wave that is fit for a rising film star with the world at her feet. As Lettice moves to join her newest client on a tour of the rest of the flat, she stops short and turns back. "Oh Mrs. Boothby." "Yes mum?" the old Cockney woman asks. "Please don't dispose of that vase. Just leave it on the mantlepiece if you would." She points across the room to the vase sitting forlornly. "I have plans for it." she muses quietly. *A charwoman, chargirl, or char, jokingly charlady, is an old-fashioned occupational term, referring to a paid part-time worker who comes into a house or other building to clean it for a few hours of a day or week, as opposed to a maid, who usually lives as part of the household within the structure of domestic service. In the 1920s, chars usually did all the hard graft work that paid live-in domestics would no longer do as they looked for excuses to leave domestic service for better paying work in offices and factories. **Believed to date from British colonial rule in India, and related to the Hindi expression "tickee babu", meaning something like "everything's alright, sir", "tickety-boo" means "everything is fine". It was a common slang phrase that was popular in the 1920s. ***The phrase "stuffed shirt" refers to a person who is pompous, inflexible or conservative. ****Islington Studios, often known as Gainsborough Studios, were a British film studio located on the south bank of the Regent's Canal, in Poole Street, Hoxton in Shoreditch, London which began operation in 1919. By 1920 they had a two stage studio. It is here that Alfred Hitchcock made his entrée into films. ***** Now known as the Corinthia Hotel, the Metropole Hotel is located at the corner of Northumberland Avenue and Whitehall Place in central London on a triangular site between the Thames Embankment and Trafalgar Square. Built in 1883 it functioned as an hotel between 1885 until World War I when, located so close to the Palace of Westminster and Whitehall, it was requisitioned by the government. It reopened after the war with a luxurious new interior and continued to operate until 1936 when the government requisitioned it again whilst they redeveloped buildings at Whitehall Gardens. They kept using it in the lead up to the Second World War. After the war it continued to be used by government departments until 2004. In 2007 it reopened as the luxurious Corinthia Hotel. Although this may appear to be a real room, this is in fact made up with 1:12 miniatures from my miniatures collection. Fun things to look for in this tableau include: The Chippendale dining room chair is a very special piece. Part of a dining setting for six, it came from the Petite Elite Miniature Museum, later rededicated as the Carol and Barry Kaye Museum of Miniatures, which ran between 1992 and 2012 on Los Angeles' bustling Wiltshire Boulevard. One of the chairs still has a sticker under its cushion identifying from which room of which dollhouse it came. The Petite Elite Miniature Museum specialised in exquisite and high end 1:12 miniatures. The chair is taken from a real Chippendale design. Wanetta's lucky pink hat covered in silk flowers, which hangs of the back of the chair on the right is made by Miss Amelia's Miniatures in the Canary Islands. It is an artisan miniature made just like a real hat, right down to a tag in the inside of the crown to show where the back of the hat is! 1:12 size miniature hats made to such exacting standards of quality and realism are often far more expensive than real hats are. When you think that it would sit comfortably on the tip of your index finger, yet it could cost in excess of $150.00 or £100.00, it is an extravagance. American artists seem to have the monopoly on this skill and some of the hats that I have seen or acquired over the years are remarkable. Miss Amelia is an exception to the rule coming from Spain, but like her American counterparts, her millinery creations are superb. Like a real fashion house, all her hats have names. This pink raw silk flower covered hat is called "Lilith". Wanetta's walking stick, made of ebonized wood with a real metal knob was made by the Little Green Workshop in England. In front of the basket is a can of Vim with stylised Art Deco packaging and some Kleeneze floor polish. Vim was a common cleaning agent, used in any Edwardian household. Vim scouring powder was created by William Hesketh Lever (1st Viscount Leverhulme) and introduced to the market in 1904. It was produced at Port Sunlight in Wirrel, Merseyside, a model village built by Lever Brothers for the workers of their factories which produced the popular soap brands Lux, Lifebuoy and Sunlight. Kleeneze is a homeware company started in Hanham, Bristol. The company's founder, Harry Crook, had emigrated to the United States with his family several years earlier, and whilst there joined Fuller Brush as a sales representative. He returned to Bristol several years later, and started a business making brushes and floor polish which were sold door-to-door by salesmen. Technically Kleeneze didn't start until 1923, which is two years after this story is set. I couldn't resist including it, as I doubt I will ever be able to photograph it as a main part of any other tableaux. Thus, I hope you will forgive me for this indulgence. In the basket is a second can of Vim with slightly older packaging, some Zebo grate polish and a can of Brasso. Zebo (or originally Zebra) Grate Polish was a substance launched in 1890 by Reckitts to polish the grate to a gleam using a mixture that consisted of pure black graphite finely ground, carbon black, a binding agent and a solvent to keep it fluid for application with a cloth or more commonly newspaper. Brasso Metal Polish is a British all-purpose metal cleaning product introduced to market in 1905 by Reckitt and Sons, who also produced Silvo, which was used specifically for cleaning silver, silver plate and EPNS. The tin buckets, wooden apple box, basket, mop, brush, pan and birchwood broom are all artisan made miniatures that I have acquired in more recent years. Sadly, the broken bowl is a result of an accident, which is unusual for me. When this bowl arrived it was wrapped in a small sealable plastic bag which slipped from my fingers and the blue and white porcelain bowl shattered on my slate kitchen floor where I unpack my parcels! I kept it as a reminder to be careful when unpacking my miniature treasures. Don't worry, I have a replacement bowl which I am very careful with. The feather duster on the fireplace mantle I made myself using fledgling feathers (very spring) which I picked up off the lawn one day thinking they would come in handy in my miniatures collection sometime. I bound them with thread to the handle which is made from a fancy ended toothpick! The little white vase on the mantlepiece is mid Victorian and would once have been part of a doll's tea service. It is Parian Ware. Parian Ware is a type of biscuit porcelain imitating marble. It was developed around 1845 by the Staffordshire pottery manufacturer Mintons, and named after Paros, the Greek island renowned for its fine-textured, white Parian marble, used since antiquity for sculpture. The vase and a matching jug I picked up as part of a job lot at auction some years ago. The Georgian style fireplace I have had since I was a teenager and is made from moulded plaster. The flocked wallpaper is beautiful hand impressed paper given to me by a friend who encouraged me to use it as wallpaper for my 1:12 miniature tableaux.
License and Use
This Woman In The Window Cast - what-lettice-found-at-wanetta-ward-s-flat on net.photos image has 1024x768 pixels (original) and is uploaded to . The image size is 194965 byte. If you have a problem about intellectual property, child pornography or immature images with any of these pictures, please send report email to a webmaster at , to remove it from web.
Any questions about us or this searchengine simply use our contact form
Published

12.02.21

Resolution

1024x768

Image type

jpg

File Size

194965 byte.