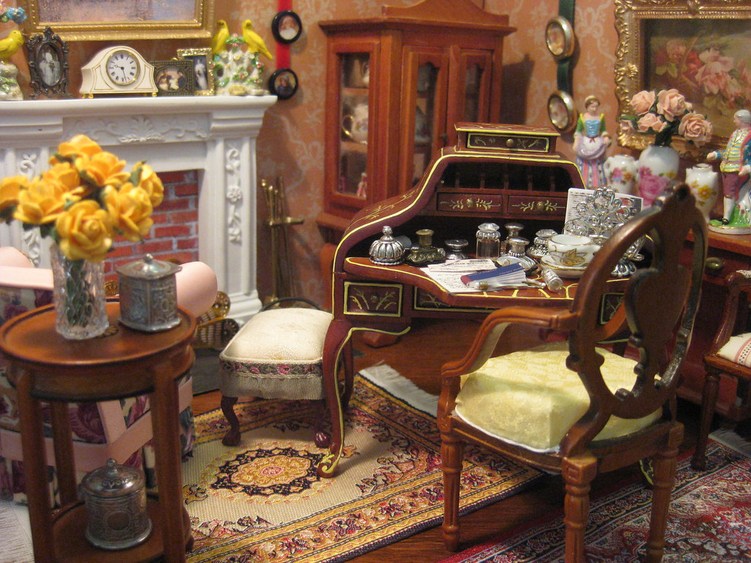 Payment from the Duchess
(PID:51068265377)
Source
posted by alias
raaen99
on Wednesday 24th of March 2021 09:24:11 AM
Cavendish Mews is a smart set of flats in Mayfair where flapper and modern woman, the Honourable Lettice Chetwynd has set up home after coming of age and gaining her allowance. To supplement her already generous allowance, and to break away from dependence upon her family, Lettice has established herself as a society interior designer, so her flat is decorated with a mixture of elegant antique Georgian pieces and modern Art Deco furnishings, using it as a showroom for what she can offer to her well heeled clients. Today however, we are not at Cavendish Mews. We have moved north-east to the upper-class London neighbourhood of Fitzrovia, where Lettice has been summoned to the Duchess of Whitby's four storey stuccoed Georgian townhouse. Lettice was pleasantly surprised when after luncheon with her father at Cavendish Mews, she received a note a few days later delivered in person by liveried footman from the Duchess of Whitby, requesting her presence in Fitzroy Square on Tuesday morning at half past nine. Now, standing on the sweeping steps of Portland stone she looks up at the impressive Regency façade and knocks at the black painted front door with the polished brass knocker. A liveried footman, different to the one who delivered the Duchess' letter, answers the door. "The Honourable Lettice Cheywnd to see Her Grace." Lettice says firmly and the footman steps aside, ushering her from the bright daylight outside into the cool marble hallway within. The clip of Lettice's louis heels echo throughout the lofty entrance hall which is lit from four storeys above by a lightwell. The footman politely asks her to wait whilst he strides silently up the sweeping carpeted spiral staircase to the upper floors of the townhouse. Lettice has not long been settled into the red velvet seat of a walnut Regency chair when he returns. "Her Grace is in the morning room, if you'd be so good as to follow me, Miss Chetwnd." Lettice smiles smugly as she thinks of what was written on the thick monogrammed and gilt-edged paper within the envelope delivered to her flat: in it, Lettice has been promised the full sum owing for the work done remodelling her mother's titled cousin's small first floor reception room in her signature Modernist Classical Revival style. It was something Lettice had all but given up on after sending the elusive Duchess several written reminders, standing on the steps outside on Fitzroy Square several times, and making numerous unreturned phone calls to the Duchess, all to no avail. "Miss Chetwynd, Your Grace." the footman announces as he opens the door to the morning room. Not a room Lettice has seen before, it looks like much of what she has seen of the Duchess of Whitby's townhouse: the classical Robert Adam design overlaid with the comfortable Edwardian clutter of continual acquisition over the ensuing generations. Her own family home of Glynes in Wiltshire is furnished in the same style and spirit. A cosy and feminine room, it has pretty pink wallpaper and the surfaces are decorated with figurines made by Meissen and Worcester, silver boxes, photos in silver and gilt frames and vases of fresh roses. Georgian and Regency furniture is intermixed with pieces from later periods, including a comfortable looking pink floral armchair drawn up to the fire. Seated at a Hepplewhite bonheur de jour* writing letters and sipping tea from a gilt Royal Doulton cup is the Duchess of Whitby. Aged in her fifties, she looks not unlike Queen Mary with her morning gown showing the abundant curves of her matronly figure. Her hair is still set in the ornate style that was popular before the war. Several strings of pearls hang around her neck and cascade down her front and diamonds wink cheekily at her wrists and on her fingers. The Duchess looks up from her tea. "Thank you, Whitby." "Tea, Your Grace?" "Oh yes! I…" Lettice begins. "No! Thank you, Whitby." the Duchess speaks sharply over her guest. "Miss Chetwynd is a busy modern woman and hasn't time to take tea with an old matron like me." "Oh yes," Lettice replies awkwardly with a false bonhomie to cover her embarrassment at the Duchess' snub. "Yes, I am, frightfully busy just today." "Very good, Your Grace." The Footman retreats and quietly closes the door to the morning room behind him. The security and warmth Lettice felt moments ago as she stepped across the threshold of the morning room dies away, leaving her cold and decidedly uncomfortable. Silence falls thickly between the two women, with only the soft tick of the clock on the mantle and the twitter of a blackbird on a branch near the window outside to break it. The Duchess turns back to her bonheur de jour and slides open a drawer above her glittering array of silver and crystal ink pots. "It's very fortunate that your footman's name is Whitby, Your Grace." Lettice says nervously in an effort to break the silence. "It is easy to remember." "Indeed, and that's why I christened him thus." the Duchess replies haughtily, her back still turned as she rifles in another drawer for something else. "All the first footmen are always named Whitby, despite what name they may have been born with." "Oh." Lettice says awkwardly. "At home in Glynes**, Mamma and Pappa just call the footmen by their surnames." "Yes, well," the Duchess turns in her seat, resting her thick arms on the delicate arm of her chair and fixes Lettice, still standing in the middle of the morning room's main carpet, with a steely stare. "You come from a rather inconsequential provincial family, Miss Chetwynd." "With all due respect, Your Grace," Lettice colours at the slur to her family. "You and Mamma are cousins." "Shall we dispense with the pleasantries, Miss Chetwynd?" the Duchess asks, ignoring Lettice's remark. Lettice, finding none of this encounter with her former client at all pleasant, does not reply. "Good!" the Duchess snaps as if Lettice's silence is agreement. "Your father contacted me because you have seen fit to complain to him that my account with your," She sniffs derisively. "Establishment, is in arrears." "Well, I have sent you two politely worded reminders, Your Grace, and paid a few calls, and telep…." "When Sadie telephoned me," the Duchess cuts Lettice off with her sharp tone. "I was under the impression that as a newly established interior designer, you would be grateful for a commission from someone as well known and influential as I am." "Oh, I was… I am, Your Grace." "Yet you still expect to be paid, for what you have done?" "Well, yes Your Grace. It was a business transaction." "And after all I have done, by graciously allowing you to redecorate my small reception room." "Well, I did discuss the approximation of costs with your steward." "Yes, yes!" the older woman testily sweeps away whatever else Lettice was going to say with a bejewelled hand. "This cheque will cover any amount you claim to be, in arrears." The Duchess scribbles in a blue cheque book with a silver fountain pen, her flourishing signature scratching across the bank's paper. She stamps the cheque heavily with her silver ink blotter and withdraws the cheque, the perforation of the paper sounding crisply across the room as it tears from the book. She holds it out with obvious distain to Lettice, who approaches quickly and takes hold of it. There is an awkward moment when both women hold either end of the cheque, both determined that they are the ones in the right. Then with an almost imperceptible sigh, the Duchess releases it into Lettice's welcome grasp. The Duchess turns back to her bonheur de jour and presses a silver bell to her left. Its shrill ding rings clearly, summoning a footman or another member of the Duchess' staff, and indicating that their meeting is concluded. "Your Grace?" the same footman who escorted Lettice in steps into the room. "Whitby, Miss Chetwynd is leaving." the Duchess replies dismissively. "Kindly show her out." "Miss Chetwynd," the footman says politely with an almost apologetic smile. "Oh Miss Chetwynd," the Duchess calls out just as Lettice turns away to go. "Yes, Your Grace?" she asks, turning back, trying as hard as she can to retain her good manners so as not to ignore the rude old woman and storm out. "Miss Chetwynd, kindly tell your mother, that the next time she dares to telephone me, asking me for a favour for one of her ungrateful children, I no longer have a cousin named Sadie." The footman quickly glances down, obviously embarrassed by his mistress' remark to the pretty young lady whom he assumed to be a guest. Resorting to an inner strength she did not know she possessed, Lettice manages to retain her composure as she replies with an edge of defiance, "With pleasure, Your Grace." Thrusting the cheque into her crocodile handbag, Lettice walks purposefully from the room with her head held high, knowing that she is in the right, both financially and morally. The Duchess may be higher ranked than she or her parents, but that is all the more reason why her good breeding should prevent her from having treated Lettice so poorly. As the footman quietly closes the shiny black painted door behind Lettice and she descends the steps to Fitzroy Square, she knows that she will never again set foot inside the Duchess of Whitby's Fitzrovia townhouse. However, she also knows that as her reputation as an interior designer of exquisite taste is growing, she will no longer need the Duchess' help to promote her business. *A bonheur de jour is a type of lady's writing desk. It was introduced in Paris by one of the interior decorators and purveyors of fashionable novelties called marchands-merciers around 1760, and speedily became intensely fashionable. Decorated on all sides, it was designed to sit in the middle of a room so that it could be admired from any angle. **Glynes is the grand Georgian family seat of the Chetwynds in Wiltshire, and the home of Lettice's parents, the presiding Viscount and Countess of Wrexham. Although cluttered and somewhat old fashioned by 1920s standards, the Duchess' Edwardian style morning room is very elegant and would have been typical of a woman of her age in the upper aristocracy at this time. The upper classes, whether titled or not, tended to enjoy their opulent and lavish interiors. Only the brave or modern thinker would have swept away the accumulation of antiques over the generations for the clean lined, stripped back Art Deco interiors fashionable in the new houses, flats and hotels being built around Britain and the world. This upper-class domestic scene is different from what you might think, for it is made up entirely of 1:12 size dollhouse miniatures, some of which come from my own childhood. Fun things to look for in this tableaux include: The Eighteenth Century Hepplewhite bonheur du jour, which is hand decorated with leaves and gilding, was made by the high-end miniature furniture maker, Bespaq. As shown in this photo, it has a fold down top and every drawer opens and closes easily: even the one in the apex of the desk. The Hepplewhite chair is also made by Bespaq. On the desk are some 1:12 artisan miniature ink bottles, stamps, a blotter, a roller, bell and letter rack, all made by the Little Green Workshop in England who specialise in high end, high quality miniatures. The ink bottles are made from tiny faceted crystal beads and have sterling silver bottoms and lids. The ink blotter is sterling silver too and has a blotter made of real black felt, cut meticulously to size to fit snugly inside the frame. The stamp is made of brass. The silver letter rack which contains some 1:12 size correspondence, also made by the Little Green Workshop. There are also three pens and a letter opener also made of silver made by the Little Green Workshop. Atop a bill and some correspondence, which were made meticulously by Little Things Dollhouse Miniatures in Lancashire, sits a blue Bank of England cheque book, sold through Shepherd's Miniatures in England. The gilt Art Nouveau teacup, featuring a copy of a Royal Doulton pattern, comes from a larger tea set which has been hand decorated by beautifully Handmade Miniatures in Kettering. The walnut Queen Anne china cabinet in the corner of the room has a mirrored back and glass shelves. It is one of the first pieces of miniature furniture I was ever given when I was seven years old. It is filled with an array of china pieces I have acquired from various places over many years. The Duchess' family photos on the mantlepiece are all real photos, produced to high standards in 1:12 size on photographic paper by Little Things Dollhouse Miniatures in Lancashire. The frames are from various suppliers, but all are metal. The white and gold Georgian Revival clock on the mantlepiece is a 1:12 artisan miniature made by Hall's Miniature Clocks, supplied through Doreen Jeffries Small Wonders Miniatures in England. The Worcester canaries on the mantlepiece and the Meissen gentleman and lady on the sideboard were cast from pewter by Warwick Miniatures in Ireland, who are well known for the quality and detail applied to their pieces. They were hand-painted and gilded by me. The silver Regency tea caddy and the Victorian biscuit barrel on the two tier Regency walnut occasional table are also made by Warwick Miniatures in Ireland. The glass vase on the table is made by Beautifully Handmade Miniatures in Kettering in England. It is especially fine. If you look closely you will see that it is decorated with lattices of fine threads of glass to give it a faceted Art Deco look. The gold roses in the vase and the pink vases on the sideboard were also hand made by Beautifully Handmade Miniatures. The round pictures hanging on ribbons were made by me when I was twelve years old. The ribbons came from my maternal Grandmother's sewing box, and the frames are actually buttons from her button box. The images inside (two Victorian children paintings on one and three Redoute roses on the other) were cut from a magazine. The other gilt framed paintings around the room were made by Amber's Miniatures in the United States. The white resin Adam style fireplace is a recent acquisition. It and the Regency walnut two tier table came from an E-Bay dealer who specialises in re-selling high quality miniatures. The pink floral armchair by the fireplace is made by Bespaq. The Persian carpets beneath the furniture are hand made by Mackay and Gerrish in Sydney, Australia.
on topic
License and Use
This Woman In The Window Cast - payment-from-the-duchess on net.photos image has 1024x768 pixels (original) and is uploaded to . The image size is 261379 byte. If you have a problem about intellectual property, child pornography or immature images with any of these pictures, please send report email to a webmaster at , to remove it from web.
Any questions about us or this searchengine simply use our contact form
Published

08.14.22

Resolution

1024x768

Image type

jpg

File Size

261379 byte.