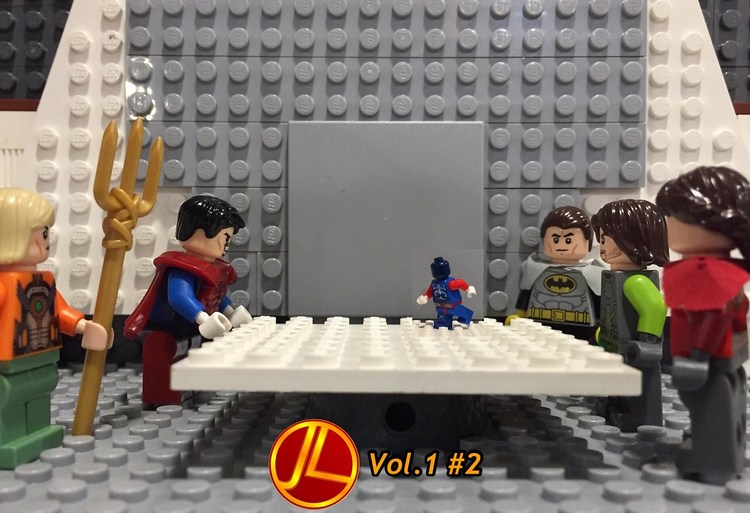 Justice League Vol.1 #2
(PID:24487557241)
Source
posted by alias
Mr. Begote
on Sunday 24th of January 2016 12:27:44 AM
Bruce looked at the clock. It was 11:52. He did the normal routine, and got to the Hall of Justice (Clark had named it) at about 12:29 like usual. He heard the door open, then close. Then four people turned the corner. One was a woman, the other dressed in green, and another with a trident. Clark stepped forward. "I have found my members." Bruce stood up. "Wonder-Woman. An amazon from a different world, cast out from the Gods." "How do you...." she asked. "Green Lantern. Father died in a plane crash, you got a ring, yada yada yada, your a hero now." "My father died for me....." he started to argue. "Aqua-Man... well. You're just a guy in the ocean. Yeah what, what um, can he help us with Clark?" "WHAT?!?! You think the ruler of the sea is not worth enough for this team!" said Aqua-Man. Bruce turned to look at him. "Yes." Aqua-Man became enraged. He rushed towards Bruce, but Bruce only smiled at opened his arms. Aqua-Man stopped. "What? Why did you stop? Go ahead kill me. That was what you were going to do wasn't it?" "I.... I physically CAN NOT!" It was true. Aqua-Man was frozen in position. Bruce took out a small device from his pocket. "I call it the De-Aquifyer. It will drain you of all the moisture in your body. If you don't say sorry." Aqua-Man nodded. Bruce hit the button on the device. Aqua-Man became free. "He has devices to defeat all of us." said Clark. "Whatta 'botu him? Does he have some kind of device to defeat himself?" asked Green Lantern. "I don't know Hal. I don't know." Bruce just smiled. "I have guy for that. In fact, he's right here." They all looked around and saw nothing. Bruce only laughed. "He's right here. Come out Ray." Clark looked around with his heat sensors. Then he saw something. Growing. Something running at him. "Bruce, this the guy you were talking about?" Bruce's face turned from a smile to a frown. "No Ray, don't!" Clark saw the thing jump at him. Then he felt like something hit him. HARD. Clark flew back and dented the wall. "Damn, my new walls." said Bruce. They all stood amazed at what had just hit Clark. Then they saw a man appear from nowhere. He saw Diana immediately. "Hey babe, the name's Ray, but you can call me the Atom." He cockily smiled. She looked as if someone had insulted her. She quickly punched him in the stomach. He flew into the same wall as Clark. He looked next to him. "...Hey... I'm... Ray." "....Clark..." The two helped each other up. "Sorry, 'bout that. Wasn't mean t for you." said Ray. "Um, thanks?" responded Clark. "No problem." Ray smiled. Clark was beginning to wonder why this guy was here. "Ok." said Bruce, "Let's get down to business. We all know why we are here. We need a team of super individuals to take down bigger threats. Now, I believe you all have been fighting crime for the last year, and this is how Clark and Myself have noticed you. Ray, you're just another billionaire." "Hell YEAH! I mean. *ahem*, I like saving kids from school... and stuff." Bruce shook his head. "Anyways, that's why you're here. So we believe we have found some threat. It's just beyond Saturn and getting closer. I would send Diana and Clark to go look at it, but it would be too dangerous. So, we should wait till it nears our moon." Aqua-Man stood up. "Then why are we here now?" he said. "You're here just for these." Bruce handed out the wrist-bands to the room. "Now, all of you please follow me, and I'll show you something. Clark, please stay here." said Bruce. "Oooh! Tours! I love tours!" said Ray. Clark sat down. He knew where the group was going. They were going to "the Room." Clark hated that room. But as Bruce said it was for his own good. They all started to come back one by one, which was odd, if they all were going to the same place. Diana was the first one back. "Clark.... he has a... room..." "I know." She seemed out of breath. "... for all of us..." she said. This shocked Clark. A room, for every single member? That can't be right. This wouldn't be a meeting place, this would be a prison. "Clark." said Bruce. Clark turned around. "I need you to help me with something." "Sure Bruce." Clark had a plan to distract Bruce, and then confront him. But that as before they went to a room Clark had never seen before. Bruce looked nervous. "Open the door Clark. I want you to see this." Clark put his wrist to the door. The door made a hiss, and opened. Inside was a chamber. Bruce stepped in. "Close the door Clark and press the button on the door." Clark did as he was told. Then there was a little window Clark could see through. He saw bats flying all around the chamber, and Bruce in the middle. Bruce just, sat there. He didn't do anything. He just sat there. Clark turned it off. He put his wrist to the door, and the hiss sound was there again. He rushed towards Bruce. "What the hell did you do?" he asked. "I wanted to show you, that I have a source for everyone. Even me." -------------------------------------------------------------------------------------- There's #2! Expect #3 next week, and expect Kaine today or tomorrow! Remember, comments are appreciated!
on topic
License and Use
This Woman In The Window Cast - justice-league-vol-1-2 on net.photos image has 1024x701 pixels (original) and is uploaded to . The image size is 143541 byte. If you have a problem about intellectual property, child pornography or immature images with any of these pictures, please send report email to a webmaster at , to remove it from web.
Any questions about us or this searchengine simply use our contact form
Published

08.14.22

Resolution

1024x701

Image type

jpg

File Size

143541 byte.