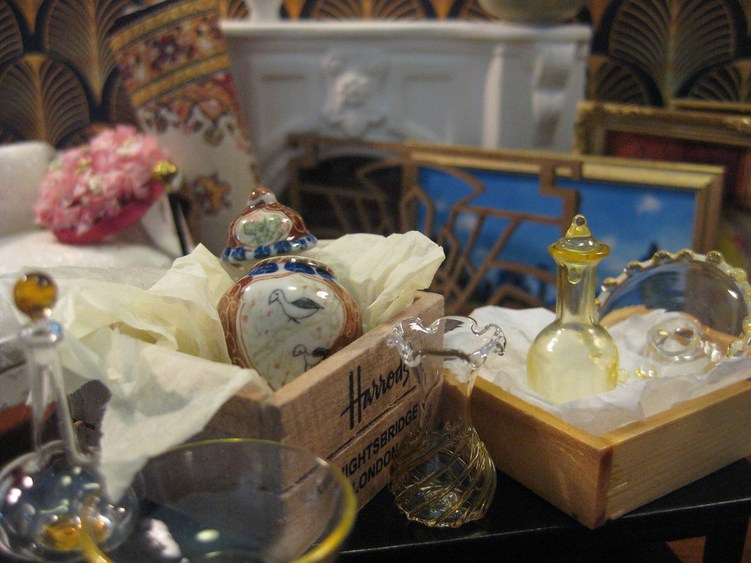 Coming Together, Tickety-Boo, Darling!
(PID:51544624976)
Source
posted by alias
raaen99
on Sunday 3rd of October 2021 06:30:06 AM
Cavendish Mews is a smart set of flats in Mayfair where flapper and modern woman, the Honourable Lettice Chetwynd has set up home after coming of age and gaining her allowance. To supplement her already generous allowance, and to break away from dependence upon her family, Lettice has established herself as a society interior designer, so her flat is decorated with a mixture of elegant antique Georgian pieces and modern Art Deco furnishings, using it as a showroom for what she can offer to her well heeled clients. Today however we are not in Lettice's flat. Instead, we have followed Lettice south-west, through the neighbouring borough of Belgravia to the smart London suburb of Pimlico and its rows of cream and white painted Regency terraces. There, in a smart red brick Edwardian set of three storey flats on Rochester Row, is the residence of Lettice's latest client, recently arrived American film actress Wanetta Ward. The flat is all and sixes and sevens today as removalists disgorge beautiful new furnishings from their lorry. Carefully they carry items that Lettice has specifically chosen for Wanetta's flat through the communal foyer illuminated by a lightwell three floors above, and up the sweeping stairs to flat number four. The painters and decorators have already been through, hanging fashionable papers chosen by Lettice on walls and giving the wainscots, cornicing and ceiling roses a much needed fresh coat of paint. The floors have been polished and now each room is cluttered with Chinese screens, oriental tables, black japanned furniture, oriental rugs, Chinoiserie pieces, paintings and boxes of decorative items. Lettice stands in the central vestibule and directs the men to carry different pieces into different rooms, a clipboard across the crook in her left arm as she ticks items off her inventory for the flat. She and a handful of men will return in a few days to set things up properly. Today is really all about moving everything from Lettice's warehouse near the docks to its new home. Lettice sighs with relief when the last removalist leaves after depositing the final box in the vestibule. Now she can check the boxes to make sure that everything has arrived safely. She closes the door and luxuriates in the silence as it falls about her like a comforting blanket. Walking into the flat's drawing room, she admires the French blue wallpaper with its stylised motif of golden fans as they run the length of the room across a wall now devoid of the floor to ceiling bookshelves that had cluttered it previously. She emits a sigh of satisfaction as she smiles at it glowing in the mid-afternoon sun pouring through the bay window. Taking up a crowbar, she starts to separate the lids nailed onto boxes and crates so she can remove their contents. She chuckles quietly to herself as she works, a cheeky smile dancing across her lips as she thinks of how horrified her mother would be to see her using such an implement so adeptly. Lady Sadie would struggle to lift a fire poker, never mind wrench the lid from a wooden crate. Soon the surface of a low table and the floor around her is littered with tissue paper, oriental pottery and Murano glassware. Picking up a vase with elegant golden yellow fluting spiralling around its bulbous base, Lettice holds it to the light, admiring the brilliance of the colour as it is caught in the sun's rays. Just as she sets it down again, she hears a key turning in the lock of the front door, its unique metallic groan echoing through the vestibule and into the drawing room. "Hullo?" Lettice calls in the direction of the front door. "Is that you, darling Miss Chetwynd?" Miss Ward's American enunciations sound loudly down the hallway as the front door creaks open. "It's only me, Wanetta!" "I'm in the drawing room." Lettice replies as the sound of the front door slamming closed resounds through the flat. She listens to the American woman's footsteps and the tap of her walking stick that she uses for dramatic effect as she walks across the hallway and peeps into each room off it to take a sneak peak of what is in each before finally walking into the drawing room, a vision in orchid silk with her lucky pink floral hat atop her head. "I'm afraid that you're far too early, Miss Ward," Lettice beams up from her kneeling position on the floor. "I've only just had the furniture moved in a few hours ago. I haven't set things straight yet." "Oh," Miss Ward bats away Lettice's protestations with a flapping hand glittering in jewels. "That doesn't matter my darling girl! I only came here today because I'd heard from the shipping company that my paintings had been delivered. I just wanted to make sure they were all here." "And if by checking on their safe arrival you were given an opportunity to have a little peek as to how things are going with the redecoration, that wouldn't go astray either?" Miss Ward blanches at the suggestion but doesn't deny it. "I'm an inquisitive woman, darling. It took all my inner strength not to come charging down here beforehand to see how it was all progressing." The American's eyes dart about the room, taking in the general chaos of misplaced furniture, tea chests disgorging paper and crates spilling forth decorative china and glassware. "They are over there, Miss Ward," Lettice rises from her place, brushing her hands down the calico smock she wears as a protective cover over her smart outfit beneath, before pointing to a stack of paintings resting against the wall by the fireplace. "I had my men unpack them in readiness for hanging." "That's very good of you, darling." Miss Ward looks across at Lettice as she removes her hat and tosses it carelessly onto a white upholstered reproduction Chippendale settee. "Only you could look so stylish in a smock, dear girl!" she laughs loudly as she props her stick against the arm of the settee. "It's just to protect my clothes." Lettice explains with a slightly embarrassed self conscious chuckle as she gazes down at her smock's crumpled and slightly dusty front. "Anyway, I'm glad you are here, Miss Ward. We can discuss the placement of your artworks. Mind you, I didn't see a portrait of you in yellow amongst them." "Oh! Well, you wouldn't. I had that delivered to my hotel room. It can hang there until I'm ready to move in." "Then how am I to…" Lettice begins. Miss Ward gasps, interrupting Lettice's spoken thought, finally slowing down enough to notice the wallpaper. "That wallpaper truly is stunning, Miss Chetwynd, my darling, darling girl! Truly it is!" she enthuses with clasped hands. "I say again, a stroke of genius on your part!" "I'm glad you approve, Miss Ward." "Oh I do!" she agrees readily. "It is divine and makes such a statement," She walks up to the wall and runs her elegant fingers over the paper, feeling the embossed lines of the fan in the print. "But in an elegant way. Classy! Not… not de… de…" "Déclassé. Indeed, Miss Ward." Lettice agrees. "Now whilst you're here, I'd like you to cast your eyes over these choices of ornamental glassware and make sure that they are to your liking." "Oh yes? Let me see!" Miss Ward walks purposely across the room to the low table cluttered with boxes and objects made of glass either solely or tinted at the least with golden yellow colouring. She gasps as she picks up an elegant decanter with a long neck and bulbous end with a golden yellow stopper. Carefully putting it back down she turns her attention to a rather lovely large clear glass bowl with a gilt rim, a smile of pleasure causing her painted lips to curl upwards in delight. Then she glimpses another decanter made completely of yellow glass. She picks it up with both hands, holding it with reverence. "They're all pieces from Murano, a little glass blowing island in Venice," Lettice explains. At length Miss Ward finally replies, "Oh darling! They are gorgeous! Where do you envisage these going?" "Well, I have a black japanned cocktail cabinet and console table on order from my cabinet maker which are due to be delivered in a few days. I thought the cocktail cabinet might go here." She indicates with an open hand to the space behind the white settee and a rolled up oriental rug with gold patterning to the left of the fireplace. "And the console table, here." She points to the right of the fireplace, currently cluttered with Miss Ward's stack of paintings. "I was going to put a cluster of these on it along with a pale yellow celadon vase decorated with gold bamboo that is still packed in one of these crates somewhere." She indicates to a few of the as of yet unopened boxes. "Then my portrait shall hang above it!" Miss Ward declares. "It will look perfect there!" "Very well, Miss Ward. If that is your wish." Lettice acquiesces, even though it irks her a little to have not seen the portrait to know if it will really suit the space on the wall. "Does Harrods sell oriental ginger jars?" Miss Ward laughs as she notices the elegant writing on the side of a small crate from which a green, brown and blue Japanese jar pokes. "No," Lettice chuckles, looking to where her client is gazing. "Though I'm quite sure if I asked them to, they would. No, this is a Japanese temple vase from my oriental importers. The box is mine, left over from a rather fun cocktail party I had a few weeks ago for some friends of mine who are getting married." "Oh," Miss Ward remarks. "I think I remember reading something about your party in the society pages of the Tatler." "I'm surprised you have time to read the society pages, Miss Ward, what with your new career at Islington Studios*." "I quite enjoy reading magazines between takes, and when I'm having my makeup done." Miss Ward elucidates. "It helps to pass the time." "And things are going well with your film?" "Oh, 'After the Ball is Over' is already in the bag, darling!" "Goodness, that was fast, Miss Ward." "Things move like quick lightning in the flicks, Miss Chetwynd. No time to stand around gawking though. My next picture is already underway - 'A Night at the Savoy' with me as an elegant society lady. I almost don't need to act." the American woman laughs heartly. Lettice has the good grace not to remark on Miss Ward's lack of refinement as she says, "Well that is good news for you. A second film already." "Yes! I might even be able to host a cocktail party here for the release of 'After the Ball is Over'." Miss Ward exclaims. "Won't that be fun?" The young woman begins to hum the tune to 'After the Ball is Over' as she starts to dance around the room, pretending that she is held in the arms of some dashing young man. Lettice watches her in silence, admiring her client as she moves elegantly around the room, her orchid dress sweeping around her slim and tall figure in elegant folds, her signature pearls dancing down her neck along with her. Suddenly she trips over the tag on the rolled-up carpet leaning against the fireplace, causing it to slide and fall against the settee with a whoosh and a dull thump, breaking the spell of elegance. On the mantlepiece, a small white vase teeters. "Careful!" Lettice cries, reaching out as much to the little vase as she does Miss Ward. Miraculously, Miss Ward steadies herself and catches the vase in her elegant hand. She looks down at it, contemplating it for a moment before remarking, "Isn't this the little vase that was sitting here the day I had those two charladies** in here, cleaning up after the last tenant?" "It is, Miss Ward." Lettice agrees, walking over to the American woman. "But I told them to throw anything left by him, out." "I know," Lettice takes the vase from Miss Ward's hand and places it back on the mantlepiece. "But I asked them to leave it." "Why, Miss Chetwynd?" Miss Ward looks down at Lettice with a puzzled look on her pretty face. "Call it fancy, Miss Ward, but I rather like the idea of a room retaining a little of its past. There wasn't much in the way of its history to work with, save for this little vase." "You're talking to a girl who has a lucky hat, darling girl. I'm the last one to challenge your fancy." She looks at the vase again, scrutinising its simple elegance. "And, I suppose you did say that you were going to have elements of white in my décor." "I did, Miss Ward." Lettice confirms. "However, I also said that it wouldn't be boring, and this little vase, with its history, is certainly not boring." She smiles at the other woman. "Well, I must go, my dear, dear girl." Miss Ward says. "I only popped in before going on to the studios. I'm so pleased to know that everything is coming together, tickety-boo***!" She snatches up her gold knobbed walking stick and pink floral hat from the settee and sweeps across the room towards the door. As she crosses the threshold, she turns back dramatically to Lettice. "Just tickety-boo, darling!" Then she turns and walks away. "Cheerio, Miss Chetwynd, until next time!" With the bang of the front door, Miss Ward is gone, leaving only a whiff of her perfume as a reminder that she was even there, and Lettice feels the calming silence settling about her again. "Coming together, tickety-boo." she mutters before releasing a little snort as she shakes her head. "Now where is that yellow celadon vase?" Taking up the crowbar, she resumes opening a box, the wood of the lid groaning in protest as she splinters it open. *Islington Studios, often known as Gainsborough Studios, were a British film studio located on the south bank of the Regent's Canal, in Poole Street, Hoxton in Shoreditch, London which began operation in 1919. By 1920 they had a two stage studio. It is here that Alfred Hitchcock made his entrée into films. **A charwoman, chargirl, or char, jokingly charlady, is an old-fashioned occupational term, referring to a paid part-time worker who comes into a house or other building to clean it for a few hours of a day or week, as opposed to a maid, who usually lives as part of the household within the structure of domestic service. In the 1920s, chars usually did all the hard graft work that paid live-in domestics would no longer do as they looked for excuses to leave domestic service for better paying work in offices and factories. ***Believed to date from British colonial rule in India, and related to the Hindi expression "tickee babu", meaning something like "everything's alright, sir", "tickety-boo" means "everything is fine". It was a common slang phrase that was popular in the 1920s. This slightly chaotic upper-middle-class still life of redecoration in progress is different to what you might think, for it is made up entirely of 1:12 size dollhouse miniatures, some of which come from my own childhood and teenage years. Fun things to look for in this tableaux include: All the glass items on the table have been blown and decorated and tinted by hand by Beautifully Handmade Miniatures in Kettering. The stoppers in the two decanters are removable. The ginger jar in the Harrods crate is also hand painted. It is an item that I bought from a high street doll house stockist when I was a teenager. Wanetta's lucky pink hat covered in silk flowers, which sits on the settee in the background is made by Miss Amelia's Miniatures in the Canary Islands. It is an artisan miniature made just like a real hat, right down to a tag in the inside of the crown to show where the back of the hat is! 1:12 size miniature hats made to such exacting standards of quality and realism are often far more expensive than real hats are. When you think that it would sit comfortably on the tip of your index finger, yet it could cost in excess of $150.00 or £100.00, it is an extravagance. American artists seem to have the monopoly on this skill and some of the hats that I have seen or acquired over the years are remarkable. Miss Amelia is an exception to the rule coming from Spain, but like her American counterparts, her millinery creations are superb. Like a real fashion house, all her hats have names. This pink raw silk flower covered hat is called "Lilith". Wanetta's walking stick, made of ebonized wood with a real metal knob was made by the Little Green Workshop in England. The stylised Art Deco fire screen is made using thinly laser cut wood, made by Pat's Miniatures in England. The paintings stacked in the background were all made in America by Amber's Miniatures. The miniature Oriental rug rolled up in the background of the photo was made by hand by Mackay and Gerrish in Sydney The Georgian style fireplace I have had since I was a teenager and is made from moulded plaster. The striking wallpaper is an art deco design that was very popular during the 1920s.
License and Use
This Woman In The Window Cast - coming-together-tickety-boo-darling- on net.photos image has 1024x768 pixels (original) and is uploaded to . The image size is 181621 byte. If you have a problem about intellectual property, child pornography or immature images with any of these pictures, please send report email to a webmaster at , to remove it from web.
Any questions about us or this searchengine simply use our contact form
Published

11.30.21

Resolution

1024x768

Image type

jpg

File Size

181621 byte.