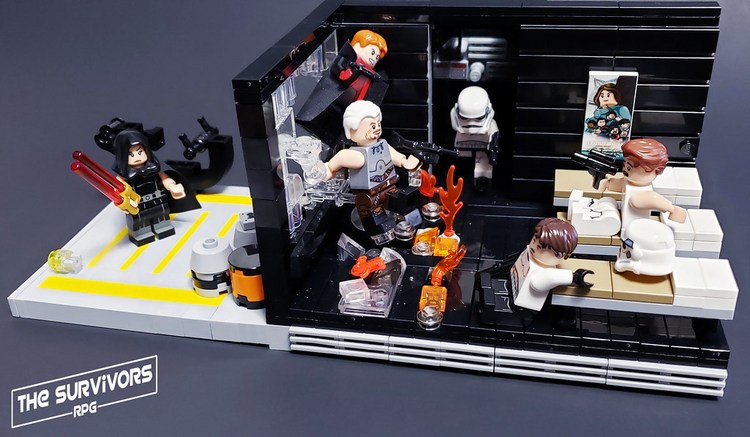 [The Survivors RPG] Galactic Battles Tournament #2 - Riots on Coruscant | "Attack on the Barracks"
(PID:50672376621)
Source
posted by
Brick Historian
alias
brickhistorian
on Wednesday 2nd of December 2020 04:23:36 PM
Location: Coruscant ///Log Entry\\\ Sev wasn't too happy when I told him we had to make a detour to Coruscant. "Coruscant?" He said. "I was hoping for somewhere out of the way, like Dagobah or Jakku or Nevarro." "The Survivors need my skills for an important mission," I told him. "Since this is my ship, it looks like you'll be coming with me." We met up with the Survivors, and Kevin informed us that my squad would be stowed aboard a starship called the Mynock. Zach and I were tasked with leading an attack on the stormtrooper barracks. The goal was to create a diversion that would draw the Imperial's attention away from our other teams. Once we arrived on Coruscant, we made our way towards the barracks at the Northeast docks. We reached the barracks, and our squads split up. I instructed my squad to place thermal detonators near the windows of the barracks since that would be the building's weakest point. When the detonators were placed, I divided my squad into three sections to attack different parts of the barracks simultaneously. "Once the detonators go off, you come with me," I told Sev. I wanted to keep an eye on him. The explosion rocked the ground, and the side of the barracks exploded in a shower of glass and rubble. "Let's go!" I shouted. Sev and I jumped through the hole in the wall and rained down fire with our blasters. The stormtroopers were taken completely by surprise. They scrambled for their blasters, but we quickly overpowered them. As we prepared to leave the room, I heard a sound that made my blood run cold. The hum of a lightsaber. I pulled Sev into the corridor. "Shhh," I snarled. I saw the silhouette of a hooded figure, the same hooded figure from the hologram. A red lightsaber cast its glow across the room. It was a Sith assassin. I'd heard Skywalker talk about these assassins only once. I hadn't believed him then. I did now. The woman scanned the area, searching for any sign of movement. I didn't think she was force-sensitive because she would have sensed our presence by now. She stepped over broken glass into the barracks and used her lightsaber to illuminate the room. The assassain retrieved a comlink from her robes and spoke into it. "He's not on Coruscant, Ochi. I don't know where you got your information from, but I hope it wasn't from that cantina again. If we're going to find Number Seven, I suggest you contribute a little more to the hunt." There was an angry reply from the comlink. "You just do your job," said the assassin coldly. "And I'll do mine." The assassin left the room, climbed onto a speeder, and sped away. I breathed a sigh of relief. "Friend of yours?" I asked Sev. "Not exactly," Sev said. "We should get out of here." I grabbed him by the shoulder. "Listen here, kid. Being hunted by the Imperials is one thing. Being hunted by a Sith assassin is another. Once we finish this mission, you and I are going to have a long talk." ///End Log\\\ This is my entry for the second tournament in the Survivors RPG. Check out the RPG! www.flickr.com/groups/thesurvivorsrpg/ God bless! -BH
on topic
License and Use
This Woman In The Window Cast - -the-survivors-rpg-galactic-battles-tournament-2-riots-on-coruscant-attack-on-the-barracks- on net.photos image has 1024x597 pixels (original) and is uploaded to . The image size is 162838 byte. If you have a problem about intellectual property, child pornography or immature images with any of these pictures, please send report email to a webmaster at , to remove it from web.
Any questions about us or this searchengine simply use our contact form
Published

08.20.22

Resolution

1024x597

Image type

jpg

File Size

162838 byte.