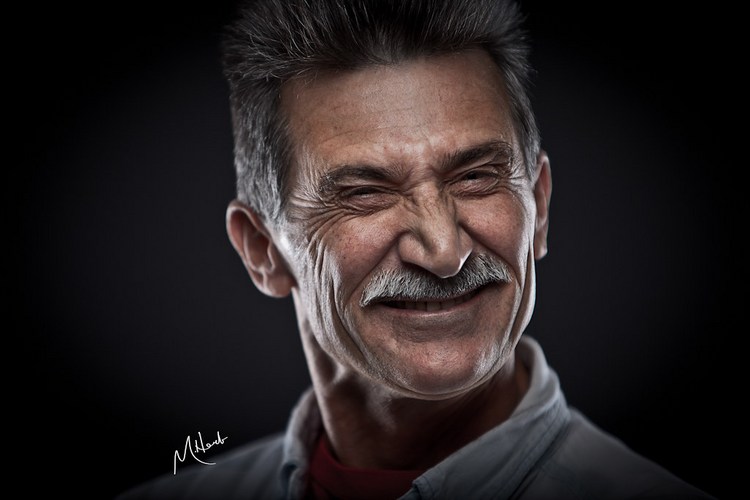 Day 360/365 - The old man at 200mm!!
(PID:6579168345)
Source
posted by alias
Michael Herb Photography
on Tuesday 27th of December 2011 03:36:37 AM
Facebook | Twitter | Youtube | Blog Until now I've only heard rumors of the pure awesomeness of the Canon 70-200mm Lens. Today, I joined the 70-200 enthusiast club. This lens is like A hot chick… NAKED - Amazing! Its like an ice cold Guinness… frickin fantastic, its like… ya, I can go on and on! I admit, its not the lens I'd find myself grabbing for out of default. There are a number of reasons for this. First and foremost, my "style" wouldn't work with the buttery bokeh that this lens flawlessly produces. If depth of field were a pool, this lens would be a puddle! 2.8 at 200 is unbelievable. Unbelievably difficult to master sharp focus that is. Although, with a little practice, I seemed to get the hang of it. Another downfall of this lens as a default is the sheer size and weight. It's definitely the fat kid of the lens family. Attach it to the 5d Mkii with Battery grip and you have a camera that can double as a blunt force weapon. My arms aren't weak but this lens forced me to mount it to a tripod after 2 short minutes. Carrying this around a city will definitely be a challenge. Looks, like I'll be busting out the old mono pod. So, if you follow this crazy adventure of mine, you'll wonder how I obtained a 2300.00 lens when I'm clawing and fighting for the funding to adopt my own MKII. If there is one thing that I have to be thankful for other than my charm, wit and striking good looks, it's undoubtedly the kindness and generosity of people. I have never had such an outpour of support then I have had this year. I have had so many people help me in so many ways. From gear loans, to volunteers and even proofreaders. I've been lucky for such amazing people in my life this past year! To all who have helped. You are appreciated more than words can express. Thank you! So, with a new lens to test, what better subject then dear old dad? He was there the first day and he is still willing to sacrifice dignity for my art. Don't feel bad dad, The wide open aperture really helps soften those hard lines on your face. The squinting eyes don't help though. Although they do make for one funny ass picture. I figured that at f 2.8 I'd get such a soft background that I wouldn't need to photoshop a new one in. Boy, was I right. The background looks as if it weren't a Walmart bed sheet! Straight out of the camera, it looked bad ass. Once I got it into Lightroom I realized that with very minor tweaks, I wouldn't really need Photoshop. However, because its me, I had to take it into PS just for a minute. I enjoy these kind of portraits as you can really focus on the person and not the overall look. My dad is a great participant as he really does have incredible patience in front of the camera. As long as there's not a football game on or a poker match starting up. This blog is the end of a very long day! I had to wake up at 2am to drive Shawn to the airport 100 miles away. His flight departed at 6am, so we had to be there at 5am, which means we had to leave at 3am. We arrived at the airport just before 5, rolled into a parking spot and proceeded to the moving sidewalks! I told Shawn I'd race him going the wrong way. It was a challenge but I managed to whoop his ass! So what if he wasn't trying, I still won! Since it was his first time flying alone, I walked him through the procedure. My father also gave him a 35 minute lecture on airport safety! We get the same talk every time we travel. My car has several long screw drivers and pointy objects just incase I ever need them! He makes sure of that! We stroll up to TSA, I shake his hand and see him off. I hang back just long enough to listen to him strike up a battle field 3 conversation with one TSA agents and then get "randomly" chosen for additional screening. Funny that out of 4 people in line, he gets picked. I swear, TSA hand book says, facial hair = potential threat! Once Shawn's done getting violated, I leave. First up was breakfast, Stupid Mc Donald's in Lauderdale doesn't do the $1 any size drinks. I paid 2.00 for a large coke - Rape! I also seem to never learn as every time I eat a mc Donalds Mc Skillet burrito and Coke, I get a stomach ache. Today was no different! I wanted to catch the sunrise so went straight to the beach after food. I paid for 1 hour of parking and made why way to the water. I snapped dozens of shots of the ocean, sky, beach and birds before the sun finally peaked over the horizon. That was my cue to move on. Next up was down town Fort Lauderdale. I was hoping to get some bad ass city shots but soon remembered that Ft. Lauderdale isn't much of a city. I instead decided to try and get some stock shots of the airplanes coming in for a landing. I got several shots before I got the impression that TSA was sending an army of minions to beat me down, steal my camera and piss on my CF card! Animals, I tell you… animals! I met up with Adam Kaplin of ASK media Productions to get my HDD from the Patty Madden Shoot. I then made my way to the Boynton Beach art district and ended up shooting the shit with Ronaldo Barrero who runs and promote the district. Chatted a bit about a photography show I'll be doing in March and how he has BIG plans for the area, Including an opera house. "dream big" he says to me! I think I'll take his advice and dream about my own 747 jet painted with my obnoxious face on the side of it! I figured since I was out this far south, I'd stop in and get that creative meeting in with Patty Madden for the next ad campaign were working on for February. This one should be way over the top and SO much fun! After patty's I was on a mission to collect more backgrounds. Soon after I leave, I get a call from patty saying her husband Gary was in Palm beach and found a cool location. I make a detour and exit the highway. I find my way to Palm Beach and find Gary, on his bike, smoking a fat cigar. I follow him down the street and he shows me one of the biggest trees I've ever seen! I snap a few shots of it and of him. We part ways after some interesting business talk. Soon after I found myself at the Port of Palm beach. There is a giant bridge that goes over the shipyard. I'm not to sure how legal it is to be taking high res photos of somewhere that you need an id and badge to enter. All I know is I parked the car and walked almost 1/4 mile over broken beer bottles, condoms and nasty shit I can't identify, all the way to the top of the bridge. I then attempted to be as inconspicuous as possible while hanging the camera off the side of the bridge. I captured several 3 shot HDR's of the ship yard and quickly retreated before someone decided to question me. I also drove down several streets that appeared to be abandoned, they butted right up against the ship yard and with the broken windows, open doors and booze bottles everywhere. One could only assume that these un livable boxes were vacant. I was wrong as a suspicious big assed woman walks out of one of the windowless, doorless domiciles. While talking on the phone, she looks over to me, gives a strange smirk and then walks back into the box. Not shutting the door of course, since it was missing! I did however, manage to get some pretty kick ass shots of the shipping containers despite putting my life and gear in jeopardy. My final stop was The Rankin family home to pick up the gear that the Good Dr. was lending me for the trip, the 70-200 being among the items lent! I am barely able to keep my head up, let alone type. I'll just give up now before I start rambling or even worse, repeating myself. LIke how I shot in downtown Ft. Lauderdale… Anyway, thats it. In about 20 minutes I'll video chat with Cory, Katie and Shawn and tell cory that the box he's been keeping for me for the past 2 weeks was actually his christmas gift! If I wasn't so tired, I'd probably laugh pretty hard! Lighting: AB800 Med Gridded Softbox at both 10:00 and 2:00. full power AB800 Beauty Dish Boomed overhead at 6:00 3/4 power Triggered Via Cyber Syncs and Commander.
on topic
License and Use
This Woman In The Window Book Club Questions - day-360-365-the-old-man-at-200mm- on net.photos image has 1024x683 pixels (original) and is uploaded to . The image size is 97723 byte. If you have a problem about intellectual property, child pornography or immature images with any of these pictures, please send report email to a webmaster at , to remove it from web.
Any questions about us or this searchengine simply use our contact form
Published

06.29.22

Resolution

1024x683

Image type

jpg

File Size

97723 byte.