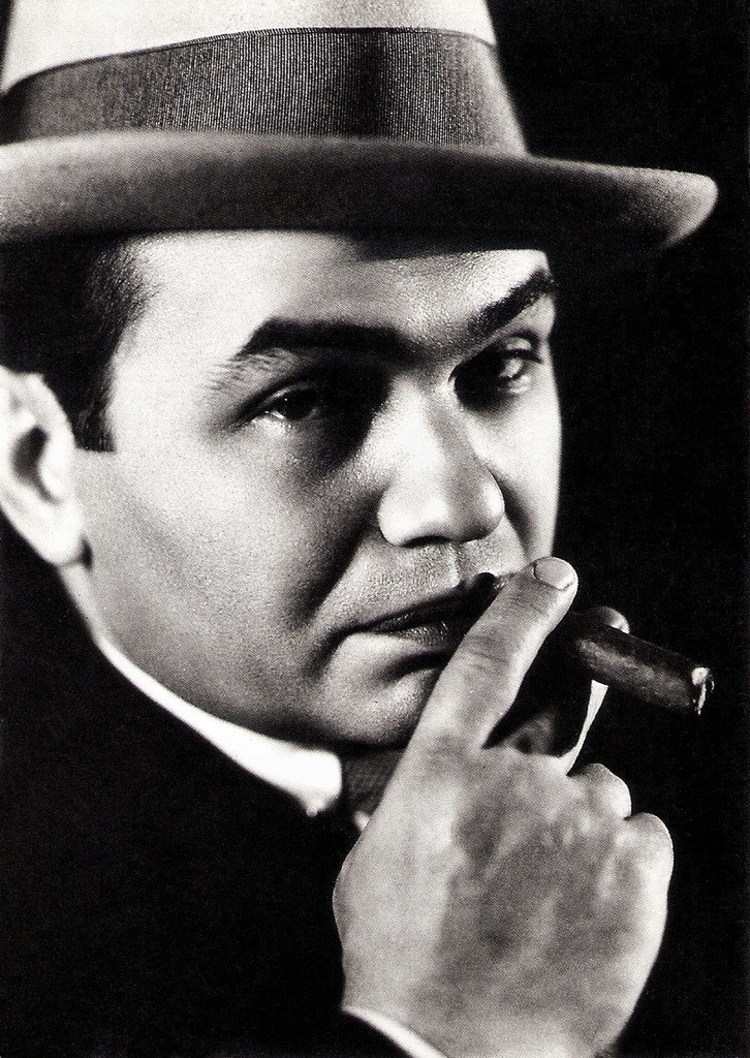 Edward G. Robinson
(PID:31837041675)
Source
posted by
Truus, Bob & Jan too!
alias
Truus, Bob & Jan too!
on Saturday 24th of December 2016 07:17:13 AM
German postcard by Edition Cicero, no. 150.12. Photo: Elmer Fryer, 1932 / The Kobal Collection / New Eyes GmbH. Romanian-born American actor Edward G. Robinson (1893–1973) was a popular star on stage, radio and screen during Hollywood's Golden Age. He appeared in 40 Broadway plays and 101 films during a 50-year career, and is best remembered for his cold-eyed Machiavellian gangster roles, such as his star-making film Little Caesar (1931) and Key Largo (1948). Robinson's character portrayals have covered a wide range, with such roles as an insurance investigator in the Film-Noir Double Indemnity (1944), Dathan, adversary of Moses, in The Ten Commandments (1956), and his final performance in the Science-Fiction film Soylent Green (1973). Next to his work in Hollywood, he also appeared during the 1960s in several European films. Edward G. Robinson was born Emmanuel Goldenberg in 1893 to a Yiddish-speaking Romanian Jewish family in Bucharest, Romania. He was the fifth of six sons of Sarah (née Guttman) and Morris Goldenberg, a builder. After one of his brothers was attacked by an antisemitic mob, the family decided to emigrate to the United States. Robinson arrived in New York City in 1903. He grew up in the rough-and-tumble ghetto of the Lower East Side, and attended Townsend Harris High School and then the City College of New York, planning to become a criminal attorney. An interest in acting and performing in front of people led to him winning an American Academy of Dramatic Arts scholarship, after which he changed his name to Edward G. Robinson, advised to do because ethnic names were frowned upon. The G. stands for his original surname. He began his acting career in the Yiddish Theater District in 1913 and made his Broadway debut in 1915. His work included The Kibitzer, a comedy he co-wrote with Jo Swerling. During World War I, he served in the US Navy but was never sent overseas. In 1923 made his named debut as E. G. Robinson in the silent film, The Bright Shawl (John S. Robertson, 1923) with Richard Barthelmess and Jetta Goudal. He had already appeared in a bit role in Arms and the Woman (George Fitzmaurice, 1916). He chose for the Broadway stage and played a snarling gangster in the Broadway police/crime drama The Racket (1927). TCM: "The hit production got the attention of movie studios, and though he deflected their offers for years, in 1929 Paramount producer Walter Wanger finally persuaded him to come to the burgeoning film capital in Los Angeles with $50,000 and a chance to star opposite Broadway luminary Claudette Colbert in the film The Hole in the Wall (Robert Florey, 1929). His work so impressed industry players that he grudgingly returned to L.A. for a follow-up film, East Is West (Monta Bell, 1930), for $100,000. Warner Bros. producer Hal Wallis finally convinced Robinson to go on contract in 1930." He had his breakthrough with s stellar performance as snarling, murderous thug Caesar Enrico 'Rico' Bandello in Little Caesar (Mervyn LeRoy, 1931). Ed Stephan at IMDb: "all the more impressive since in real life Robinson was a sophisticated, cultured man with a passion for fine art." This triumph led to being further typecast as a 'tough guy' for much of his early career, in such films as Five Star Final (Mervyn LeRoy, 1931), Smart Money (Alfred E. Green, 1931) - his only film with James Cagney and Boris Karloff, and Tiger Shark (Howard Hawks, 1932). Robinson was one of the many actors who saw his career flourish in the new sound film era. He had made only three films prior to 1930, but left his stage career that year and made 14 films between 1930–1932. Other classics soon followed, including the screwball comedy The Little Giant (Roy Del Ruth, 1933), Kid Galahad (Michael Curtiz, 1937) with Bette Davis and Humphrey Bogart, and, in a sendup of his gangster roles, A Slight Case of Murder (Lloyd Bacon, 1938)). From 1937 to 1942, Robinson starred on the radio as Steve Wilson, editor of the Illustrated Press, in the newspaper drama Big Town. He also portrayed hardboiled detective Sam Spade for a Lux Radio Theatre adaptation of The Maltese Falcon. During the 1930s and 1940s, Edward G. Robinson was an outspoken public critic of fascism and Nazism which was then growing in Europe. In 1938, he was host to the Committee of 56 who gathered at his home, signing a Declaration of Democratic Independence which called for a boycott of all German-made products. He donated more than $250,000 to 850 political and charitable groups between 1939 and 1949. In early July 1944, less than a month after the Invasion of Normandy by Allied forces, Robinson traveled to Normandy to entertain the troops, becoming the first movie star to go there for the USO. Robinson was also active with the Hollywood Democratic Committee, serving on its executive board in 1944, during which time he became a campaigner for Roosevelt's reelection that year. In 1939, at the time World War II broke out in Europe, he played an FBI agent in Confessions of a Nazi Spy (Anatole Litvak, 1939) with George Sanders and Franz Lederer, the first American film which showed Nazism as a threat to the United States. He volunteered for military service in June 1942 but was disqualified due to his age at 48. In 1940 he played Paul Ehrlich, the passionate, driven German scientist who first cured syphilis, in Dr. Ehrlich's Magic Bullet (William Dieterle, 1940) and Paul Julius Reuter in A Dispatch from Reuter's (William Dieterle, 1940), both biographies of prominent Jewish public figures. Meanwhile, throughout the 1940s Robinson also demonstrated his knack for both Film-Noir and dramatic and comedic roles, including The Sea Wolf (Michael Curtiz, 1941), Manpower (Raoul Walsh, 1941) with Marlene Dietrich, Larceny, Inc. (Lloyd Bacon, 1942) with Jane Wyman and Broderick Crawford, Tales of Manhattan (Julien Duvivier, 1942), Flesh and Fantasy (Julien Duvivier, 1943) with Charles Boyer, Double Indemnity (Billy Wilder, 1944) with Fred MacMurray and Barbara Stanwyck, Fritz Lang's The Woman in the Window (Fritz Lang, 1944) and Scarlet Street (Fritz Lang, 1945), both with Joan Bennett, The Stranger (Orson Welles, 1946), and Night Has a Thousand Eyes (John Farrow, 1948). He appeared for director John Huston as gangster Johnny Rocco in Key Largo (1948), the last of five films he made with Humphrey Bogart and the only one in which Bogart did not play a supporting role. For his part in Joe Mankiewicz's House of Strangers (1949), Robinson won the Best Actor award at the Cannes Film Festival. During the early 1950s, Edward G. Robinson was called to testify at the House Un-American Activities Committee during the Red Scare, but was cleared of any Communist involvement. However, in the aftermath his career noticeably suffered, as he was offered smaller roles and those less frequently. His finances suffered due to underemployment. His career rehabilitation received a boost in 1954, when noted anti-communist director Cecil B. DeMille cast him as the traitorous Dathan in The Ten Commandments (Cecil B. DeMille, 1956). The film was released in 1956, as was his psychological thriller Nightmare (Maxqwell Shane, 1956). In 1956 he returned to Broadway in Middle of the Night, for which he earned a Tony Award nomination in 1956 for best actor in a dramatic role. He also started to play an increasing number of television roles. After a short absence from the cinema, Robinson's film career restarted for good in 1959, when he was second-billed after Frank Sinatra in A Hole in the Head (Frank Capra, 1959). Later films include the British adventure film Sammy Going South (Alexander Mackendrick, 1963), The Cincinnati Kid (Norman Jewison, 1965) starring Steve McQueen, the Italian crime drama Ad ogni costo/Grand Slam (Giuliano Montaldo, 1967) with Janet Leigh and Robert Hoffmann, and the Western Mackenna's Gold (J. Lee Thompson, 1969). The last-ever scene Robinson filmed was a euthanasia sequence in the science fiction cult film Soylent Green (Richard Fleischer, 1973). Wikipedia: " it is sometimes claimed that he told friend and co-star Charlton Heston that he, Robinson, had in fact only weeks to live at best. As it turned out, Robinson died only twelve days later." Robinson was never nominated for an Academy Award, but in 1973 he was awarded an honorary Oscar. He had been notified of the honour, but died two months before the award ceremony, so the award was accepted by his widow, Jane Robinson. Edward G. Robinson died at Mount Sinai Hospital in Los Angeles of bladder cancer in 1973. He had married his first wife, stage actress Gladys Lloyd in 1927. The couple had one son, Emmanuel 'Manny' Robinson (1933–1974), known as an actor as Edward G. Robinson Jr., as well as a daughter from Gladys Robinson's first marriage. In 1956 he was divorced from his wife. In 1958 he married Jane Bodenheimer, a dress designer professionally known as Jane Arden. Thereafter he also maintained a home in Palm Springs, California. Sources: Ed Stephan (IMDb), TCM, Wikipedia and IMDb.
on topic
License and Use
This Woman In The Window 1944 Film - edward-g-robinson on net.photos image has 726x1024 pixels (original) and is uploaded to . The image size is 288227 byte. If you have a problem about intellectual property, child pornography or immature images with any of these pictures, please send report email to a webmaster at , to remove it from web.
Any questions about us or this searchengine simply use our contact form
Published

07.07.22

Resolution

726x1024

Image type

jpg

File Size

288227 byte.