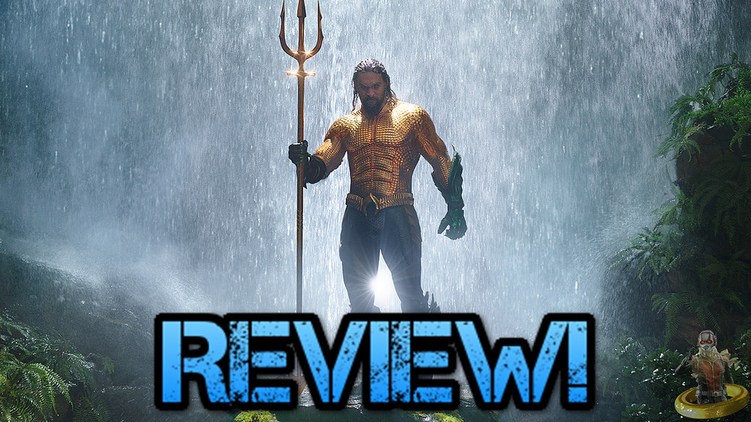 Aquaman Review!
(PID:45611427764)
Source
posted by alias
AntMan3001
on Sunday 16th of December 2018 07:25:00 AM
Ant-Man may be my #1 favorite superhero, but Aquaman is absolutely my #2. I was astonished that DC announced they were making an Aquaman movie in the DCEU. Like, we're getting Aquaman before Flash or a DCEU Green Lantern which is insane! Once I heard James Wan was attached to the project, I knew we were in good hands, but I didn't know how good of hands we were in until I saw the trailers for this film. It just seemed like Wan read all the best Aquaman stories and put it into one film, so my anticipation was at an all-time high. Well, I had the privilege of checking this film out a week early because I'm an Amazon Prime member so I'm here to share all my non-spoilery thoughts on the King of the Sea's first solo debut! Let's check it out! Good: Never before has a live action comicbook film adapted the source material better than Aquaman. This film just gets everything right that makes the comics so great. The costuming, the set design, the characters, their relationships, the action, EVERYTHING. The costumes were just copy and paste from the comics and new look so CLEAN. Aquaman, Black Manta, Mera, and Ocean Master were really the standouts with their looks. The relationships were spot on too. I loved watching Aquaman and Mera relationship develop and when it pays off at the end, it was totally earned. It was also so awesome to see Aquaman ve so respectful to Mera in their relationship, for such a badass and bro-y character he was (which I loved) it was so refreshing to watch him be humble to her. I also loved Aquaman's relationship with Black Manta. They took their dynamic and Manta's drive to kill Aquaman from the comics and makes it completely believable, there were some time where I was kinda rooting for Black Manta! These relationships wouldn't have been as convincing if it weren't for the performances. Now Jason Momoa and Amber Heard aren't all star actors, but James Wan is such a great director that he was able to shape the characters around the characters which worked. Next, I want to talk about how great the world building was in this film. I can't believe how well done Atlantis and the ocean was depicted in this film and more importantly, how believable it was. Like, all the ocean shit that goes down in the ocean just isn't there on the ocean floor, like humans would really have to look for this shit to find it. By the way, the world building wouldn't have been as good if it weren't for the visual effects. Honestly, if you complain about the CGI of everything in Aquaman, you need to get the fuck out because what did you expect?! Now I'm not saying the CGI is bad and I'm making excuses for it, I honestly believe Aquaman has some of the greatest visual effects in any superhero movie, I just know there are gonna be haters. Lastly, I'd just like to confidently say that Aquaman absolutely has some of the greatest action sequences in any film EVER. Honestly, every time a fight broke out, Wan was able to shoot the choreography of the fights so clearly that you could always tell what was going on which was so impressive. And don't even get me started with the third act. I don't wanna spoil anything, but once you meet the Trench until the end of the movie is the most Aquaman-y stuff I have ever seen and it literally gave me a nosebleed. The final battle of this film is so outstanding, it was like Return of the King levels of battles, but with AQUAMAN, and I mean Aquaman, gold suit, green pants and all! Bad: There is... a Pitbull remix of Toto's Africa in this movie… I actually wanted to die. Good thing that it only plays for like a couple of seconds and it's revealed as diegetic music so it didn't entirely tarnish the film. So yeah, the pop songs weren't all that great. I also have to say that with because this film was so faithful to a comicbook, it also brought along some pretty bad dialogue that I feel like would've been said in a comicbook. There was also some pretty horrendous green screen in this film. It's never when they're in the water, it's only when they're on land, and all it reminded me of was that scene Thor: Ragnarok when Thor's talking to Odin on that Norway cliff, it was that bad. Overall, it's insane that in the past couple of days I've been able to witness the two most perfect comicbook movie adaptations with Aquaman and Spider-Man: Into the Spider-Verse. Sadly, I can't call this film one of my top favorite comicbook films, some may not be as well adapted, but let's just say there was no Africa performed by Pitbull in any of them. I'd say Aquaman is about on par with Wonder Woman in terms of filmmaking, but because of my personal connection to the character, I think I liked Aquaman a bit more. For these reasons, I'm going to give Aquaman a 9/10. When you get the chance during the holidays, go take the whole family to see this film, if you're not as connected to the characters as I am because of the comics, I guarantee you'll just have dumb fun with this film.
on topic
License and Use
This Woman In Gold Trailer - aquaman-review- on net.photos image has 1023x575 pixels (original) and is uploaded to . The image size is 230154 byte. If you have a problem about intellectual property, child pornography or immature images with any of these pictures, please send report email to a webmaster at , to remove it from web.
Any questions about us or this searchengine simply use our contact form
Published

07.03.22

Resolution

1023x575

Image type

jpg

File Size

230154 byte.