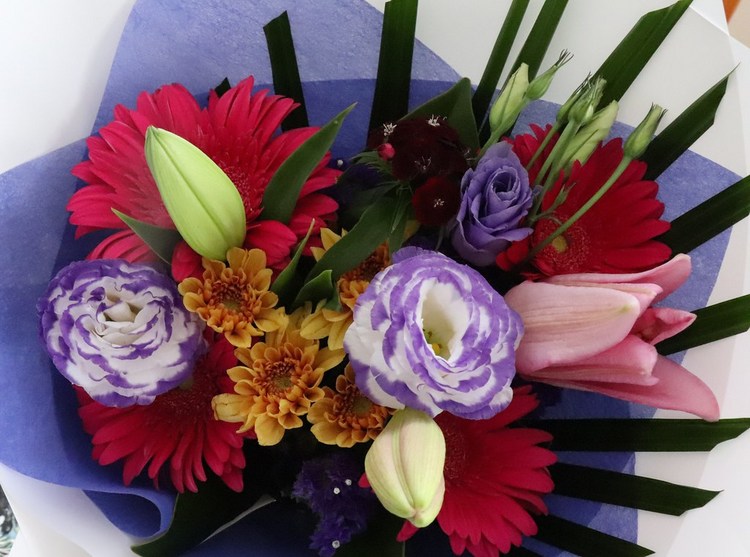 A Tribute To The Strength And Courage Of A Wonderful Woman
(PID:51053836617)
Source
posted by
Lance
alias
Lance - 2009
on Saturday 20th of March 2021 03:54:24 AM
Be warned: some of you might find this a difficult "Backgrounder" to read, but you see: The Bouquet featured above is a special one that's... A. in memory of Matthew (who was our third child), and B. a tribute to the courage and strength of a wonderful woman... Matthew was born in the early hours of 20th March, 1987. Unbeknown to us, he had died the night before... At 6pm that previous evening, Averil had stuck her head around the kitchen door and muttered, "Wow... I have my first contraction and I feel like I could fall over dead!" THAT statement alone should have meant a Triple One call to Emergency Services; we did nothing, and seconds later, she reappeared in the doorway and muttered, "Well, I don't know what happened then, but tonight's the - WOW... That's one heck of a contraction!!!" And so at 9:30pm that evening, leaving the older two children in the care of a Baby Sitter, we made our way in the midst of a fierce thunder storm to the local maternity hospital 20 kilometres away... As the Nursing Shifts changed at 11pm that night, I heard the outgoing Midwife quietly mutter to her colleague, "There's something wrong with this monitoring machine. Look, it's only giving a print-out on one side of the graph!" I watched her colleague check the machine, and then she kicked her colleague in the shin and muttered in an audible whisper, "You fool... Can't you read what this is telling us???" And with that, the Midwife going off-duty fled the room - in tears! I put that exchange out of my mind; Averil didn't hear it, and a doctor - whom I'd never met because we'd only moved to the town a weeks earlier - turned up, did a quick examination and quietly muttered, "We've got to move in to surgery and we've got to move very, very quickly!" Still the alarm bells didn't ring... Ten minutes later, the Doctor announced, "We have a boy..." and Averil and I both burst into tears of relief and happiness; Matthew had arrived... There was just one "small" problem: the Doctor had a strange look on his face, and the support nurses had started to cry... In the midst of the short silence that followed, the Doctor cleared his throat, and quietly announced, "You didn't let me finish my sentence. We have a boy... but we don't have a heartbeat...!" I can only liken that moment to stepping out of an aircraft at 40,000 feet only to find that the parachute is not going to open... The ground comes up mighty fast, and we hit it - hard!!! So... After a perfectly healthy pregnancy, what on earth had happened??? We were left alone for a couple of hours to hold our beautiful little boy, but when the Doctor returned, he said, "I'm guessing you got your first contractions at about 6pm last night (He was spot on!), and with that first contraction, the Umbilical Cord snapped. It is extremely unusual; I've never heard of that ever happening before, but for the Baby, death was immediate. For you (looking at Averil) the miracle is that you didn't hemorrhage immediately...!" In the weeks that followed, a lot of people were very supportive. Many didn't know what to say, and with an honesty that we so appreciated, they admitted just that. Some used clichés, (That wasn't at all helpful. We didn't want God to have another angel in heaven; we wanted our son!), and some people actually said, "Well, you didn't know the Baby. Why are you so upset?" Make no mistake about it: we - and especially Averil - had known this Baby in a unique and special way which only a pregnant woman can, and THAT is the worst possible thing anyone can say to anyone who has just lost a child in late pregnancy (Miscarriage), at birth, or in early childhood (Cot Death or whatever one might want to call it)... If you don't know what to say to someone in deep grief, admit it. It's better to be honest than to blunder about trying to find the right words because the crunch is: you'll probably fail miserably! FOOTNOTE It is said that a woman wont get pregnant if she has Breast Milk. Don't you believe it...!!! Three months after Matthew's birth, Averil quietly said, "I don't know how to tell you this, but I'm pregnant again!" That wasn't supposed to have happened, but the pregnancy brought about some healing for both of us AND for our two children (who were 4 and a half and two and to whom we had been open and honest about what had happened; they in turn had grasped an understanding of what had happened in a way that we didn't think small children would ever manage to do!!!). And so it came to pass that 9 months after our last visit to the Maternity Hospital, we returned - having made sure that the Midwife who had so badly mis-read the monitoring machine that fateful night would not be on duty.. However, minutes before the Baby was to be born, the Duty Midwife quietly muttered, "She's had to change Shifts, but she's at the other end of the hospital and will stay there!" On a whim, I asked - then demanded - that she join us for the baby's delivery, and she arrived just in time... And this time, a healthy little girl came into the world (A little girl who is about to turn 33 and who is currently 6 weeks out from having her third child!)... The next day, that Midwife from the earlier birth came to visit, and after a few moments of - well - awkwardness - she blurted out, "Fifteen years ago, I gave birth to Twins - and one of the two died at birth. I actually saw what had happened to your baby last year when I was reading the monitoring machine, but I suffered a terrible flash-back to my own tragedy, and couldn't bring myself to warn you... I just want you to know that your inviting me back for the birth of THIS baby has meant SO much to me, and I can only hope that you're not angry with me!" We joined for a "Threesome Hug"...! A couple of days later, our Doctor admitted that when he'd arrived home in the early hours of the previous morning, he'd blurted out to his wife, "The baby is healthy and well!" and burst into tears of relief. A baby's death can ripple outward to unexpected people...! For us, God was in the midst of our Grief, but keep in mind that for others, that may not be the case. We're all different...! Life has of course moved on for us; the old saying, "Time heals" is at least partly true! Averil was so courageous coping with another pregnancy so close to Matthew's birth, and we went on to have a 5th baby two and a half years later - and she is also "preggy" with her 3rd baby! We can only hope and pray that both Babies are born without complications. This morning, we as an extended Family gathered - with the respective spouses and grandchildren - for a quiet morning tea in the local shopping mall to mark what would have been Matthew's 34th Birthday. yes, we've moved on from that night, but just every now and again, we still choke up a bit, and yes: I have shed a tear or two as I've written this... We don't tend to talk about a Baby's death. All too often it's too easy to say, "Oh get over it. You didn't know the child!" without realising that there's so much Grief involved for the parent/s. Angela my dear Flickr Friend (www.flickr.com/photos/maorlando/with/51037002188/): you asked me some years ago what had happened. I actually started to answer your question, but found that even after 30 or so years, I was still too choked up, and I let the answer drift. Here, however, is that answer. I'm just sorry it's taken so long to reach you...! Somewhere way up above, I said that these flowers were A. in memory of Matthew (who was our third child), and B. a tribute to the courage and strength of a wonderful woman, and I count myself most fortunate that I've been married to this woman for nearly 44 years...!!! And if you've managed to keep reading to this point, well: you've done extremely well; thank you! Thanks for visiting my Site (and especially this posting(!), and thanks for taking the time and trouble to leave a Comment. It\'s always nice to hear from you...!
License and Use
This Woman At The Well Matthew - a-tribute-to-the-strength-and-courage-of-a-wonderful-woman on net.photos image has 1024x760 pixels (original) and is uploaded to . The image size is 163019 byte. If you have a problem about intellectual property, child pornography or immature images with any of these pictures, please send report email to a webmaster at , to remove it from web.
Any questions about us or this searchengine simply use our contact form
Published

01.20.22

Resolution

1024x760

Image type

jpg

File Size

163019 byte.