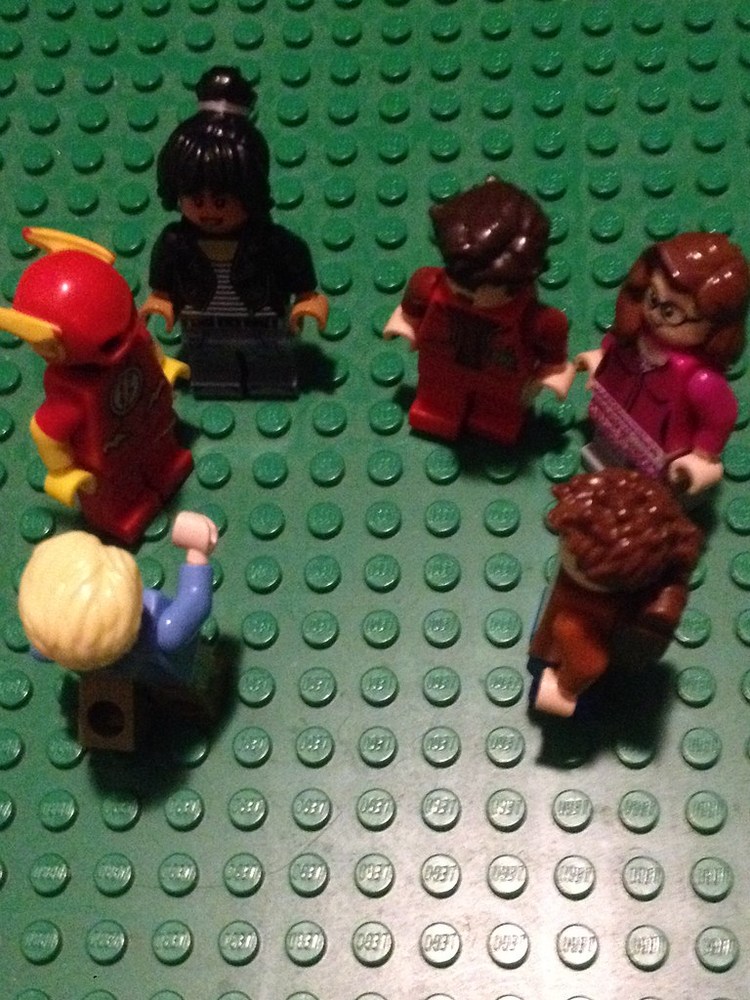 DC Universe: Flash - 1.3 - School Days
(PID:30880861268)
Source
posted by alias
Enøshima
on Tuesday 18th of September 2018 02:17:44 AM
That was totally crash! Well, besides my costume smelling of rotten mould. Pee-yew!!! It's honestly so bad, that I almost vomit into the toilet, upon entering my bathroom. I quickly put my costume in the washing machine, as I won't be able to go another day with this smell on my costume. I notice the surprise on Iris' face, as this is the first time I've done any sort of chore upon arriving in this century. At least, without anyone asking me to do it that is. Anyways, I randomly press buttons until it finally starts up. With that, it's time for bed. I get changed into my pajamas, and lie down on my bed, pulling the covers overtop of me. It takes a long time before I fall asleep, but that's no surprise. ---------------------- My alarm wakes me up the next morning, just 10 minutes before I have to go. But for a speedster, that's more than enough time to get ready. I race downstairs, as I smell pancakes, bacon, and eggs all being prepared. I pace around frantically, just waiting for food to be done. Literally the moment Iris takes them out of the pan, I grab the majority of it, and gobble it down. Iris shoots me a glare, while Barry sits at the kitchen table somewhat laughing. "Don't forget to bring the power bars to school Bart. Otherwise we'll have to bring them to you, and you'll get all embarrassed again." Barry says, as Iris places the remaining pancakes, eggs, and bacon onto the table. "Yeah, well sorry! Not my fault that they taste really disgusting!" "Bart, it's not about how they taste- " Iris says, before I interrupt her "I know, I know.. It's about them filling up my crazy metabolism, I get that much. Just wish they would taste better, that's all." "Have a good day at school Bart! Learn lots!" I hear Barry say before I open the door, and sprint to school. It doesn't take me long before I arrive at school. The last block or so, I have to do without my super speed, to keep up appearances of being normal and all that. I don't really care for the idea of a secret identity, but that was one of Max's wishes before he passed. Can't believe it's almost been 3 years since then. A lot has changed since those days. Wish I could go back. I mean, I totally could if I wanted to, but it would screw things up in the present for everyone. Me being here screws things up for the future, but I don't have to worry, since they aren't around in the 30th century. Well, that got morbid really quickly, so let's move past this and keep moving forward. I notice Preston at the front gates, along with my other good friends Carol, Jeff, Valerie and Griffin. "Hey everyone! How are you all doing today?" I ask, as I walk up to my friends. Griffin: "I'm doing alright. Wish it was the weekend already, but what can ya do?" Preston: "Hey Bart! We're gonna be filming during lunch break, you in?" "Of course man! Wouldn't miss it. What's it about this time?" Jeff: "The fastest man alive of course! The Flash!!" Valerie: Is he really though? I mean it's been proven time and time again that he isn't. Reverse Flash, Reverse Flash #2, Negative Flash, Rival, and Daniel West were all faster than Flash. I'm sure I'm missing a few of them too. I mean he eventually won against them all, but he was still slower than them." "Good point!" I say with enthusiasm, and everyone besides Valerie just glares at me like they are saying "Really?" without actually saying it. Valerie's never been the biggest supporter of the Flash. It doesn't help things that her mother was murdered by Murmur, and the Flash didn't catch him until a few months later. I could've saved her, but it was around the time Max passed away, and I was a mess at that time, not wanting to go out on patrols. We would talk often, trying to give some sort of understanding to the other, but I just felt guilty the whole time. It's one of the reasons I haven't bothered making a move to ask her out. Carol: "Can we even call those monsters human? Flash comes through when it matters. Yes, he screws up sometimes, but everyone does, no matter if you're superhuman, or human. Anyways, I'll see ya at lunch, as I got pre cal class to go to." "Yeah, c ya later Carol!" Me and my friends part ways for the most part, as we go to our various classes. The only one I have home ec with is Griffin, so we walk together to the classroom, which is more of a kitchen than an actual classroom. Anyways, we both took this class for two main reasons. 1, it's easy and 2, hardly any guys take it, so it's just us two guys, and a bunch of girls, which is always a plus. Anyways, it's one of the few classes that I can truly enjoy, even though it takes forever for things to cook. The struggle is real, as I'm so used to it being instantaneous. 20th century tech is nothing in comparison to what we have in the 30th century. During class, I flirt with most of the girls I'm grouped up with, with some just disregarding me completely, and others totally hooked by my "time traveling" stories. Obviously I just make up some things, as I can't actually tell them what happens in the future. The rest of the morning isn't very eventful, and now it's finally lunch time. I grab my speedbars from my locker and walk to the location we are filming this Flash video. Griffin: "How can you even survive off those things alone? Especially since they don't smell appetizing at all." He asks as he sees me coming. "A lot of willpower. Or maybe it's just luck? I honestly couldn't tell ya man. Don't worry though, I eat a lot when I'm at home to make up for it. Also if you were wondering, they taste as awful as they smell. Preston: "With that amount of willpower, you'd be a perfect candidate to be a Green Lantern!" He says jokingly, as he sets up his tripod. Preston: "Everyone, gather around! I have your roles and scripts with me." He says, and starts handing them out to each of us. "Henchman B?!!! Are you kidding me? He doesn't even get any lines! I'm obviously leading man material!" I say, raising my voice a little. Preston: "Sorry Bart, it's my movie, so I'm obviously going to be Flash! That and I'm pretty sure he's a blonde anyway, so it makes sense for the person that plays him to be blonde." Valerie: "Yeah, there's no way I'm playing the love interest. Nope, not happening." Carol: "I'll switch roles with Valerie since it doesn't really matter to me who I play. It's just fun hanging out with you all. Griffin: "The Dim Reaper? Sounds good to me! Always fun to explore my range." Off in the distance, I notice an explosion go off. "Be right back guys, gotta go to the washroom!" Jeff: "But we're just about to start filming! Hurry up okay? "Yeah sure..." I jog off to a place where there's no students, and from there, I run to where the explosion went off, changing into costume on the way there. Let's see what I get myself into this time.
on topic
License and Use
This Willpower Group - dc-universe-flash-1-3-school-days on net.photos image has 768x1024 pixels (original) and is uploaded to . The image size is 197332 byte. If you have a problem about intellectual property, child pornography or immature images with any of these pictures, please send report email to a webmaster at , to remove it from web.
Any questions about us or this searchengine simply use our contact form
Published

12.06.22

Resolution

768x1024

Image type

jpg

File Size

197332 byte.