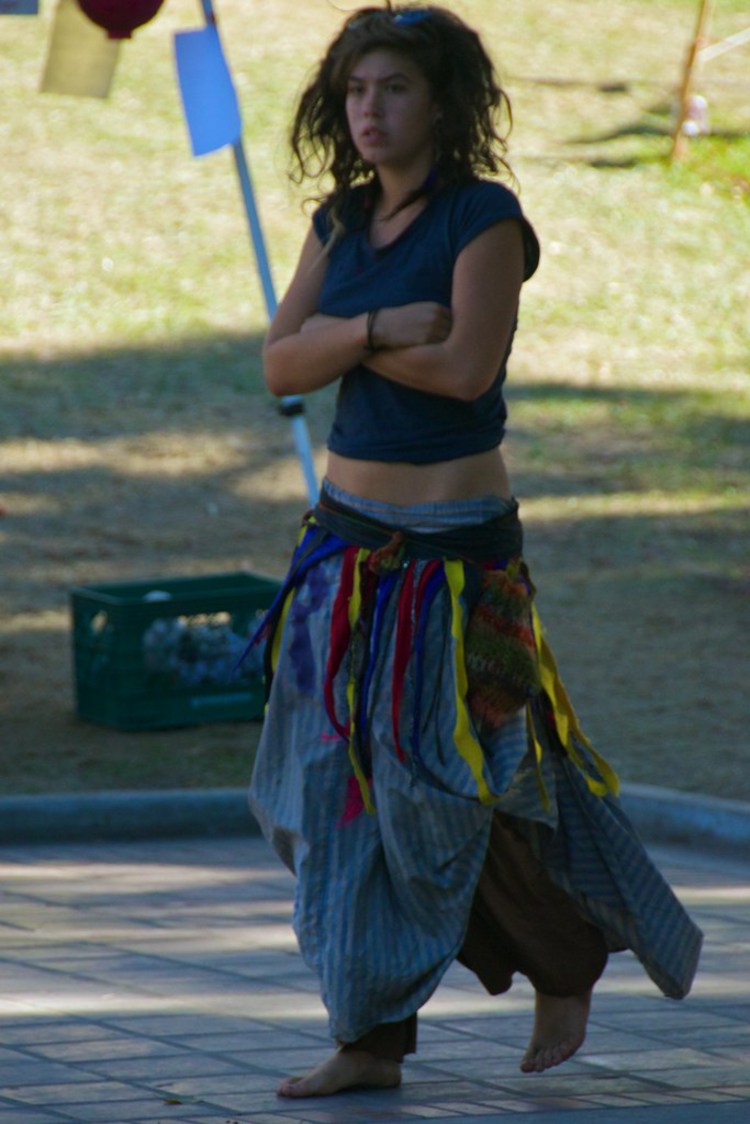 Occupy Los Angeles, Oct 2011 - 84
(PID:6305798616)
Source
posted by
Ed Yourdon
alias
Ed Yourdon
on Wednesday 2nd of November 2011 11:35:40 AM
Note: this photo was published in a Nov 2, 2011 issue of Everyblock Los Angeles zipcodes blog titled "90012." ************************************** After visiting the Occupy Wall Street (OWS) protest gathering in Zuccotti Park last week (which you can see in this Flickr site), I thought I would have a good idea of what to expect when I decided to visit the Occupy Los Angeles gathering outside City Hall in Los Angeles early Saturday morning. And to some extent, I was right: the protest was still focused on the excesses of the richest and most powerful 1% of the population, as well as corruption and paralysis in Washington. But New York and Los Angeles are obviously on opposite sides of the country -- and in some respects, the two protests were completely different. It was already pleasantly warm when I showed up at 8:30 in the morning, and the previous evening had been seasonably mild; by contrast, it wet and freezing cold in New York City, with the earliest snow-fall in over 150 years making life somewhat miserable for the hundreds of shivering protesters who squatted under a long blue tarp that had been stretched over the food kitchen. The mild weather may explain the first visible difference that I saw between the two "occupy" gatherings: there were many more tents in Los Angeles, each one seeming to hold three or four people who were just beginning to poke their heads out, sniffing the air for the presence of coffee or food that they could use to break their overnight fast. There was no need for heavy coats or hats or mittens; all I saw in Los Angeles was a few sweaters and light jackets. A visitor to my Flickr site jokingly asked why I had not photographed one of the (female) protesters in a topless outfit, and why none of the people were nude. Well, if that was going to happen, it would have happened in Los Angeles, not New York; and as for Los Angeles, the most extreme clothing I saw was one woman wearing a fairly un-revealing bikini top. Hardly the stuff of Woodstock; so much for the idea of sex, drugs, and rock-n-roll at these gatherings. Speaking of rock-n-roll: there was none. But in Los Angeles, there were a lot more people with guitars. And mandolins, and fiddles, and even someone with a flute. Some of them played quietly, for their own amusement; but several of them drifted together beneath a statue that led up the stairs to the front entrance of City Hall, and jammed extemporaneously, with several simple, but enjoyable songs. I video-recorded several of these musical efforts, and I'll combine all of them together into a "composite" music-video on YouTube. Another difference between Los Angeles and New YOrk involved the presence of cameras. Quite simply, there were many more in New York, and while I did not see any major-media journalists or reporters, there did seem to be a number of quasi-professional independent journalists who were not only photographing and recording everything they could see, but also interviewing everyone who looked interesting. Not so, in Los Angeles; yes, there were a few people with video cameras and DSLR still cameras (including me), but I only saw one or two interviews taking place. Ironically, I was one of the people interviewed: an earnest young man told me he was taking a class that required him to interview photographers at the protest gathering, and he wanted to know what I thought of the whole scene. So I told him, in a summary fashion, what I had already written in the notes accompanying my OWS Flickr set, and I told him that I thought the Los Angeles gathering was quieter, with less energy, and more people just wandering around somewhat aimlessly. There were no speeches, there was no shouting, and there was almost no police presence. I did see two cops standing at the top of the stairs leading to the front entrance of of City Hall, but they vanished about half an hour after I arrived. One last note, which may strike some readers as biased or unfair -- but I saw what I saw: several people wandered down the various sidewalks leading out of City Hall Park ... and then returned via the same sidewalks, ten or fifteen minutes later, carrying a large cup of Starbucks coffee. The revolution, it seems, runs on Starbucks. That's when I began focusing on the clothing worn by the protesters. As noted above, it was obviously much warmer than it was in New York City, so perhaps I should not have been surprised to see half a dozen or more people wandering around barefoot. But the other thing that struck me was how carefully several of the people were dressed, and how much attention they seemed to have spent to make their physical appearance look appropriately fashionable, while simultaneously being disheveled and hippy. Like I said, I might be biased: you can look at the pictures and judge for yourself. I spent more time here than I did in New York -- roughly three hours before I decided that I had seen everything there was to see. But as a result, I got a lot more pictures - some 700+ still pictures, and a dozen video clips. I've winnowed it down, as best I could, to 200 keepers. Enjoy!
on topic
License and Use
This Who Is The Richest Young Person - occupy-los-angeles-oct-2011-84 on net.photos image has 683x1024 pixels (original) and is uploaded to . The image size is 117455 byte. If you have a problem about intellectual property, child pornography or immature images with any of these pictures, please send report email to a webmaster at , to remove it from web.
Any questions about us or this searchengine simply use our contact form
Published

08.16.22

Resolution

683x1024

Image type

jpg

File Size

117455 byte.