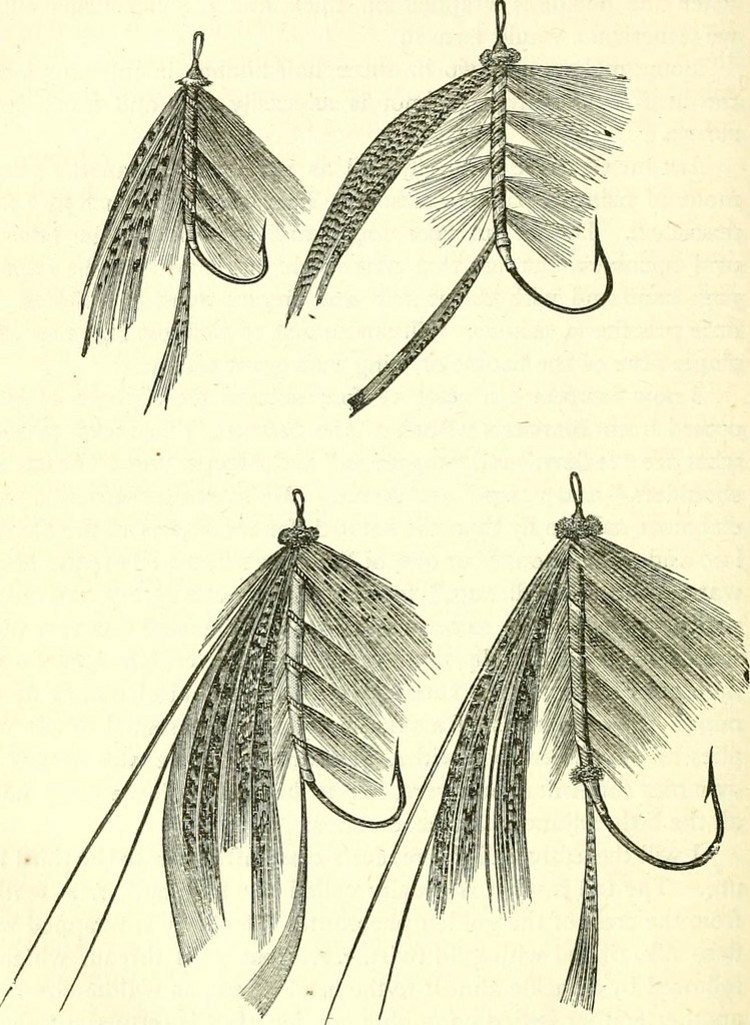 Image from page 607 of "The sportsman's gazetteer and general guide : the game animals, birds and fishes of North America; their habits and various methods of capture. Copious instructions in shooting, fishing, taxidermy, woodcraft, etc. Together with a d
(PID:14727855196)
Source
posted by alias
Internet Archive Book Images
on Saturday 26th of July 2014 06:45:29 PM
Identifier: sportsmansgazett00hall Title: The sportsman's gazetteer and general guide : the game animals, birds and fishes of North America; their habits and various methods of capture. Copious instructions in shooting, fishing, taxidermy, woodcraft, etc. Together with a directory to the principal game resorts of the country; illustrated with maps Year: 1877 (1870s) Authors: Hallock, Charles, 1834-1917 Subjects: Hunting Game and game-birds Fishing Publisher: New York : "Forest and Stream" Publishing Company Contributing Library: University of Pittsburgh Library System Digitizing Sponsor: Lyrasis Members and Sloan Foundation View Book Page: Book Viewer About This Book: Catalog Entry View All Images: All Images From Book Click here to view book online to see this illustration in context in a browseable online version of this book. Text Appearing Before Image: he technical names of theminor appurtenances of a salmon fly is not essential to one whoplies his seventeen foot withe, or scarcely to one who makes hisown flies for American rivers, but to be thorough we must nameall the little adjuncts and accessories. I will therefore call the readers close attention to the third fig-ure. The tail is what is usually called a topping, /. e. featherfrom the crest of the golden pheasant. The body is wrapped withfloss silk, ribbed with gold twist, z. e. stout gold thread, which isfollowed by a hackle almost to the head where, as will be observed,another feather is tied on, a blue jay, for what is termed a shoul-der. There is a mixed wing of golden pheasant neck, teal, guineahen, and light brown turkey, with a topping much longer than thetail surmounting the wing. The head is of black ostrich herl. 6oo OCEAN, LAKE, AND RIVER. wound on closely, both for ornament and to hide the but end ofthe wing where it is clipped off. Referring to the fourth figure, a Text Appearing After Image: tag just at the but of the tail. A tag may be of ostrich herl,or pigs or seals wool, or floss. The feelers which by a greatstretch of imagination are supposed to represent the antennse of a THE ART OF FLY-MAKING. 6oi natural fly—are the two long fibres of macaw tail feather tied in oneach side of the head and extending back over the wings; and an-other stretch of imagination is to suppose that a natural fly carriesthem thus. The third or fourth fly figured is much too large forthe rivers of Canada at an ordinary stage of water. The thirdmight do on very high water after it has gone down just enoughfor the fish to commence noticing a fly. The second figure is a very plain fly, the blue and brown, or Nicholson, named after an old salmon fisher, a broth of a boy,of St. Johns, New Brunswick. There are a few turns of flat goldtinsel, or gold twist, then a tail of mallard and golden pheasantsruff; the body of reddish brown seals or pigs wool, wrapped witha blue and reddish brown hackle ; Note About Images Please note that these images are extracted from scanned page images that may have been digitally enhanced for readability - coloration and appearance of these illustrations may not perfectly resemble the original work.
License and Use
This Sportsman Guide Catalog - image-from-page-607-of-the-sportsmans-gazetteer-and-general-guide-the-game-animals-birds-and-fishes-of-north-america-their-habits-and-various-methods-of-capture-copious-instructions-in-shooting-fishing-taxidermy-woodcraft-etc-together-with-a-d on net.photos image has 749x1024 pixels (original) and is uploaded to . The image size is 195179 byte. If you have a problem about intellectual property, child pornography or immature images with any of these pictures, please send report email to a webmaster at , to remove it from web.
Any questions about us or this searchengine simply use our contact form
Published

01.27.22

Resolution

749x1024

Image type

jpg

File Size

195179 byte.