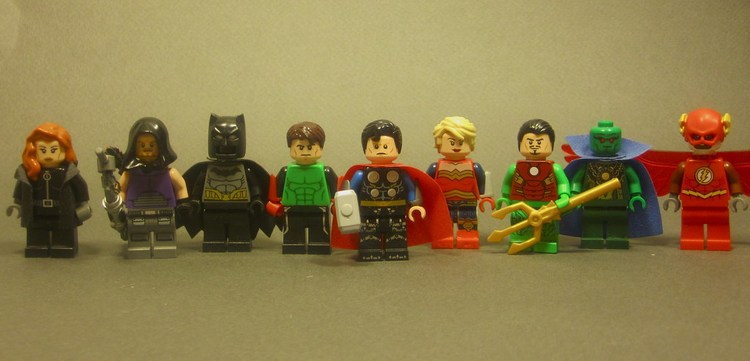 Avenger-League
(PID:14223791174)
Source
posted by alias
Kaiju Dan
on Monday 19th of May 2014 07:07:14 PM
PLEASE COMMENT WHEN YOU FAVORITE my entry for the amalgam superhero contest the Avenger-League are a team of earths greastest heroes who have joined together to fight dangers they could not do alone, and defend earth from those who would threaten it left to right Black Siren (Black Widow+Black Canary) Natasha lance and ex Russia secret agent who has the power to scream at supersonic frequency so powerful that it can nock out most of her opponents. Purple Arrow (Hawkeye+Green Arrow) Oliver Barton was a rich playboy who was on a cruise when a freak storm was shipwrecked alone on an island. On the island he met a former circus performer who taught him archery to survive. He was found later and when brought back to his home, he decided was enlisted be the government to become an agent. Black Bat (Black Panther+Batman) T'Challa was the prince of wakanda, a highly advanced African nation. On a trip to America, him and his parents went to see a movie, and as they left, they were mugged and his parents were shot and killed. Afterwards, he traveled the world learning fighting skills. When he returned to wakanda, he was crowned king. He also made a suit to resemble a bat, the symbol of his people. He used his skills and advanced technology to fight crime and help those in need Captain Emerald (Captain America+Green Lantern) Steven Jordan was a weak and sickly man, who in 1942, wanted to join the army, but was rejected multiple times. At one attempt, he met a doctor, who said that he could help him become a soldier. The doctor gave him a formula to turn into a super soldier to fight the war and the Nazis. While on a mission he was forced crash it into the ocean in Antarctica. He was frozen solid. 70 years later, an alien ship crashed into earth. The alien was a member of the emerald knight core. As he was dying, he sent his ring out to find a worthy successor. It found Jordan, and thawed him out. It then sent him to the alien, who told him that he was found to become a new emerald knight. He became captain emerald, protector of the galaxy. Thor, the man of thunder (Thor+Superman) Thor-el, son of Odin-el, was a baby when his world of azton was destroyed by an attack from frost giant. Odin-el sent Thor-el to earth, with a magic hammer. When he landed, he was still a baby, and was found by doctors Jonathan and Martha Kent, who lived in smallvile, New Mexico. They named him Donald Kent and adopted him. Growing up, he had incredible strength, speed, and a strange connection to the weather and storms. When Donald was 17, Jonathan decided to show him. The ship he arrived in, and the hammer that was stored inside the ships hull. Jonathan wasn't able to pick up the hammer, but when Donald picked it up, he felt its power surge in him and he discovered his powers to fly, control the weather, and shoot lightning. Soon after he left home to discover his true origin and power. Eventually, he went to Norway, he discovered a cave that had ancient ruins in it. When he entered the cave, a vision of his father appeared and told him of how his world was destroyed and how he must watch over earth as it's protector. He also told him his birth name, Thor-el. He decided to call himself Thor as a disguise. He moved to new metropolis and got a job as a reporter, where he met Lois foster, who he immediately fell in love with her. Marvel Woman (Ms Marvel+Wonder Woman) In Ancient Greece, a group of women where captured by barbarians. They rebelled against them and over-threw the barbarians. They founded the island of themiscarya and lived there in peace, keeping the men as slaves used only for menial work and to reproduce. Many centuries later, a fighter pilot, named Walter Trevor, crashed onto their island. Captured by the amazons, and held prisoner. When queen Hippolyta the 4th, her daughter, judged him princes Diana, told her mother that it was time to rejoin the world of men. Originally, the queen disagreed, but eventually she agreed. She sent her daughter as a diplomat to America with Trevor. When they got back, she joined the U.N. And stayed there for many months, until an alien ship attacked. It was revealed that Trevor was actually an alien himself, and was sent to scout the planet. When the alien ship was defeated, it exploded, and bathed Diana in radiation. When she recovered, she discovered she had incredible powers. She decided to use her powers for good and defend earth. Hexanchus (Iron Man+Aquaman) Billionaire Howard stark was on a cruise when he saw a mysterious woman floating overboard. He rescued her and they fell in love. They had a child, Arthur stark, who followed in his father's footsteps and became a genius playboy with a gift for inventing. His mother died soon after he was born, and his father when he was a young man. His family friend obidia Marius helped him run the stark industries, which is a weapons manufacturer. On a trip on the Atlantic, his ship was attacked. He was swept out to sea, and discovers he could breath under water. He was eventually rescued by the attackers who blew up his ship. He was forced to build weapons for the terrorists who captured him, but secretly built a suit that would enhance his abilities. He used his suit to escape and return to the mainland. He decided to stop making weapons and become a hero. Naming himself after a shark, he called himself hexanchus, the Latin name for a bull shark. The Martian Vision (The Vision+Martian Manhunter) a group of Martians made an android to infiltrate earth's heroes of earth. When sent to kill them, he observed their heroism and decided to disobey his orders and join them. Thunderbird (Falcon+The Flash) Sam Allen was a scientist who was working on experimental flight suit when a bolt of lightning struck him, while he was testing out to the suit. It gave him the ability to fly with wings of light, and travel at super sonic speeds.
on topic
License and Use
This Nations League - avenger-league on net.photos image has 1024x493 pixels (original) and is uploaded to . The image size is 96593 byte. If you have a problem about intellectual property, child pornography or immature images with any of these pictures, please send report email to a webmaster at , to remove it from web.
Any questions about us or this searchengine simply use our contact form
Published

10.05.22

Resolution

1024x493

Image type

jpg

File Size

96593 byte.