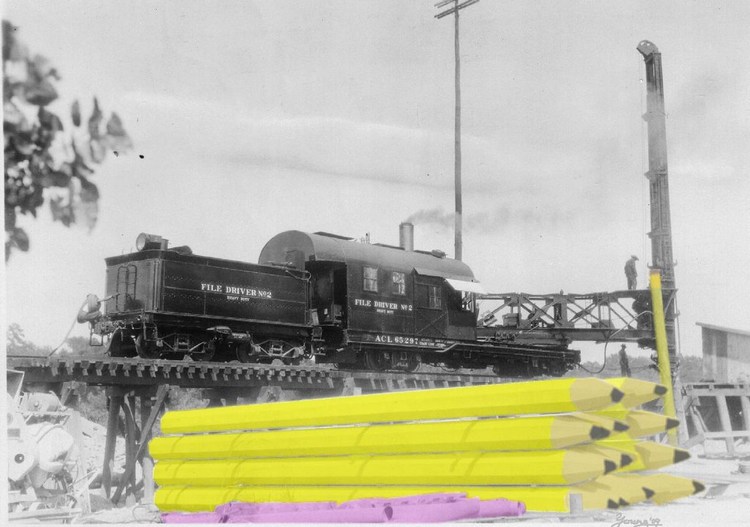 Pencil Pusher
(PID:3684025681)
Source
posted by
Michael Young
alias
michaeljy
on Friday 3rd of July 2009 03:47:24 PM
Not widely known is railroad involvement in early development of plotter and printer technology. Shown at work on the Atlantic Coast Line around 1930, in "G" scale, it was necessary to recruit dwarf Chinese elves to operate this equipment. Many lost their lives performing the hazardous labor. Given the high-pressure atmosphere of industrial design, boiler explosions were common. Unlike Irish leprechauns, the Chinese were considered expendable by railroad robber barons. ACL management had hoped to eliminate a draftsman position in the Engineering Department with this innovation. The ramifications for the industry would be much, much more. The idea caught on. Always looking for new ways to reduce forces, a brash young VP-Engineering, D. W. Brosnan, was so impressed that he ordered 1000 Baldwin File Drivers for use on Southern Railway. He later experimented with having SR's Pegram Shops modify one to take shorthand, so he could fire his secretary, who had mistakenly put sugar in his coffee one morning. (He wanted his coffee to reflect his management style—cold and bitter.) Unfortunately, Chinese characters kept popping up in File Driver output documents, especially when drawing curves, causing an unacceptably high error rate. (As evidenced by erasers in foreground.) World War II brought rationing of rubber, which caused most File Drivers to be mothballed for its duration. However, many saw European service under Lend-Lease, drafting war plans. Secretary of State George Marshall praised File Drivers' invaluable contribution to the war effort in drawing up plans for the D-Day invasion. The postwar period between 1945-1950 proved to be the high water mark in File Driver development and use. Anxious to recover from wartime constraints on improvements to infrastructure and rolling stock, railroads seemed to have an insatiable need for engineering plans. Not everyone was in love with File Drivers, however. One returning veteran, who prior to the war had been an apprentice draftsman on the Chesapeake & Ohio, vowed not to share a drafting table with what he derisively called, "that tinker toy." Before doing so, he insisted he would, "Die with my pencil in my hand!" In a contest hastily arranged by C&O public relations, he took on one of the road's File Drivers. This time man beat machine, turning out an incredible 23 blueprints in an eight-hour period, compared to the File Driver's 19, but it was a pyrrhic victory. By the end of the shift, the young draftsman suffered from a case of writer's cramp so intense that co-workers had to pry loose his fingers from his pencil. The next day, company physicians pronounced it the worst case of carpal tunnel in medical history. His drafting career was over. This period also saw the pinnacle in File Driver design evolution. Determined to stay on the cutting edge, the Pennsylvania Railroad looked for ways to squeeze ever more productivity out of their vast fleet of File Drivers. Realizing that some managers were reluctant to fully utilize File Drivers because of their dowdy appearance, famed industrial designer Raymond Loewy was enlisted to give them a facelift. The design he chose, based upon the natural contours and flow of the human hand, was breathtaking to behold, and so lifelike that it was said to be the source of inspiration for Charles Addams' character, "Thing," in his "Addams Family" series. But crews found the design ergonomically impossible to digest, and faced with their intractable opposition, Pennsy had no choice but to stay with the traditional File Driver look. Pennsy engineers did achieve a breakthrough in one area—the pencil itself. Managers had longed for a solution to the persistent problem of short lead life. Early stopgap attempts at rectification via ever sharper and longer points proved futile, since any gains were offset by an increase in broken point incidence. This had been particularly vexing for the Pennsylvania, given its well-deserved reputation for high-speed drafting. Designers in Altoona finally arrived at a solution: the world's first workable "mechanical" pencil. When unveiled in early 1947 (see, "Pennsy Engineers Discover New Way To Put Lead In Their Pencils," March 1947 "Choo-Choo" magazine), among the first to see the handwriting on the wall were officials of the International Brotherhood of Sharpeners United, who foresaw the loss of hundreds of jobs at the Juniata Pencil Turning Works. A union-sanctioned slowdown followed, and thousands of hours of productivity simply evaporated while crews whiled away whole days working on the New York Times Sunday Crossword Puzzle. Some were even so brazen as to play tic-tac-toe. After an incensed President Harry S. Truman complained to Congress that the union was, "Doodling with America's future," he asked for sweeping legislation granting authority to use the Army Corps of Engineers to seize control of railroad engineering operations. A Presidential Emergency Board ultimately ruled in management's favor, but tossed a bone to the brotherhoods by requiring carriers to maintain one of two Pencil Loaders assigned to File Driver crews. This flagrant featherbedding soon became fodder for political pundits and comedians, consequently the epithet "Pencil Pusher" entered our American lexicon. File Driver action was not confined to east of the Mississippi. Western roads also maintained stables of the little workhorses, adding their own flavors to the already quirky File Driver personality. Union Pacific was determined to achieve what its rivals had not: equip File Drivers with fountain pens. The obstacles seemed insurmountable. New York Central had worked on the splatter problem for years, and pointed to a disastrous ink well spill that blackened the Hudson River for days as evidence that the liabilities outweighed any potential benefits. UP countered that the characteristics of its road, with long stretches of prairie right-of-way, meant that a high percentage of its plans consisted of straight lines, thereby minimizing the risk of splatter. Another sticky problem—the harsh Nebraska climate—was overcome when UP chemists developed an oil-based India ink imported from Bombay. Logistical supply problems were resolved when General American Tank Car Company modified a portion of its wartime oil tanker fleet, making them available to UP for ink-hauling service under the special reporting mark "INKX." A related problem proved fatal to the UP's plans, however: viscosity, i.e., getting the ink onto the paper. Union Pacific designers tried wick systems utilizing cotton waste, but this proved unsatisfactory since friction generated by high drawing speeds necessitated frequent repacking. Teaming with Timken Roller Bearing Company, experiments were made with ball-bearing delivery of ink to paper, but again without success. A frustrated UP management finally dropped the idea. It would be almost ten years later that the French conglomerate BIC, under contract with SNCF, would make what they termed, "Le pen de balle," commercially viable. After the war, Japan National Railways had "borrowed" U. S. File Driver technology, adapting it for use as a method of attaching erasers to pencil ends, a novel idea that proved to be a marketing sensation. This ensured Japanese domination of world pencil production until well into the 1990s, when, in an ironic twist, they were surpassed by the Chinese. New File Drivers continued to be turned out by China's Datong Works until the mid-1980s. At the turn of the 21st century, Lionel, with additional financial backing from Ross Rowland, made a valiant effort at getting America back into the game, producing an "O" gauge model that incorporated mini compressed air cartridges and microchip technology in place of steam and dwarf elf labor. (See, "Making Its Mark," June 2001 "Miniature Railroader," and "Graph Fight," July 2001 "Choo-Choo" magazines.) Alas, it was to no avail. PCs and CAD software had so decimated U.S. rail employment that there simply weren't any forces left to reduce. The need for File Drivers had passed, another page of American rail history had turned. The last hurrah for Class I steam-powered mechanical drawing took place, predictably, on the Norfolk & Western, when home-built N&W streamlined Z-class File Driver No. 13 saw helper duty on plans to upgrade public restrooms at the Hotel Roanoke in March 1954. O. Winston Link chronicled this final chapter in his best-selling book, "Flushed With Success: The Little Draftsman Who Could Didn't Stall on the Stalls." But not all File Drivers were destined for the landfill. Eleven chapters of the National Office Supplies Historical Institute of Technology boast of having one or more File Drivers in their collections, although few are in working condition. Some have been fitted with electric motors, despite the aesthetically-unpleasing presence of a power cord. The objections of purists notwithstanding, some industry insiders quietly speculated that an aggressive electrification program might have ensured a File Driver presence on some Class Is, notably the Pennsy and Virginian, for at least for a few more years. Although that is debatable, there can be no doubt that a new generation of civil engineers did not have the same appreciation for cinder burns on blueprints as did their predecessors. Noted rail author and bon vivant Lucius Beebe convinced Brosnan's successor as SR President, W. Graham Claytor, Jr., to part with Southern's experimental dictation-equipped unit, which had been gathering dust in long-term storage on a shelf at Pegram. The Smithsonian wanted the unit for display in their Museum of Science and Technology, but negotiations had bogged down, and fan groups were begging SR to allow the old machine out on the road with Link to autograph copies of his book. In the end, Beebe won out, primarily because, as SR historian Jim Bistline said, "We just got tired of being pestered about the damn thing!" Beebe re-christened his unit the "Graphite Queen," and used it to handle personal correspondence right up until his death. Beebe was frequently heard to say, "Nothing helps me write like my little Queen!" As provided in Beebe's estate, "The Queen," as she is still affectionately known, now resides at the California Museum of Transportation, where she earns her keep by tracing silhouettes of delighted museum visitors.
on topic
License and Use
This Medical Supplies Near Me Now - pencil-pusher on net.photos image has 1024x720 pixels (original) and is uploaded to . The image size is 132713 byte. If you have a problem about intellectual property, child pornography or immature images with any of these pictures, please send report email to a webmaster at , to remove it from web.
Any questions about us or this searchengine simply use our contact form
Published

02.01.23

Resolution

1024x720

Image type

jpg

File Size

132713 byte.