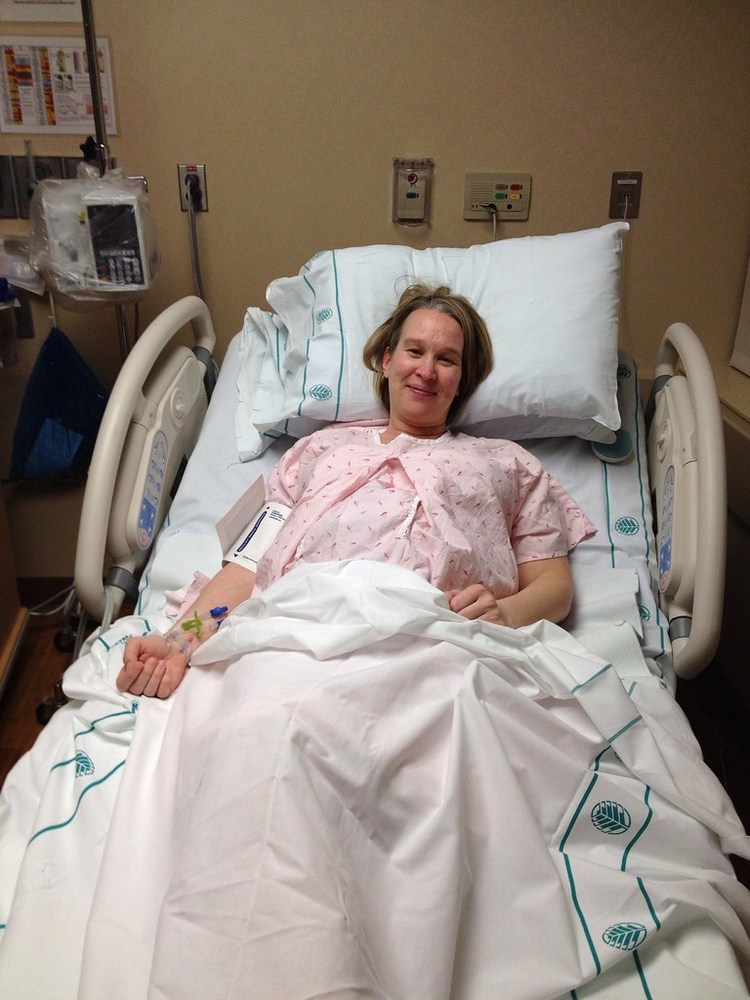 Olive's Birth Story
(PID:6854721303)
Source
posted by alias
cochal
on Saturday 11th of February 2012 04:01:56 AM
In the months leading up to Olive's delivery, I made the decision not to develop a birth plan. I knew that births rarely go as planned and that what happens in those hours is very often out of your control. I like being in control. One of my biggest fears before getting pregnant was my ability to handle the lack of control I would soon have over my body. Being pregnant means letting go and giving yourself over to the stranger that has inhabited your body and soon your life. Surprisingly, giving up the control I so tightly clutched to my entire life happened naturally. I wish I can say that I made a conscious effort to become more laid back but the more honest explanation is that, ironically, I had no control over it. Pregnancy brought me peace, confidence and a worry-free attitude that I'd never experienced before. (My most fervent wish of the day is that I can retain this gift into motherhood.) So, in contemplating my birth plan I'd decided that I just wanted to show up and have her and whatever happened, happened. Of course, there are things that I absolutely did not want to happen. I did not want to be induced. I did not want a c-section. I wanted to hold her during her first new moments into this world, no matter how bloody or sticky or goop covered she was. Well, it's a good thing that I never wrote that birth plan. I'm afraid that if I did, I would have had this picture in my head of what her birth would be like and when, one by one, those plans got shot to hell I would have a hard time living in the moment and still enjoying this awesome event. On Monday, January 30, Ryan and I had an ultrasound to see if and why Olive was measuring so small. Before our appointment, we took Finn to his 3-year check up, took a walk around Freedom Park, ran errands, got frozen yogurt, hung out in the coffee house we spent many hours in during college and just basically had a nice afternoon together. We grabbed lunch at Dean and Deluca (well, Ryan did, I was too anxious about the appointment) and headed over for our 2:15 ultrasound. She measured 5 pounds 15 ounces on the ultrasound but they said that she was perfectly proportioned. However, when the nurse told us to meet the doctor in his office, I knew that it wouldn't be so simple. Basically he told us that though Olive looked healthy, she was small and that it was better to just go ahead and get her out. If I was 34 weeks, he said she could just hang out a little longer, but since I was exactly 39 weeks he'd rather have her out than in. He called the hospital and made a reservation for us at 7:30. He told us that they would give me Cervidil to make my body more receptive to the Petocin. And that they would administer the Pitocin in the morning so I should spend the night eating dinner, relaxing and sleeping. There was a chance that it could kick my body into labor, he said, but it was very unlikely. We left the appointment, bought a cake at Dean and Deluca, went to work to deliver thank you notes and give everyone an update, dropped Finn off at doggie daycare and then went home. I was a little stunned. I had plans for the week which involved sleeping, playing Lego Harry Potter, enjoying the 70 degree days forecasted for the week and just generally soaking up every moment of our last week of normal as we know it. Frankly, I felt robbed. At home, I ate a little dinner and Ryan ran out to get a haircut. I packed my bag and we were off. They hooked me up to monitors and gave me the Cervidil and pushed me to take an Ambien, which I declined. Ryan and I were all ready to settle into a night of watching crappy tv and obsessing over what the next day would bring when the contractions began to roll in. They came on quickly and strong. The nurse came in and told me get up and pee since a full bladder can push on the uterus and cause you to have contractions. That only gave me momentary relief. Within minutes the contractions had built to the point that I was laying on my left side whimpering. Every time Ryan or I remarked about how this was not what we were told would happen and that we were surprised at how fast and strong the contractions came along, the nurse would blow me off. Eventually she told me that I needed to drink more water and I did but I thought it was odd that she didn't push IV fluids especially considering that I told her that due to how the day unfolded I really hadn't had much to drink. Eventually I told Ryan to go home. There was nothing he could do for me and I knew he had some things on his list he wanted to cross off before Olive arrived. Throughout the night I texted Ryan and told him how awful this was and I kept telling the nurse, hey these contractions hurt and she basically responded by brushing me off or implying that what I felt was merely Braxton Hicks. I started to panic because I felt like I had a pretty high pain tolerance and I was afraid of what was to come. I googled for Cervidil side effects and one of them was an irritated uterus which would cause unnatural contractions that would let up as soon as the Cervidil was taken out. I kept an eye on the clock throughout the night, didn't sleep a second and waited until 5:30am when they would come to take the Cervidil out and more importantly, until 7:00am when the shift change would happen and I would get a new nurse. At 5:30, they took out the Cervidil but the contractions never stopped. My nurse came in to move me to the bigger birthing room and she told me to gather my stuff and shlep it across the hall to my new room. I asked her to move my heavy bag and she acted put out. When she asked me what was wrong as I struggled through another contraction I told her that my contractions really hurt. She said, let me see, put her hands on my stomach and said, "Oh, wow, that's a real contraction." i swear I could have kicked her in the shins. At 6:00am Ryan arrived and watched me work through contractions that came 1 to 3 minutes apart. I took a shower, which should have felt wonderful except that I was bent over in pain. My parents arrived and my mom was the perfect mother of a daughter expecting her first baby. She gently stroked my hair, gave me tons of space and said all of the right things. At 8:00am I told the new nurse and doctor how much pain I was in. I was at 3cm and they told me I could get an epidural. Before they could begin the process of starting an epidural, my water broke during a particularly painful contraction. It was exactly textbook, and everything was moving along as planned. If everything that comes after this didn't happen, it would have been a perfect, and I believe, quick birth. Instead: They started my bag of fluids and began the process of inserting the epidural. Everything went smoothly until they were finished and laid me on my back and I said, "I feel like I'm hearing everything from really far away." And the nurses calmly said, "Huh, you do?" And I said, "Yeah, and I feel like I'm talking from really far away." Because I was so dehydrated and didn't get any fluids overnight and they hadn't quite finished pushing the first bag through me, my blood pressure bottomed out to 60/40. After a quick couple of bags of fluids, and laying on my left side for a while, I was feeling much better. They began the Pitocin drip and I quickly progressed to 5 centimeters. I had almost an hour of relief and progress before they prompted me to lay on my right side. Which Olive did not like at all. Her heart rate decelerated and she was showing signs of distress. And thus began almost 10 hours of laying on my left side with an oxygen mask on. Because Olive wasn't tolerating active labor very well, they stopped the Pitocin and my labor basically stalled out. The doctor told me that her head wasn't quite in position and there was really nothing I could do about that but hope she could turn on her own. I immediately wished that I could have, or would have, walked more before they gave me an epidural. I wished I wasn't stuck in a bed all night receiving Cervidil. At 1:30, the doctor told us that she was beginning to fear a c-section. We felt conflicted. A c-section would mean an end to a miserable experience but it was my worst-case scenario. I wanted to hold her, I didn't want intravenous pain medication and I wanted to be present, really present, when she made her way into the world. But I was beginning to suspect that when it finally came time to push I wouldn't be able to find the energy and that, even if I did, Olive wouldn't tolerate it well. At 3:00, I was far away in my imaginary field. Before I went into labor, I told Ryan that I wished I could just give birth in a field somewhere. I hated the thought of losing control of my body and I didn't want to have handfuls of witnesses to my terrible pain. And by 3 I was in terrible pain. I had no idea why and I was mentally beating myself up for being such a wuss. I'd always prided myself on having a high tolerance for pain and here I was, with an epidural, and crying and moaning in pain. Everyone kept telling me to push my epidural button but eventually I just stopped because it wasn't doing anything. I was no longer feeling twisting contractions but instead immense amounts of pressure but they warned me that I would feel pressure even with an epidural so I thought that I was just a child birth wimp. My temperature was climbing above 100, I was starting to have trouble breathing comfortably with the mask on and almost 24 hours of pain was beginning to take its toll. My mom was the one who finally ratted me out to the nurse about my pain level. They told me that I could take off my oxygen mask and turn on my right side. Everyone in the room seemed to realize at the same moment that I no longer had any effects of the epidural on my right side, and probably hadn't for many, many hours. I was so mad at myself. Not even a week before we had learned in our child birth class that epidurals worked by gravity and that they would often stop working if you spent too much time on one side. It hadn't even occurred to me that I was only feeling pain on one side. At 6:00, the doctor came in. She told us that even though Olive was mostly fine and thriving, she would randomly experience stress during contractions and that one of the things that caused her stress the most was Pitocin but that my labor couldn't progress without Pitocin. And so I was having a c-section. From that point on, everything moved so quickly. Suddenly I was drinking some foul liquid and Ryan was in scrubs and I was trying not to panic. My mom was telling me everything would be fine, and Ryan was calm and steady and I was signing form after form. They wheeled me into the OR while still asking me what antibiotics I could take since I was allergic to penicillin and sulfa drugs. In the OR I asked them to take care of Ryan, I knew this wasn't how he wanted things to go either. They began my incision before Ryan had the chance to take his seat next to me. When he came in, my eyes were closed and I was still and he asked the nurses whether they had to put me under. But I was there, just concentrating on staying calm and present. Ryan squeezed my hand and told me that we could reconsider her name if I wanted. Which I remember being very confused about. It felt like it took forever for them to get her out. And when they did, at 6:45 it felt like it took forever for her to cry. But she did. They scooted her past us and stood around looking very concerned. I told Ryan to go over, see what was happening, bring me back a picture of our little girl. I cried in relief when I heard her little cries – strong and just a few feet away. I asked about her APGAR score and was surprised to find that it was 8 and then a 9. She was fine. More than fine. She had her eyes open and was looking around the room. Before Olive even cried the doctors exclaimed, "Look at that conehead!" She'd been in my birth canal for a long time and she was face up so there was no way she was going anywhere. This was the way she was meant to enter the world, whether I had planned it or not. For the first time in his life, Ryan was handed an infant to hold. Our daughter. With a scrunched up brow and ginger blonde hair that perfectly matched her daddy's beard. I'm pretty sure it was the quickest Ryan's ever fallen in love. Throughout those 24 hours, Ryan was a perfect husband and now he would be the perfect dad. He stood up for me when I couldn't do it myself, gave me space when he saw that I needed it and always radiated warmth and love. I would have been lost without him. It didn't happen when I thought it would but I did get a chance to hold her skin to skin and breastfeed and it turns out that the timing didn't matter. We were together. Our new family of three. In many ways, the c-section afforded us a lot more privacy and intimacy than we would have otherwise had. So, that's our story. It's not what I thought it would be but it's exactly how it should have happened.
License and Use
This Intimacy During Fasting - olives-birth-story on net.photos image has 768x1024 pixels (original) and is uploaded to . The image size is 146654 byte. If you have a problem about intellectual property, child pornography or immature images with any of these pictures, please send report email to a webmaster at , to remove it from web.
Any questions about us or this searchengine simply use our contact form
Published

05.07.21

Resolution

768x1024

Image type

jpg

File Size

146654 byte.