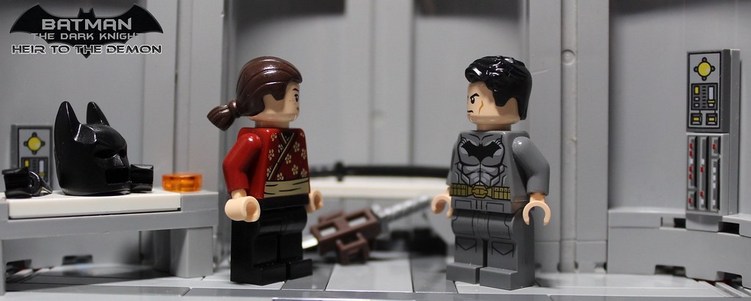 The Dark Knight - Heir to the Demon #10
(PID:35882493935)
Source
posted by
Supremedalekdunn
alias
Supremedalekdunn
on Wednesday 12th of July 2017 06:40:32 PM
As Lucius presses ahead attempting to synthesize Lucifer on a large scale so that we can weaponize it, I decide to make some last minute preparations to the Batwing. Given how I intend for Alfred to make us of it as his way of monitoring all of us, it can't help to be certain that all the systems are prime condition. The last thing I want is to put Alfred in more unnecessary danger, especially given how willing Ra's will be to use him against me. Still no alarm from the Batcave's security system yet, which is surprising. If Ra's is going to make his move in a couple of hours, I would have anticipated that he would have attempted to liberate Damian from the cave by now. If anything, that's even more worrying. As it means he'll likely have something planned in order to divert my attention away from the cave whilst he moves to free Damian. That is of course assuming that he knows where I'm holding Damian. But if I know Ra's as well as I claim to, he'll have known I had imprisoned Damian in the cave from the moment I defeated him at City Hall. I just need to remember all that he taught me, as that will give me insight into his thought process and hopefully, it will allow me to anticipate his moves. Hopefully, the suit will help to neutralise the possibility of him using his experience from training me to his advantage. He'll likely expect me to favour my gauntlets as my primary form of defence, having used them heavily during my time in Nanda Parbat. What he should be unaware of, are the many other ways the suit is designed to assist me in combat. After I complete the full systems check for the Batmobile, I begin to make my way over to the testing range where Talia went to trial various pieces of armour she could wear for when the League makes its move against us. I can't help but feel concerned by the fact that since her body has not been exposed to Lazarus for such a long period of time, the bullet wound she received hasn't healed, it will make her a seemingly more vulnerable target to attack, and the League are unlikely to show restraint against her. Especially given how she killed one of their members, thus outright choosing to align with me. But it's as I walk past the Batcomputer interface that I'm caught by surprise. There I find Tim scrolling through all the live CCTV camera footage of Gotham. Clearly he's hoping he can catch some footage of the League making their preparations in the hopes of giving us an advantage. A commendable thought, hoping to aid us by tracking the League's movements. But unfortunately, the League are trained to avoid detection just as well as he is. Bruce: Trouble sleeping? He seems surprised to hear my voice. No doubt he thought that he was the only one awake aside from Lucius. Tim: I'd ask the same of you, but I'm not sure you even sleep. Bruce: I usually save that for when I'm stuck in board meetings. Tim: And Lucius is ok with that? Bruce: No. But when you're the CEO and own the majority stake, you don't really have to worry about what others think. Tim: Sounds like a fun life. To most people it probably would be. Being your own boss, having no-one to answer to other than yourself…But that couldn't be any further from reality. Bruce: Oh it couldn't be more boring. Sleeping during those meetings is the only way I keep my sanity. Tim: I'm not sure Alfred would appreciate hearing you say that, especially given how much effort he went to protecting your shares in the company whilst you were away. Bruce: He's never happy with what I do. He'll never truly be happy until by some miracle I have a change of heart, settle down and have kids. Tim: Well….you seem to have succeeded with the last point. Did I? Damian may be my son based off genetics. But if I've played no role in shaping his life and helping him to become the man he is today, is he truly my son? Am I truly his father? Or does that title now pass to Ra's? Bruce: I spoke to Selina a few minutes ago. Tim: Is Steph alright? Bruce: She's out of surgery and she's stable. Doctors want to keep her in for at least two weeks to monitor her recovery. Apparently she lost a lot of blood. Would have been fatal had pressure not been applied to the wound so quickly they reckon. Tim: Thank goodness. Tim's relieved to know that Stephanie is alive and the surgery was a success, but I see the doubt in his eyes. He blames himself for what happened to her, which couldn't be further from the truth. It wasn't him who put her in danger, it was me. I put them both in danger. But Tim will never accept that. Nothing will stop him from blaming himself. That's mainly why I held off on telling him that she was out of surgery when Selina called me two hours ago. Tim: So what happens now? Bruce: Selina will stay by her side until the crisis has passed. Given how both of you were attacked, I can't be certain that they won't target her when they make their move. I'm doubtful that they will target her given how the assailant that pursued Tim is currently incarcerated in the GCPD so the League should be unaware of her, but I'd rather be wrong about her being a target, than be wrong about her not being one. Tim: And you think the infamous Catwoman can hold the League of Assassins at bay? Bruce: If you know Selina even a fraction as well as I do, you know it'll be the League who will struggle to keep her at bay. Tim: Especially if there's a big payday guaranteed. Bruce: I have the scar to prove it. As well as the ripped suit. Tim: I'm sadly not so lucky. Bruce: Maybe you are. Tim: Hmmm? Bruce: Come with me. There's something I need to show you. Tim: Bruce? I turn and make my way towards the suit vault where most of my old suits that were stored in the cave now reside, including a certain suit that I asked Lucius to prepare following my first encounter with the now infamous 'Crimson Knight'. For a while, I had intended this simply to be a suit to replace Tim's current one, give him additional armour padding and a cape similar to the one on my suit. But with all that's transpired in Gotham, and with the future so uncertain, now feels like the right time for Tim to become his own person. With Tim following closely behind me, I come to a stop in front of one of the few sealed chambers left in the vault. Tim: Bruce? What's going on? Bruce: It's time. Tim: Time? Time for what? Without saying a word, I place my right hand on the control panel and let it scan my handprint. After a brief pause, the doors open to reveal the new suit. Oddly, Tim appears surprised. What else did he expect to find in the suit vault? Tim: A new suit? Bruce: And much more. Tim: More? Bruce: You've accomplished something neither Dick or Jason managed to accomplish. Tim: Make it past three years? Bruce: Make it to the end. The natural end that is. Not an abrupt end as both of them experienced. It oddly seems right that of all three of them, Tim is the one who makes it to the end. Tim: Wait…you don't mean? Bruce: I have nothing left to teach you. Tim: Bruce that can't be true. I still know barely anything compared to Dick or Jason, never mind compared to you. Bruce: But what Dick and Jason know now cannot be taught. It can only be learned. I had to learn it when I began all those years, and now the time has come for you to learn it as well. There are some things in life which can never be taught. You can only learn them. The streets of Gotham are a good catalyst for such lessons, but only if you're willing to listen. But I'm sure that of all the Robins, Tim will have the fewest problems dealing with them, and that's not just because he's the only one to leave my side on good terms and with access to my equipment. Tim: So do this mean…..I've graduated? Bruce: It means you've outgrown me. You've accomplished all you can under me. So I suppose, in a sense, you have graduated. Tim: Does this mean I can't be Robin anymore? Bruce: Only if you choose not to be. Tim: You're not planning on taking on a fourth Robin? Bruce: I'm not planning anything for the future. I probably could have phrased that better. The brief amount of discomfort it causes Tim to hear that remark is difficult to overlook. Tim: So……this is my graduation present? Bruce: A little. I'd had Lucius start work on it soon after our first encounter with Damian at the shipyards. Tim: Where he brought the house down. Literally. It's rather worrying that I somewhat anticipated him to make that remark. Bruce: But since then I've started to notice something I never saw in Jason or Dick. Tim walks up to inspect the finer details of the new suit as I continue. Bruce: I saw independence. I saw intelligence. I saw kindness. But most of all, I saw a young man who has come a long way since he first turned up at the doors of Wayne Manor demanding a job. Tim: Bruce….I…..I don't know what to say. Bruce: You don't need to say anything. Your friendship is all I've ever needed, and I know that no matter what becomes of me in all this, Gotham will be in safe hands. Before Tim can respond, I pull out one of the burner phones I used to contact Jim in the past prior to mastering the art of scrambling my calls. These days, the only use I have for the phones are to help me get out of company meetings. Nobody bats an eye when the CEO has to walk off to take a call. Bruce: You should call her. Make sure she's alright……We might not get another chance. The only number programmed into that phone now is Selina's number. If she's done as I asked, it should be Stephanie who answers the phone when Tim calls. I had intended to give the phone to Tim later after he'd caught some sleep. But there's no time like the present. As he turns to see the phone in my hand, I pass it to him with the contacts page open. Bruce: Your father would be proud of you. I know I am. Tim: Thank you, Bruce. For everything. Bruce: No, Tim. Thank you. With that, I walk off to the testing range to meet up with Talia. It takes a few minutes to make it over to the testing range where I find Talia almost falling asleep. Bruce: Tired? Talia: Not at all. Bruce: That makes one of us. I walk up to one of the tables and remove my gauntlets before hanging my cape up. Talia: Did you have fun planning with your little plane? Bruce: I was about the same of you with your sword. Talia: Did you? Bruce: I barely did anything to it. Talia: Oh? Then where were you? You didn't use that as an excuse to get away from me did you, beloved? Bruce: I found Tim awake. Talia: I thought they all went to get some sleep. Bruce: Do did I. He couldn't sleep, kept worrying about Miss Brown. Talia: His friend in the hospital? Bruce: Yeah. Talia: You think he has feelings for her. Bruce: No. It's mutual. Talia: They grow up so fast. Bruce: …. Talia: Beloved? Are you alright? Bruce: I'm fine. Talia: Are you sure? You don't look like yourself. Bruce: It's just….. I'm not entirely sure what's come over me. I was perfectly fine not too long ago when I was talking with Tim. What's wrong with me? Of course. Seeing the happiness in Tim's eyes when he heard that Miss Brown was out of surgery. Noticing the playful relationship between Barbra and Dick. The looks that Jason and his partner give one another. I'm feeling…..regret. Regret for the decision I made over a decade ago, choosing to leave Talia behind with father rather than taking her with me. I've often wondered whether I made the right choice that day. Choosing to spare Talia the pain of losing her family having felt that pain myself. Of course, the circumstances couldn't have been more different. But to know now what transpired since I returned to Gotham, to know the horrors she had to endure. Thrown into Pagan Mar, believing herself to have undergone a miscarriage, now learning that all this time her own child was alive and had been raised by her father in secret…..It's a wonder she's still standing. Bruce: Leaving you, was the biggest mistake of my life. Talia's perplexed by my response. No doubt Tim, Dick and Jason would be as well. Ever since I first donned the cowl, I made it a point to distance myself from my own feelings as much as possible. After all, there would come a time where Batman would have to come to the aid of someone Bruce Wayne cared for dearly, and I couldn't risk exposing myself by reacting as Batman as I would as Bruce Wayne. But right here, right now, I decided to drop the façade and confess. Talia: Bruce, I…..I don't know what to say…. Bruce: You don't have to say anything. I just….just wanted you to know. Talia: Thank you. Coming from you that…..that really means a lot. Before either of us can say another thing, we walk forward and embrace one another. Bruce: I'm sorry. Talia: Sorry for what? Bruce: Everything. There's a long pause before Talia pieces together what I think this means. Talia: ….You really don't think we're going to make it out of this, do you? Bruce: I don't know, Talia. I really don't know. We hold each other tighter as the clock slowly ticks down to Ra's' arrival....
on topic
License and Use
This Independence Hall Facts - the-dark-knight-heir-to-the-demon-10 on net.photos image has 1023x410 pixels (original) and is uploaded to . The image size is 71065 byte. If you have a problem about intellectual property, child pornography or immature images with any of these pictures, please send report email to a webmaster at , to remove it from web.
Any questions about us or this searchengine simply use our contact form
Published

07.07.22

Resolution

1023x410

Image type

jpg

File Size

71065 byte.