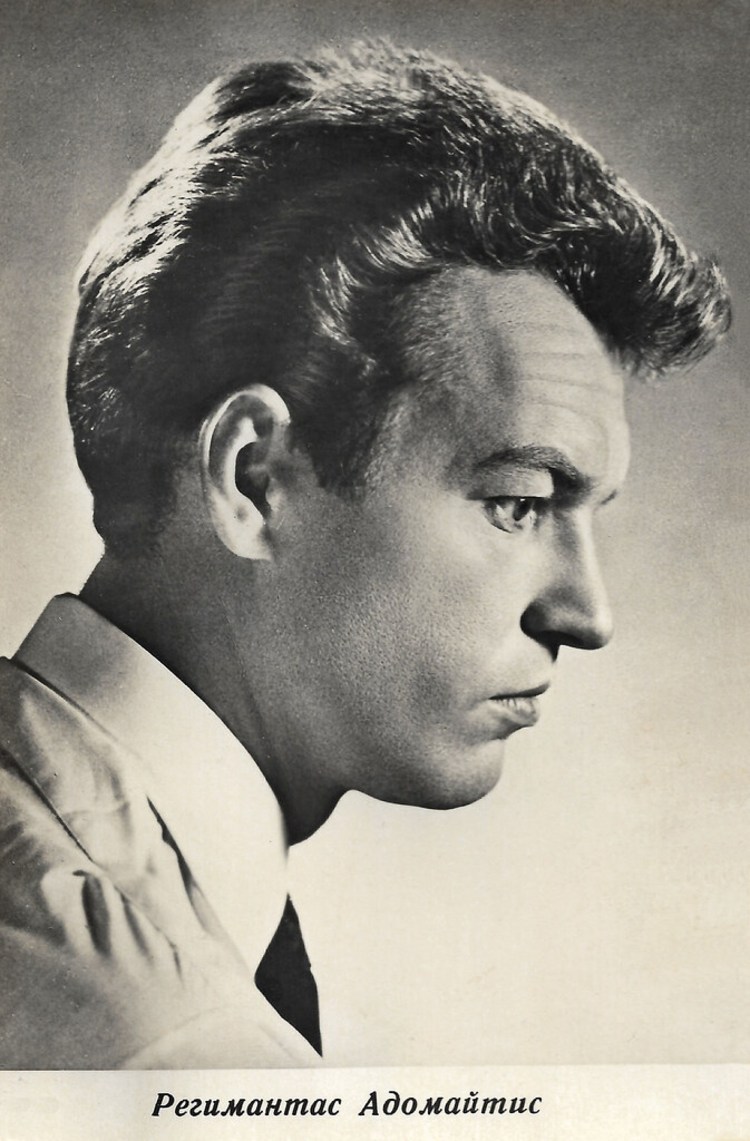 Regimantas Adomaitis (1937-2022)
(PID:52194156695)
Source
posted by
Truus, Bob & Jan too!
alias
Truus, Bob & Jan too!
on Monday 4th of July 2022 06:24:14 PM
Soviet-Russian postcard by Izdanije Byuro Propogandy Sovietskogo Kinoiskusstva, no. M-31293 9/IV-68. This postcard was printed in an edition of 150,000 cards. The retail price was 8 kop. Lithuanian film and stage actor Regimantas Adomaitis (1937) passed away on 20 June 2022. He was particularly active in Soviet and East German cinema, for example in Korol Lir/King Lear (1970) and Jeto sladkoje slovo - svoboda!//That Sweet Word: Liberty! (1972). Regimantas Vaiksutovitch Adomaitis was born in Šiauliai, Lithuania in 1937. He graduated from the Faculty of Physics and Mathematics at Vilnius University. Later he studied acting at the acting department of the Vilnius Conservatory. He made a debut in the theatre and had engagements in Vilnius, Kaunas and Kapsukas. His film debut was Vienos dienos kronika/The Chronicle of one Day (Vytautas Zalakevicius, 1963) with Donatas Banionis. In 1966 he had his breakthrough with Niekas nenorėjo mirti/Nobody Wanted to Die (Vytautas Žalakevičius,1966). This action drama is set in a small Lithuanian farming community after the Second World War. The village is divided as the communists battle those in favour of national independence. When the leader of the community is killed, the man's four sons, including Adomaitis, set out to avenge his death. Adomaitis, director Žalakevičius. and cinematographer Jonas Gricius were awarded the USSR State Prize for the film in 1967. That year, he also acted in the a-typical Soviet war film Vostochny koridor/Eastern Corridor (Valentin Vinogradov, 1966) with Lyudmila Abramova. In the historical drama Sergey Lazo (Aleksandr Gordon, 1968), he played the title role of the Communist leader Lazo. He appeared as Edmund in the Soviet Shakespeare adaptation Korol Lir/King Lear (Grigori Kozintsev, Iosif Shapiro, 1971), starring Juri Jarvet. The Russian composer Dmitri Shostakovich composed the score. Jugu Abraham at IMDb: "Kozintsev is one of least sung masters of Russian cinema. His cinema is very close to that of Tarkovsky and Sergei Paradjanov. Kozintsev's Lear is not a Lear that mourns his past and his daughters--his Lear is close to the soil, the plants, and all elements of nature. That's what makes Kozintsev's Shakespearean works outstanding." In 1973, Adomaitis appeared in the Soviet drama Eto sladkoe slovo - svoboda!/That Sweet Word: Liberty! (Vytautas Žalakevičius, 1973). The film was shot in Chile shortly before the 1973 Chilean coup d'état. The basis for the plot is a real story: the escape from San-Carlos prison in Venezuela of three political prisoners. The film was entered into the 8th Moscow International Film Festival where it won the Golden Prize. Velnio nuotaka/Devil's Bride (Arūnas Žebriūnas, 1974) is the first Lithuanian musical about the victory of love over the trickery of the Devil based on the book Baltaragio malūnas (Whitehorn Mill) by Kazys Boruta. Due to its popularity, it is sometimes called a Lithuanian Jesus Christ Superstar rock opera. In East-Germany, Regimantas Adomaitis starred in Wolz - Leben und Verklärung eines deutschen Anarchisten/ Wolz - Life and Illusion of a German Anarchist (Günter Reisch, 1974) with Heidemarie Wenzel. Tom Dooley at IMDb: "Part comedy at one point, part political statement and a definite swipe at National Socialism, it is very ambitious and it pulls it all off. It has a great musical score too and the music adds to the mood tenfold. The acting is superb and Regimantas Adomaitis as Wolz is a powerhouse." For the DEFA, he also starred in Mann gegen Mann/Man Against Man (Kurt Maetzig, 1976). In the historical drama Yuliya Vrevskaya/Between the Tsar's Court and the Battlefield (Nikola Korabov, 1978), Adomaitas played opposite Lyudmila Saveleva and Stefan Danailov. Other films were the Maxim Gorky adaptation Vrag/Enemies (Rodion Nahapetov, 1978) with Innokentiy Smoktunovskiy, the Soviet-Italian drama La vita è bella/Life Is Beautiful (Grigoriy Chukhray, 1979) with Giancarlo Giannini and Ornella Muti, and Poloska neskoshennych dikikh tsvetov/ A strip of unclosed wildflowers (Yuri Ilyenko, 1980). He returned to East Germany for the drama Die Verlobte/The Fiancee (Günter Reisch, Günther Rücker1980) with Jutta Wachowiak as a woman sentenced in 1934 to ten years in prison for antifascist activities. The love between her and her fiancee enables her to survive it. He co-starred with Donatas Banionis in the Soviet Lithuanian-language war film Gruppa krovi nol/Faktas/Facts (Almantas Grikevicius, 1981). At the 1981 Cannes Film Festival, actress Yelena Solovey won the award for Best Supporting Actress for her role in the film. Other films include Iz zhizni otdykhayushchikh/Life on Holidays (Nikolay Gubenko, 1981), Skrydis per Atlanta/ The Flight Across the Atlantic Ocean (Raimondas Vabalas, 1984), Es ist nicht leicht ein Gott zu sein/It's Hard to be a God (Peter Fleischmann, 1989), the war drama Angely smerti/Angels of Death (Yuriy Ozerov, 1993), with Fedor Bondarchuk and Powers Boothe, and the French-Russian drama Tu es.../You are… (Vladimir Makeranets, 1995). On TV, he appeared in the Soviet musical miniseries Trest, kotoryy lopnul/The Trust That Went Bust (Aleksandr Pavlovsky 1983) based on short stories by O. Henry. In 1985, Regimantas Adomaitis was a member of the jury at the 35th Berlin International Film Festival. Adomaitis has received many Soviet Lithuanian-language war film awards of recognition. In 1988 with other 34 prominent people he created the Sąjūdis Reform Movement, which eventually led to the declaration of independence of Lithuania on 11 March 1990. Regimantas Adomaitis lived in Vilnius, the capital of Lithuania, where he worked as an actor at the Lithuanian National Drama Theatre and regularly appeared in TV series. Among his later films were the Norwegian drama Iskyss/The Ice Kiss (Knut Erik Jensen, 2008) with Ellen Dorrit Petersen, and the drama Anton (Zaza Urushadze, 2019). Regimantas Adomaitis died in 2022 in Vilnius, Lithuania. He had been married to singer Eugenia Baerite, who died in 2011. They had three children, including actor Gediminas Adomaitis. Sources: Jugu Abraham (IMDb), Tom Dooley (IMDb), Roman A. Ivanov (IMDb), Mubi, AllMovie, Wikipedia and IMDb. And, please check out our blog European Film Star Postcards.
on topic
License and Use
This Independence Day Film Facts - regimantas-adomaitis-1937-2022- on net.photos image has 673x1024 pixels (original) and is uploaded to . The image size is 166234 byte. If you have a problem about intellectual property, child pornography or immature images with any of these pictures, please send report email to a webmaster at , to remove it from web.
Any questions about us or this searchengine simply use our contact form
Published

12.07.22

Resolution

673x1024

Image type

jpg

File Size

166234 byte.