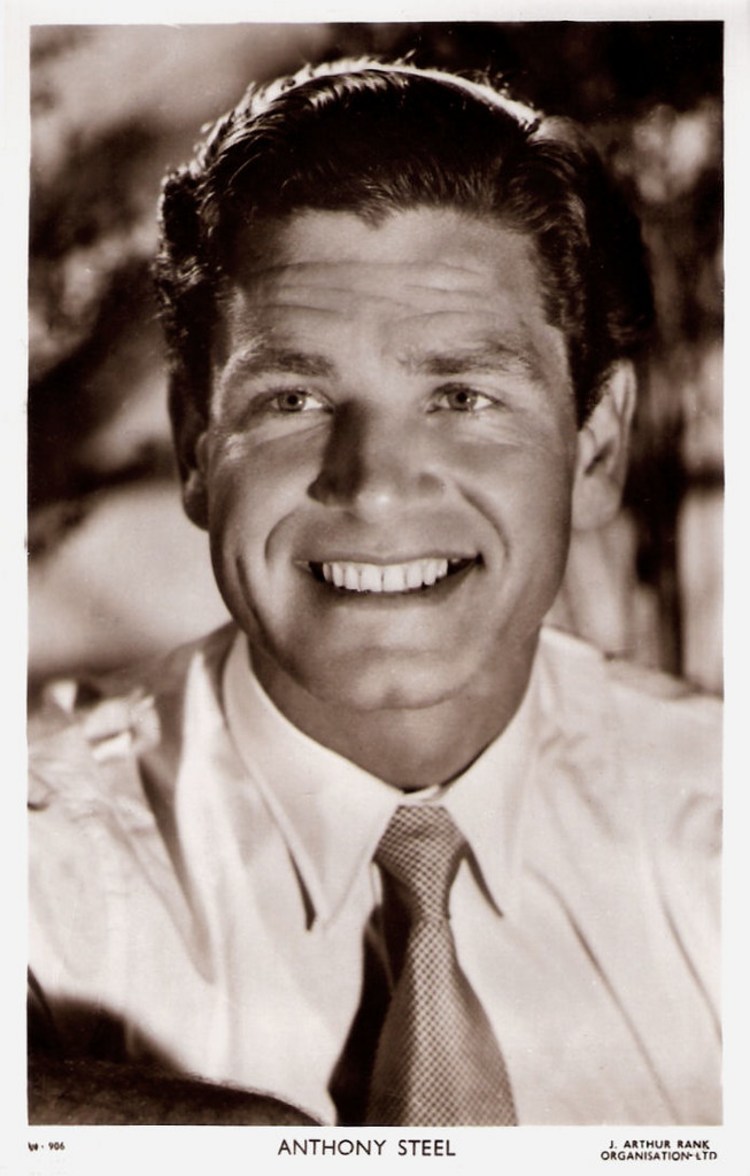 Anthony Steel
(PID:51289380690)
Source
posted by
Truus, Bob & Jan too!
alias
Truus, Bob & Jan too!
on Sunday 4th of July 2021 06:05:43 AM
British postcard in the Picturegoer Series, London, no. W 906. Photo: J. Arthur Rank Organisation Ltd. Tall and dashing Anthony Steel (1920-2001) was one of Britain's most popular matinee-idols during the early 1950s. He also was the stiff-upper-lipped star of many distinguished British war films and made more than 60 film appearances between 1948 and 1980. In the 1980s his once brilliant career collapsed into poverty and destitution. Anthony Maitland Steel was born in London in 1920. He was the son of Edward Steel, an Indian army officer, and he was educated in Ireland, then at Cambridge University. After serving as an officer in the Grenadier Guards during the Second World War, he decided to take up acting and appeared in small parts on the stage. When his girlfriend, a niece of J. Arthur Rank, introduced him to the film mogul at a party, Rank recognised that Steel could be an asset to British films and signed him to a contract. His first film was Saraband For Dead Lovers (Basil Dearden, 1948). The Rank Organisation hoped that he could beat the more muscular of Hollywood's leading men at their own game. They carefully prepared Steel for stardom by giving him small roles in over a dozen films in three years, including The Blue Lamp (Basil Dearden, 1949), Trotti True (Brian Desmond Hurst, 1949), The Chiltern Hundreds (John Paddy Carstairs, 1949) and Marry Me (Terence Fisher, 1949). His first major opportunity came when he was cast as one of the officers who devise a novel method of escaping from a prisoner-of-war camp in The Wooden Horse (Jack Lee, 1950), based on Eric Williams's autobiographical book. The tall, handsome, and gentlemanly Steel was hailed as a top 'beefcake' star: the British answer to Rock Hudson. The film was a great success. In 1951 he starred in the Royal Command Performance film Where No Vultures Fly (Harry Watt, 1951) and was presented to the Queen. He played an upright game warden who campaigns for a national safari park after he witnesses the slaughter of wildlife in East Africa. The film was the top British moneymaker of 1952. Steel established his matinee idol status in films like the comedy Laughter In Paradise (Mario Zampi, 1951), Another Man's Poison (Irving Rapper, 1952) opposite Bette Davis, and the war films Malta Story (Brian Desmond Hurst, 1952) with Alec Guinness, and Albert R.N. (Lewis Gilbert, 1953), in which he was once again a resourceful officer who makes a lifelike dummy to cover the escape of prisoners from a camp in Germany. The former Guards officer proved to be very well suited to his many military roles. While filming The Master of Ballantrae (William Keighley, 1953), his costar Errol Flynn ran his epee through Steel's hand. West of Zanzibar (Harry Watt), 1954, a sequel to Where No Vultures Fly, gave him the hit song Jambo, and British cinemagoers voted him second to Jack Hawkins as the most popular British film star. The following years he appeared in another Second World War story, The Sea Shall Not Have Them (Lewis Gilbert, 1954), co-starring Dirk Bogarde and Michael Redgrave, in the merchant-navy drama Passage Home (Roy Ward Baker, 1955), The Black Tent (Brian Desmond Hurst, 1956) and Checkpoint (Ralph Thomas, 1956). In the great 1950s peak of the British film industry, he was the highest-paid Rank star – together with Dirk Bogarde. In 1956, at the height of his fame, Anthony Steel suddenly broke his contract with Rank to set out with the voluptuous Swedish star Anita Ekberg to break into Hollywood pictures. Steel had met the glamorous Ekberg after making Storm Over the Nile (Zoltan Korda, Terence Young, 1956). In this remake of The Four Feathers, he had the central role of Harry Faversham, branded a coward by his fellow officers after he resigns his commission in 1895 rather than go to Sudan. After their initial encounter, at a film premiere, Steel called Ekberg the most beautiful woman he had ever met, and they married in Florence in 1956. When Steel announced that he was moving to Hollywood at the request of his wife, the Rank Organisation (in particular its head of production John Davis) considered it an act of ingratitude after the grooming and promotion they had given him, and there is little doubt that the decision damaged his career considerably. The results of his Hollywood adventure were mixed. He appeared in a little-seen thriller with a post-Civil-War Western setting, Valerie (Gerd Oswald, 1957), co-starring Sterling Hayden and Ekberg. His career died in comparison with Ekberg's, and his marriage to her ended in bitter rows. Steel was reserved and not at all stagey, while the extrovert Ekberg liked displaying herself. 'Mr. Ekberg' became prone to what was called 'hellraising'; he hit photographers who pursued his wife and was twice arrested for drunk driving. He never completely recovered emotionally from the collapse of his disastrous marriage. He also never recovered professionally, for when he returned to Britain at the end of the 1950s, the affronted British film industry showed little interest. However, he played in the superior drama Harry Black (Hugo Fregonese, 1958), though his role was secondary to that of Stewart Granger. He then took the leading role of a sterile husband in A Question of Adultery (Don Chaffey, 1958), a sensationalist treatment of artificial insemination which anticipated the sort of exploitation films in which Steel ultimately found himself. His last prestigious leading role was in Michael Powell's unsuccessful attempt to recapture the flavour of The Red Shoes with a bland blend of romance and ballet, Luna de miel/Honeymoon (Michael Powell, 1959). In 1960 Anthony Steel took up residence in Rome and made La vendetta dei barbari/Revenge of the Barbarians (Giuseppe Vari, 1960). This was the first of several European films, including the comedy Vacanze alla baia d'argento/Holiday at the Silver Coast (Filippo Walter Ratti, 1961), the adventure La tigre dei sette mari/Tiger of the Seven Seas (Luigi Capuano, 1962), the Eurowestern Winnetou - 2. Teil/Last of the Renegades (Harald Reinl, 1965), the anthology film Le Fate/Sex Quartet (Antonio Pietrangeli, 1966), and the thriller Hell Is Empty (John Ainsworth, Bernard Knowles, 1967) with Martine Carol. He had small roles in the war epics Lo sbarco di Anzio/Anzio (Duilio Coletti, Edward Dmytryk. 1967) starring Robert Mitchum, I diavoli della guerra/War Devils (Bitto Albertini, 1969) starring Guy Madison, and Massacre in Rome/Rappresaglia (George P. Cosmatos, 1973) starring Richard Burton. He also appeared in several erotic features during the 1970s, such as Häschen in der Grube/Run Rabbit Run (Roger Fritz, 1969), in which he played a music conductor who falls in love with his mistress's teenage daughter; Histoire d'O/Story of O (Just Jaeckin, 1975), the screen version of Pauline Reage's classic; Hardcore (James Kenelm Clarke, 1977), a heavily fictionalised 'autobiography' of 70s sex star Fiona Richmond; La notte dell'alta marea/Twilight of Love (Luigi Scattini, 1977) with Pam Grier, and the film version of Jackie Collins's book The World is Full of Married Men (Robert Young, 1979) with Carroll Baker. During the 1980s, he had mainly TV assignments, polished guest appearances in such popular series as Tales Of The Unexpected (1980), Jemima Shaw Investigates (1983), Bergerac (1983), and Robin Of Sherwood (1985). He also played in the BBC's epic three-hour science-fantasy production Artemis 81 (Alastair Reid, 1981), which featured Sting as an alien. His last film was the horror anthology The Monster Club (Roy Ward Baker, 1980) with Vincent Price. He also made stage tours in the 1980s. He looked much older but still distinguished. In the following decade, his life became a downbeat story. Work was scarce. First, he lived in a seedy Earl's Court hotel, then he moved to sheltered accommodation in a tiny council flat in Northolt, West London. Almost totally cut off from his past, he never told friends where he was. In the middle 1990s, his long-time manager Stephen Daly, got him admitted to Denville Hall, the London home for retired theatrical people, and also got him a role as Dr. Steven Hart, the guest lead in the TV series The Brokers Man (1999). It would be his last part. In 2001, Anthony Steel died from heart failure in Northwood, Middlesex, England, aged 80. He was married three times: to Juanita Forbes (1949-1954), to Anita Ekberg (1956-1959), and to Johanna Melcher, a former Miss Austria, (1964-?). He had two daughters and a son. In 1952, he had an affair with actress Patricia Roc while they were co-starring in Something Money Can't Buy (1952), resulting in a son, Michael. At the time Roc was married to André Thomas but they were unable to have children so Thomas agreed to raise Michael as his own. Sources: Dennis Barker (The Guardian), Tom Vallance (The Independent), Patrick King (IMDb), Wikipedia, and IMDb. And, please check out our blog European Film Star Postcards.
on topic
License and Use
This Independence Day Film Alien - anthony-steel on net.photos image has 653x1024 pixels (original) and is uploaded to . The image size is 127379 byte. If you have a problem about intellectual property, child pornography or immature images with any of these pictures, please send report email to a webmaster at , to remove it from web.
Any questions about us or this searchengine simply use our contact form
Published

07.02.22

Resolution

653x1024

Image type

jpg

File Size

127379 byte.