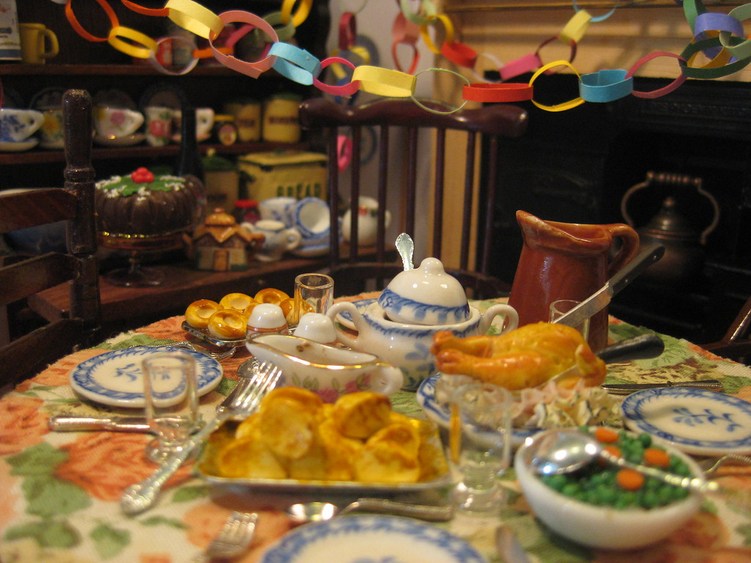 A Merry Christmas Watsford Style
(PID:51775006607)
Source
posted by alias
raaen99
on Sunday 26th of December 2021 06:51:36 AM
Cavendish Mews is a smart set of flats in Mayfair where flapper and modern woman, the Honourable Lettice Chetwynd has set up home after coming of age and gaining her allowance. To supplement her already generous allowance, and to break away from dependence upon her family, Lettice has established herself as a society interior designer, so her flat is decorated with a mixture of elegant antique Georgian pieces and modern Art Deco furnishings, using it as a showroom for what she can offer to her well heeled clients. Today however we are northwest of Lettice's flat, in the working-class London suburb of Harlesden where Edith, Lettice's maid, is staying with her parents for Christmas. Edith's father, George, works at the McVitie and Price biscuit factory in Harlesden, and her mother, Ada, takes in laundry at home. They live in a small, two storey brick terrace house which opens out directly onto the street, and is far removed from the grandeur of Lettice's flat, but has always been a cosy and welcoming home for Edith. What is especially exciting is that Edith's brother, Bert is home for Christmas too. He is a dining saloon steward aboard a passenger ship, so he is lucky to be on shore leave just in time of Christmas! The kitchen has always been the heart of Edith's family home, and today it has a particularly festive feel about it is Christmas Day and Christmas dinner is about to be served. Strings of brightly coloured paper chains have been strung around the room, draped over the old Welsh dresser, across the mantle of the kitchen range and across the room from corner to corner, hanging in jolly festoons. Ada had pulled out one of her best table cloths with an orange rose pattern on it which now adorns the round kitchen table, hiding its worn surface and the best blue and white china dinner service is being used today. Ada has even conceded to Edith's constant reminders that she promised to use the pretty Price Washington 'Ye Old Cottage' teapot that Edith bought her from the Caledonian Markets* a few months ago because she and her brother Bert are both home for Christmas. The kitchen is filled with the rich smells of Christmas: turkey and potatoes roasting and Yorkshire puddings baking in the oven, gravy warming over the grate and the faint fruity aroma of Ada's Christmas cake as it sits waiting to be served for dessert on the dresser's pull out extension. "Bert love," Ada calls to her son as she stirs the pan of gravy made with juices from the turkey mixed with Bisto Gravy Powder**. "Be a treasure and set the table would you?" "Right-oh Mum!" Edith's brother pipes up as he rises from his seat on a ladderback chair pulled up to the table where he has been admiring the fabric of his new cobalt blue tie, a Christmas gift from Edith. "First Class Steward Watsford of the SS Demosthenes*** is always ready to assist." "Thanks love." Ada replies gratefully as she pushes a few stubborn strands of hair that keep falling loose into her face, back behind her right ear. "It's just like being at sea, isn't it, son?" George chuckles good naturedly from his comfortable seat in his Windsor chair where he reads the newspaper and sips a cup of tea. "Better watch out George Watsford, lest I give you a job 'n all." Ada warns her husband teasingly as she smiles over at him and winks. "What? I've done my job by getting you the best Christmas turkey money can buy from Mr. Ludlow's butcher's shop." he splutters. "Anyway, I can't do anything dressed in my best bib and tucker****, now can I Ada? I'll only spoil all your good washing and pressing." "It won't stop me giving you one if you stir up trouble for me." She wags her wooden spoon coated in thick brown gravy warningly at him. "You're in trouble now, Dad," Edith laughs as she goes to open the small bread oven of the range. "Mum's waving her spoon at you." "No Edith!" Ada gasps. "Don't open the door yet! All the hot air will come out and the Yorkshire puds will go flat! Didn't I teach you anything?" "Oh you did, Mum, but I was just going to take a peek at them. Otherwise, how will we know they're done." "Even a peek will make them go flat. No, I'll know when they're ready love. I've been using this range," Ada gently pats the mantle over the range like a faithful dog. "Ever since I married your Dad. It took me a while to learn its ways, but we understand each other now. Don't we old girl? Here, you want to help me, love?" Edith nods. "Then stir the gravy so it doesn't burn whilst I check on the turkey." Ada replies. Edith dutifully takes over stirring the pan with the wooden spoon. "Thanks again for my tie, old girl!" Bert says to his sister as he sets out the last of the blue and white dinner plates featuring a central flower on each. "It's spiffing." "Oh you're welcome, Bert." Edith replies, turning around and smiling at her brother. "Now you're moving up the ranks, you need to look smart when you're off duty as well as on." "Don't know how you could afford something as smart as this for me." "Well, Miss Lettice pays me a fair day's wage for a fair day's work, and living so centrally in London, I have access to lots of places to find you presents." "Petticoat Lane*****?" Ada asks in a quiet whisper as she rises from being bent over the oven. Edith nods. "Oh that reminds me Bert, I'll have to show you the present that Miss Lettice gave me for Christmas after dinner." "She spoils you, Edith." Ada remarks. "Dinner," she says in a posh voice. "Tea is what we call it, my girl." she corrects. "All these fancy words have no place in my kitchen." "Oh Ada!" George counters, looking sharply at his wife over the top of his newspaper. "If Edith learns new, more refined words to describe something, there isn't anything wrong with that." He gives his blushing daughter a beatific smile. "Betterment is good for the girl, especially if she wants to get on in the world." "Well tea was always a good enough word to describe our meal as far as I'm concerned." Ada replies huffily. "Now, now Ada!" George folds his paper and drapes it over the arm of his chair. Heaving his portly figure out of his well worn chair he walks over to his wife and wraps his arms around her shoulders. "What's gotten into you today? Where's your Christmas spirit? Christmas is always a jolly time for us Watsfords, not a time for bickering about words." "Oh I'm sorry, George," Ada replies, sinking into the comforting embrace of her husband. "I suppose I've been running myself ragged getting everything nice for Christmas over the last few days." She looks at her daughter, who quickly casts her eyes down at the pot of gravy she is stirring. "I'm sorry, Edith love," she apologies. "I'm not really cross with you. I'm just tired and a bit snappy." "It's alright Mum," Edith replies. "I know." "I'm happy you're learning new words." Ada continues, but then adds, "I just don't want you getting above your station. One day you'll leave Miss Chetwynd, and I just don't want you spoiled for your next mistress. You know not everyone's generous like she is." "I know Mum, and I promise I'm not getting above my station. I'm just proud of what she gave me is all, and I want to show it to Bert." "Of course you do, love." Ada puts a comforting hand on Edith's shoulder. "And why not indeed. It's beautiful, and you're very lucky to have it. Show it off, love." "Goodness Edith," Bert exclaims. "What did she give you?" "It's a dressing table set from Boots******, made of Bakelite*******." Edith enthuses. "There's a brush and comb and mirror and…" She stops herself quickly before she mentions the photograph frame which she has left sitting on the chest of drawers in her little bedroom at the Cavendish Mews flat with her fallen sweetheart Bert's picture in it. "And… and I just love it!" "That does sound fancy, Edith!" Bert says in an impressed tone. "Makes my box of Australian Fruit Biscuits look shabby in comparison." "Shabby?" Edith exclaims. "Don't say that, Bert! I love my Christmas present from you!" she assures him. "I can practically feel the Australian sunshine you talked about radiating from that tin. I've never had anything from so far away before! They are exotic, Bert." "That table set, Bert?" Ada asks. "Table set, shipshape and Bristol fashion********, Mum." Bert replies proudly. "Good! Then its time to serve up Christmas tea! Edith, pour that gravy into the jug and take out the potatoes. I'll put out the turkey and the Yorkshire puds. George, you fetch the ale." "Now that's a job I can do in my best bib and tucker." George laughs. Soon the table is covered in Ada's splendid Christmas dinner: a tray of steaming golden roast potatoes, beautifully risen Yorkshire puddings, a pot of green brussels sprouts and a bowl of peas and carrots. However most impressive of all is the golden brown turkey, glistening in the gaslight of the kitchen, steam rising from its perfectly cooked flesh. The family take their places about the table and George fills everyone's glass with thick, dark ale. "Goodness Dad!" Bert gasps as he looks at all the delicious food. "How could you afford such a fine turkey? Did you cut a deal using broken biscuits with Mr. Ludlow?" "Cheeky!" George replies with a smile, getting up from his seat and holding his tumber aloft. "I'd like you all to raise your glasses, please." "Who are we toasting, Dad?" Edith asks. "The King?" "Well, we can toast good King George in a moment, but first I'd like to raise a toast to McVitie and Price's********* newest Line Manager!" "Oh George!" Ada gasps, jumping up from her seat and throwing her arms around her husband in delight. "You kept mum on that bit of news!" "Congratulations Dad!" Edith says, standing and charging her glass. "Yes! Congratulations Dad!" Bert follows, raising his own glass. "That's spiffing news!" "And that's how I could afford such a fine turkey, son." George replies proudly. "Now, let's eat!" "Merry Christmas everyone." Edith says, sitting back down with a smile. "A merry Christmas indeed!" agrees Ada as she returns to her seat. "The best Christmas the Watsford family have ever had I'd say, with you two children home and your Dad's news!" *The original Caledonian Market, renown for antiques, buried treasure and junk, was situated in in a wide cobblestoned area just off the Caledonian Road in Islington in 1921 when this story is set. Opened in 1855 by Prince Albert, and originally called the Metropolitan Meat Markets, it was supplementary to the Smithfield Meat Market. Arranged in a rectangle, the market was dominated by a forty six metre central clock tower. By the early Twentieth Century, with the diminishing trade in live animals, a bric-a-brac market developed and flourished there until after the Second World War when it moved to Bermondsey, south of the Thames, where it flourishes today. The Islington site was developed in 1967 into the Market Estate and an open green space called Caledonian Park. All that remains of the original Caledonian Markets is the wonderful Victorian clock tower. **The first Bisto product, in 1908, was a meat-flavoured gravy powder, which rapidly became a bestseller in Britain. It was added to gravies to give a richer taste and aroma. Invented by Messrs Roberts and Patterson, it was named "Bisto" because it "Browns, Seasons and Thickens in One". Bisto Gravy is still a household name in Britain and Ireland today, and the brand is currently owned by Premier Foods. ***The SS Demosthenes was a British steam ocean liner and refrigerated cargo ship which ran scheduled services between London and Australia via Cape Town. It stopped at ports including those in Sydney and Melbourne. She was launched in 1911 in Ireland for the Aberdeen Line and scrapped in 1931 in England. In the First World War she was an Allied troop ship. ****The phrase "best bib and tucker", which means one's best clothes, emerged during the first half of the eighteenth century. It was used in New Memoires Establishing a True Knowledge of Mankind by Marquis d'Argens, published in 1747. It goes, "The Country-woman minds nothing on Sundays so much as her best Bib and Tucker." *****Petticoat Lane Market is a fashion and clothing market in Spitalfields, London. It consists of two adjacent street markets. Wentworth Street Market and Middlesex Street Market. Originally populated by Huguenots fleeing persecution in France, Spitalfields became a center for weaving, embroidery and dying. From 1882, a wave of Jewish immigrants fleeing persecution in eastern Europe settled in the area and Spitalfields then became the true heart of the clothing manufacturing district of London. 'The Lane' was always renowned for the 'patter' and showmanship of the market traders. It was also known for being a haven for the unsavoury characters of London's underworld and was rife with prostitutes during the late Victorian era. Unpopular with the authorities, as it was largely unregulated and in some sense illegal, as recently as the 1930s, police cars and fire engines were driven down 'The Lane', with alarm bells ringing, to disrupt the market. ******Boots the chemist was established in 1849, by John Boot. After his father's death in 1860, Jesse Boot, aged 10, helped his mother run the family's herbal medicine shop in Nottingham, which was incorporated as Boot and Co. Ltd in 1883, becoming Boots Pure Drug Company Ltd in 1888. In 1920, Jesse Boot sold the company to the American United Drug Company. However, because of deteriorating economic circumstances in North America Boots was sold back into British hands in 1933. The grandson of the founder, John Boot, who inherited the title Baron Trent from his father, headed the company. The Boots Pure Drug Company name was changed to The Boots Company Limited in 1971. Between 1898 and 1966, many branches of Boots incorporated a lending library department, known as Boots Book-Lovers' Library. *******Bakelite, was the first plastic made from synthetic components. Patented on December 7, 1909, the creation of a synthetic plastic was revolutionary for its electrical nonconductivity and heat-resistant properties in electrical insulators, radio and telephone casings and such diverse products as kitchenware, jewellery, pipe stems, children's toys, and firearms. A plethora of items were manufactured using Bakelite in the 1920s and 1930s. ********The saying "shipshape and Bristol fashion" means things are in good order, neat and clean. *********McVitie's (Originally McVitie and Price) is a British snack food brand owned by United Biscuits. The name derives from the original Scottish biscuit maker, McVitie and Price, Ltd., established in 1830 on Rose Street in Edinburgh, Scotland. The company moved to various sites in the city before completing the St. Andrews Biscuit Works factory on Robertson Avenue in the Gorgie district in 1888. The company also established one in Glasgow and two large manufacturing plants south of the border, in Heaton Chapel, Stockport, and Harlesden, London (where Edith's father works). McVitie and Price's first major biscuit was the McVitie's Digestive, created in 1892 by a new young employee at the company named Alexander Grant, who later became the managing director of the company. The biscuit was given its name because it was thought that its high baking soda content served as an aid to food digestion. The McVitie's Chocolate Homewheat Digestive was created in 1925. Although not their core operation, McVitie's were commissioned in 1893 to create a wedding cake for the royal wedding between the Duke of York and Princess Mary, who subsequently became King George V and Queen Mary. This cake was over two metres high and cost one hundred and forty guineas. It was viewed by 14,000 and was a wonderful publicity for the company. They received many commissions for royal wedding cakes and christening cakes, including the wedding cake for Queen Elizabeth II and Prince Phillip and Prince William and Catherine Middleton. Under United Biscuits McVitie's holds a Royal Warrant from Queen Elizabeth II. This cluttered, yet cheerful Christmas scene is not all it seems to be at first glance, for it is made up of part of my 1:12 size dollhouse miniatures collection. Some pieces come from my own childhood. Other items I acquired as an adult through specialist online dealers and artists who specialise in 1:12 miniatures. Fun things to look for in this tableau include: On the table the Christmas dinner that really does look good enough to eat is made up of pieces from different suppliers and artisans. The Christmas turkey and the bowl of peas and carrots come from Kathleen Knight's Dolls' House Shop in Essex. The knife sticking out of the turkey comes from Doreen Jeffries' Small Wonders Miniature Shop in the United Kingdom. The tray of potatoes in the foreground and the six Yorkshire puddings in the midground have been made in England by hand from clay by former chef turned miniature artisan, Frances Knight. Her work is incredibly detailed and realistic, and she says that she draws her inspiration from her years as a chef and her imagination. The gravy boat of gravy is also Frances Knight's work. The blue and white crockery on the table I have bought as individual from several online sellers on E-Bay. I imagine that whole sets were once sold, but now I can only find them piecemeal. The cutlery and the glasses (which are made from real glass) I bought as a teenager from a high street dollhouse suppliers. The pottery ale jug comes from Mick and Marie's Miniatures in England. The tablecloth is actually a piece of bright cotton print that was tied around the lid of a jar of home made peach and rhubarb jam that I was given a few years ago. The paper chains festooning Ada's kitchen I made myself using very thinly cut paper. It was a fiddly job to do, but I think it adds festive cheer and realism to this scene, as fancy Christmas decorations would have been beyond the budget of Edith's parents, and homemade paper chains were common in households before the advent of cheap mass manufactured Christmas decorations. In the background you can see Ada's dark Welsh dresser cluttered with household items. Like Ada's table, the Windsor chair and the ladderback chair to the left of the photo, I have had the dresser since I was a child. The shelves of the dresser have different patterned crockery and silver pots on them which have come from different miniature stockists both in Australia and the United Kingdom. There are also some rather worn and beaten looking enamelled cannisters and a bread tin in the typical domestic Art Deco design and kitchen colours of the 1920s, cream and green. Aged on purpose, these artisan pieces I recently acquired from Kathleen Knight's Dolls' House Shop in the Essex. There are also tins of various foods which would have been household staples in the 1920s when canning and preservation revolutinised domestic cookery. Amongst other foods on the dresser are jars of Marmite and Bovril. All these items are 1:12 size artisan miniatures made by Little Things Dollhouse Miniatures in Lancashire, with great attention to detail paid to their labels and the shapes of their jars and cans. Also on the dresser on the pull out drawer is a Christmas cake from Beautifully Handmade Miniatures in Kettering. Also from them is the cranberry glass cake stand, made of real glass, on which the cake sits. Next to it stands a cottage ware teapot. Made by French ceramicist and miniature artisan Valerie Casson, it has been decorated authentically and matches in perfect detail its life-size Price Washington 'Ye Olde Cottage Teapot' counterparts. The top part of the thatched roof and central chimney form the lid, just like the real thing. Valerie Casson is renown for her meticulously crafted and painted miniature ceramics. Marmite is a food spread made from yeast extract which although considered remarkably English, was in fact invented by German scientist Justus von Liebig although it was originally made in the United Kingdom. It is a by-product of beer brewing and is currently produced by British company Unilever. The product is notable as a vegan source of B vitamins, including supplemental vitamin B. Marmite is a sticky, dark brown paste with a distinctive, salty, powerful flavour. This distinctive taste is represented in the marketing slogan: "Love it or hate it." Such is its prominence in British popular culture that the product's name is often used as a metaphor for something that is an acquired taste or tends to polarise opinion. Bovril is the trademarked name of a thick and salty meat extract paste similar to a yeast extract, developed in the 1870s by John Lawson Johnston. It is sold in a distinctive bulbous jar, and as cubes and granules. Bovril is owned and distributed by Unilever UK. Its appearance is similar to Marmite and Vegemite. Bovril can be made into a drink ("beef tea") by diluting with hot water or, less commonly, with milk. It can be used as a flavouring for soups, broth, stews or porridge, or as a spread, especially on toast in a similar fashion to Marmite and Vegemite. The large kitchen range in the background is a 1:12 miniature replica of the coal fed Phoenix Kitchen Range. A mid-Victorian model, it has hinged opening doors, hanging bars above the stove and a little bass hot water tap (used in the days before plumbed hot water).
on topic
License and Use
This How to cook a turkey - a-merry-christmas-watsford-style on net.photos image has 1024x768 pixels (original) and is uploaded to . The image size is 186362 byte. If you have a problem about intellectual property, child pornography or immature images with any of these pictures, please send report email to a webmaster at , to remove it from web.
Any questions about us or this searchengine simply use our contact form
Published

12.05.22

Resolution

1024x768

Image type

jpg

File Size

186362 byte.