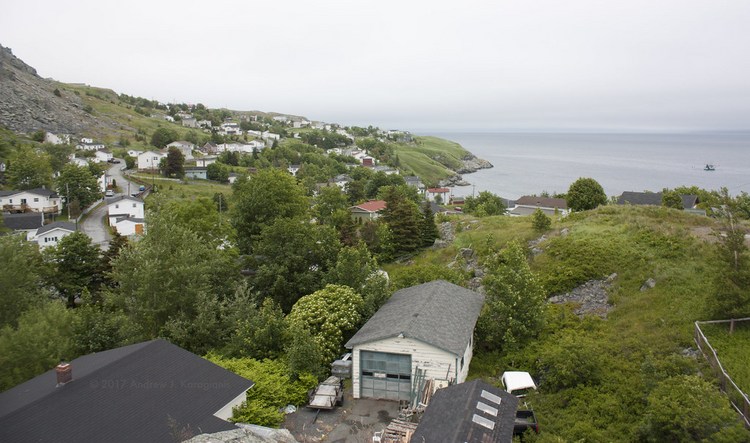 Upper Island Cove 2 / Happy New Year!
(PID:31300156293)
Source
posted by alias
Loops666
on Thursday 5th of January 2017 12:52:03 AM
It's a few days late, but here's my annual summary: Summary of 2016 It was a Horrible Year for Society, and a Decent Year for Me Edited for Flickr December 29th, 2016 * * * * * Publicly acknowledged as being a general disaster, we all know that 2016 was tainted by war, mass shootings, celebrity deaths, and the Beginning of the End of the United States of America. But for me, 2016 was a pretty decent year, despite some shitty occurrences in the spring and early summer. As I've done almost every year since 2010, this is the summary of 2016 as I experienced it. It goes without saying that I do this because I'm somewhat self-absorbed and I like to reminisce, but if you find yourself still reading, I hope you'll enjoy it! * * * * * On New Year's Day of 2016, I painted my interpretation of hell on a small canvas, complete with Trump Temple and a revolver directing all the dead souls toward it. At that point, I was feeling the Bern like so many other young people. Ted Cruz was going to be the Republican nominee, and Hillary was going to become the first female president. How wrong I was. Anyway, 2016 began with the end of my contract as the Admissions Case Manager at my workplace – interviewing and admitting people who were looking for addiction treatment. I had enjoyed learning how to do admissions work, and feeling a stronger sense of self-efficacy than I felt "on the other side" of the building, doing counselling. This was a disconcerting realization, but it makes sense, because I'm an introvert and I'm somewhat shy, so being among multiple people for a full shift while having to say the right thing is naturally tiring. Although I didn't go to school to be an admissions worker, it's good to narrow down my aptitudes, and it's something I can definitely see myself doing more of. I went for a few job interviews in the winter that didn't really go anywhere, but I started getting more shifts in February, so I was doing alright. I kept busy by working on paintings; one of which was the "Space Man Shark", and another was "Fucking the Dog", which thus far is the painting I put the most work into. It's the painting of the Zoo scene circa 2008, with workers slacking off around 93, which is the old rustbucket Ford F-350 that we used to drive around the site. My friend saw it and asked me to paint a Zoo scene involving him. I started that painting in March, and I'm embarrassed to say that it isn't finished yet. But I'm working on it! On February 24th, Ally and I saw Neil DeGrasse Tyson at the Sony Centre. It was great to see so many nerds in one place! I spent March working, reading books, and figuring out how I was going to propose to Ally. You see, Ally and I had been dating for a few years, and around the beginning of 2016, she showed me pictures of some engagement rings on the Internet. I figured that was enough of a hint. I called her parents and sought their blessing, and when they approved, I ordered one of the rings she liked. It arrived a few weeks later. When I got home from work on the chilly afternoon of April 12th, I brought the box (which was big enough to hold three laptops) inside and put it on the kitchen table when all of a sudden, Ally came home. I grabbed the box and stuffed it into my armoire just in time. At some point, I slipped the ring in the normal-sized jewelry box into my coat pocket, and suggested we go for a walk. We walked up to Danforth, then down along Broadview to Riverdale Park. We sat down and talked for a couple of minutes, and then I pulled the ring box out of my pocket and said "Happy Birthday". She said "What is it?", and then she opened the box and I asked "Will you marry me?" And she said "Oh my god! Oh my god", and then "Yes!" We talked a bit more about how I kept it a secret and how I had asked her parents for their blessing, and she laughed when I told her that her dad had said "Oh, that sounds good". We walked back up the hill to the sidewalk, and walked down to Gerrard Street where we got on the 506 streetcar and went home, freshly engaged. Then I think she called Tina, and I started calling my family, and then once our families knew, we posted it on Facebook. Then the notifications began pouring in! I took Ally to the Keg Mansion for her birthday the next day. It was pretty nice; I had never been there before. On April 18th, we went to Cuba – my first trip to the Caribbean. Ally's parents had invited us, and after much hesitating due to my tendency to get travel migraines in tropical places, I agreed to go. When I got up at 2:00am to drive to the airport, Ally had just gotten off the phone with her mom, who had to cancel because her grandmother had been rushed to hospital. So it would be a romantic trip for two instead. Or so we thought. We drove to the Park N' Fly lot, and got on the shuttle bus, which was playing Indian music. The flight was fine, and it was hot and humid in Cuba. The first four days were nice. We hung out on the beach, ate freely from the buffet, and sent postcards back to our families. On the third day, we took a bus into Varadero (the town), where I got some good pictures and we happened upon the most beautiful beach I'd ever seen, just down a quiet side street past the restaurant where we ate lunch. The sun was scorching on the beach, but the water was crystal clear and smooth, unlike the rough waves at the resort. We went into a tour agency of some kind and planned our trip to Havana as I started feeling a little lightheaded. Then we caught the bus back to the resort. On the fourth night, I got sicker than I've ever been. The next day, I went to the resort doctor, who suggested I get a shot of antibiotics. I immediately felt like throwing up at the thought, so we decided I'd take some Metronidazol pills and electrolyte packets that tasted awful instead. That night, sickness struck another 8 times. We had to cancel our trip to Havana, which bummed me out because I prided myself in being a pseudo-adventurous person with an interest in seeing "real Cuba" and not just staying on the resort. I was more or less bedridden for the second half of the trip. Ally brought me food from the buffet several times a day, as I got weaker and the temperature outside got hotter. I got three migraines on one day, after eating two bananas and probably having a serious electrolyte imbalance. It was the first time I remember where I couldn't wait to get home, where I could eat the food without wondering if it would make me sicker. On the flight home, we were stuck behind the same cranky kids from the flight there, and had to wait a while on the tarmac because of lightning strikes in the area. It took about an hour for our bags to appear on the carousel, after which we went outside to wait for the shuttle bus, where it was 3 degrees outside. When we got to my car, it was pissing rain, and my door got soaked when I had to fiddle with the ticket machine to leave the lot. We drove home and got in bed at 5:00am. In late April or early May, I got word that I had scored an Admissions Case Manager contract until March 2017, and also a permanent part-time position on the weekends, so I was happy about that. It's still not a Full-Time Permanent Job With Benefits and a Pension™, but I've never been one for fantasy. On May 17th, I was involved in a car accident after a woman suddenly stopped in the middle of an intersection. On May 21st, we had our engagement photos taken by my friend Strahan, which was the first positive thing to happen in a few weeks. We went up to the park at Reesor and Steeles, and then down to Riverdale Park where I had proposed to Ally a month before. We also stopped at Dairy Queen, which is a reliable mood-booster for me. That week was a flurry of happy activity. We checked out and confirmed our wedding venue; attended Ally's friend's wedding in Toronto; had our own engagement party at Mom's house; attended Mom's graduation from university, and I made my first visit to the Toronto Zoo in the 4.5 years since I last worked there. We saw my old lead hand and another guy I hadn't seen in a while, and took some pictures of Eurasia, which had radically changed since 2011. I also started working at my job at the shelter again. The next week, the federal taxman came a-mailing, saying "Fuck you, you poverty-living spoiled white kids! For I come'th to take away all the money I gave you in GST cheques over the past few years!" In case you didn't know (I didn't), you're not entitled to GST cheques if you're living with a partner and your combined income allows you to pay all your bills. The next week, the provincial taxman came a-mailing, saying "Yada yada give us your money blah blah you were supposed to tell us you were living together since 2013 etc." Same shit, different branch of government. Then later that week, my father was admitted to hospital. I'll leave out details because it's not my story to tell. I went to visit him the next day, and the worst-case scenario was avoided, so that was a relief. On the morning of July 14th, I woke up, picked up my phone, and found that I could no longer use Instagram. Over the last few years, several apps had stopped working. Every time I went to type a message, it would lag. Most annoyingly, whenever I turned off my phone, I would lose all my contacts. But not being able to use Instagram was the straw that broke the camel's back. It was time to replace my five-year-old iPhone 4. It was also time to be done with Rogers. So I bought an iPhone SE and switched providers, It was nice to step into the latest technological advances, like Siri (which I still haven't used); a built-in pedometer; a high-quality phone camera, and apps that work. When I look back on this essay in five years, all of these things will seem archaic. But that's the way it goes. On July 15th, Ally and I celebrated our 4th anniversary. We went to my favourite local Italian restaurant. We then drove to Dairy Queen on Broadview, where Ally asked if she'd be a fatty if she got onion rings. Then we drove down to Riverdale Park and watched the sun set. On August 4th, I got Pokémon GO, and it became the Summer of Pokémon GO. I picked a Squirtle as my starter Pokémon (naturally), and proceeded to spend hours walking around Gerrard, Danforth and Queen searching for Pokeymans and getting a bit of exercise. By the end of the summer, I had gotten to around Level 20. By mid-October, I finally evolved a Blastoise, and had reached Level 24. By early November, I evolved a Gyarados, and in mid-December I evolved a Venusaur. It contributed remarkably toward the amount of distance I walked between August and November, which I was proud of. I went to two Blue Jays games that summer, which were fun, even though they lost and I had a bad headache the second time. It was cool to see them get so far, two years in a row. I'm not a sports guy, but it's exciting to be in Toronto when the Jays and the Raptors are both doing well. Also in August, my coworker died after less than a year with cancer. He had been a drug addict with about 20 years clean, and was partly responsible for me getting a job in my field. The funeral was packed. On September 1st, I came home from work to find a letter from a lawyer, laden with mistakes, stating generally that I'm being sued for the car accident. "Oh, what a wonderful way to end my day!", I thought. Ally noted that I didn't freak out as much as she expected, and suggested I go for a walk. So I did. I ended up walking a lot while the summer heat still lingered, and bought myself a new pair of sneakers. It was a healthy, productive way to deal with frustration. Around that time, I 'harvested' my first home-grown sweet pepper. I had planted a few seeds from a pepper I bought at No Frills earlier in the year, and by September I had a few plum-sized orange and green peppers. It was satisfying to be able to grow my own food from a seed, indoors, without any trouble. I'll be doing that again in 2017! In October, I finally changed my face. I let my horseshoe moustache (previously thought of as a "handlebar" moustache) grow in, and turn into a beard. As is my usual pattern, once I notice that a trend has been around for a while, and I'm no longer going to stand out by taking part, it becomes safe to try. But my beard will not become yuge, nor will it grow on my neck. Also in the fall, my mother got the biggest news of the last several years in her life. My mother was adopted, and for most of her life, didn't know anything about her birth family or medical family history. Through a DNA test of some kind, she found out that she has two biological sisters. I met them just before Christmas. It's big news, but it's mostly my mother's news, so I'll leave it at that. So now we come to the part of the essay about Donald Trump. Like everyone else I know personally, I was appalled that The Donald won The Election. But was I shocked? Not really. Rewinding the tape many months, I suspected right from the start that Hillary would win. Almost everyone was talking as though she was the shoo-in, despite Trump's momentum. But as I went to bed on November 8th, Trump was ahead by something like 104 to 82 Electoral College votes, and I had a bad feeling about it. I woke up at 6:00am the next day, picked up my phone, and saw that Trump had won the 270 votes. I looked at the detailed results on my laptop as I ate breakfast, just feeling disbelief. As I drove to work listening to 680 News, it's all they were talking about. Several times over the next several days, the thought "This has actually happened; this is real" came back to me. I remember watching Barack sitting next to the Orange Emperor in the White House, eating the words he said on Jimmy Kimmel a week earlier: "Well, @RealDonaldTrump, at least I'll go down in history as a president!" In fact, it inspired me to do a crude painting, of the Orange Führer smiling while Barack the Great[est] holds his own grimaced face in humiliation. Then the blame game began all over the Internet. Was it angry white men? Was it the Democratic Party for toeing the party line instead of nominating the more-popular Bernie Sanders? Was it because the economy still sucks and a rich outsider was perceived as a better way to fix it? Was it because too many people didn't vote at all? Was it because there's been a general shift toward extremist views that coincides with the fading collective memory of the Holocaust? Time will tell, but it's all of those things. It's all of those things. On December 1st, I got bloodwork done. Turns out my life as a sugar fiend is starting to catch up to me. My doctor gave me a horrifying list of behavioural modifications to follow. They included getting 30 minutes of exercise each day ("Okay, not impossible"); getting 5 servings of fruit and vegetables each day ("Five?! How?"); increasing soy intake ("Ew; soy is trendy!"), and avoiding trans fats ("Nooooo!!!!). But I was concerned. I'm 31; I'm not supposed to have to worry about my diet yet. But I started speeding up my almost-daily walks; eating more fruit, peanuts and sunflower seeds; eating significantly less chocolate; taking liquid fish oil, and ensuring that I have enough All-Bran for breakfast. And to my surprise, it wasn't that hard a change. In terms of the ongoing categories that I usually talk about at the end of these essays just for my own record, we've got music, books, and painting. 2016 was the Year of Queen for me. It started around the time we came back from Cuba, when I put my A Night at the Opera CD in my car. I actually got that CD for my birthday in 2004, but never really got into it. But this time I found that I liked all of the songs on the album, and began singing along with them, which I think has improved my singing a bit. In September or October I bought A Day at the Races, and in November I bought Sheer Heart Attack. I also started listening to News of the World again, and realized that despite hating it as a kid, I really like "We Are The Champions" now. I continued with my Jon LaJoie revival that began in late 2015; got Dream Theater's The Astonishing double album which I liked; and gave a brief listen to a few other random artists like Shigeo Sekito, Animals As Leaders, and Plini. Not an explosive year of musical discovery for me, but not bad either. I read somewhere a few years ago that people stop discovering new music once they reach their 30s, and I have slowed down a bit, but I am not going to stop. The books I read in 2016 were An Astronaut's Guide to Life on Earth by Chris Hadfield (started in 2015); Scar Tissue by Anthony Kiedis; Here's the Deal: Don't Touch Me by Howie Mandel; Lifeline by Harry Bruce; The Big Book of Alcoholics Anonymous; The Biology of Desire (Why Addiction is Not a Disease) by Marc Lewis; and I just started The Dragons of Eden, by Carl Sagan. I continued painting on and off throughout the year: the PEI ferries; Ally and I on a VW bus; a Squirtle; an evil squirrel; a rainbow slug monster; the DVP; The Donald and Barack; an abstract orange and an abstract green painting, and some snow-covered houses. That's all for me this year! In 2017, I've gotta do more wedding planning, including picking out a suit, a ring, and planning the honeymoon. Ally's got most of her stuff done already – she's so productive! I also hope she spends a bit more time doing self-care. Note to self: Join that cheap gym, and sign up for an art class. I keep talking. Just do it. * * * * * 2016 was a rough year for humanity, even if individuals had great years. But this is life; it's what happens while we're wondering why. In 2017, celebrities will die. Donald Trump will say disgusting things. People will be mowed down in mass shootings. Middle-Eastern cities will be destroyed. Babies will be born. Planets will be discovered. Steps will be made toward mitigating human-caused climate change. People will go on amazing trips to new places. You will be disappointed, and you will be thrilled. People will say "Back in the good ol' days, things were more in line with how I want them to be." People will say "It's a shame I will only live for so long; I can't imagine what wonders the distant future holds!" If you adjust your expectations, your reactions will follow. Here's hoping 2017 will be a year in which we can stay positive in the face of the inevitable challenges we will all encounter. Thanks for reading! _____________ IMG_1019780ps
on topic
License and Use
This How Hot Is White Lightning Chocolate - upper-island-cove-2-happy-new-year- on net.photos image has 1024x605 pixels (original) and is uploaded to . The image size is 204907 byte. If you have a problem about intellectual property, child pornography or immature images with any of these pictures, please send report email to a webmaster at , to remove it from web.
Any questions about us or this searchengine simply use our contact form
Published

01.30.23

Resolution

1024x605

Image type

jpg

File Size

204907 byte.