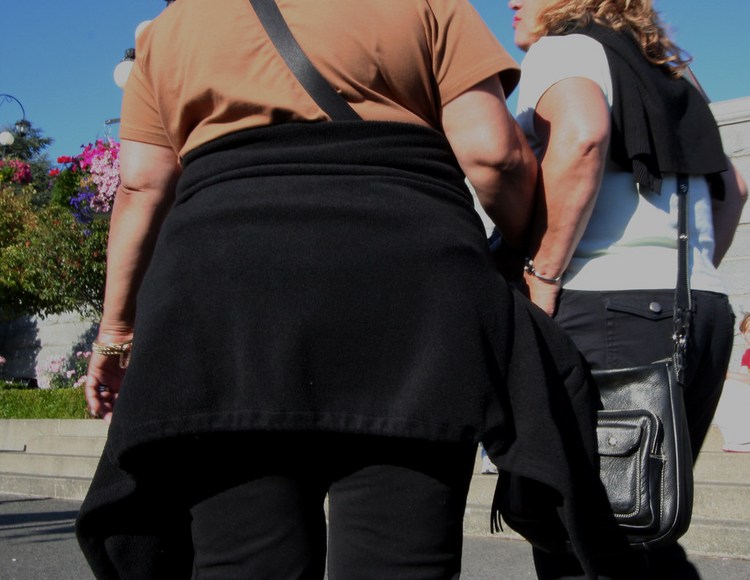 She Hung No Fat Men by Bruce Dean
(PID:183844599)
Source
posted by
Bruce Dean
alias
professional recreationalist
on Monday 27th of February 2012 06:25:05 PM
SHE HUNG NO FAT MEN Whiter Coloreds and Slimmer Fats I saw them eat. I ate with them. I was an apprentice and I had learned the ways of the slovenly. Talk interfered with consumption. The TV was often on when we ate – loud, to be heard over the sounds of our multiple mouths masticating. If there was just too much food to fit on our laps, my family would move to our custom-built extra-large teak dining table with parallel buffet-style teak hutch, which provided more surface area for food. The table had room for eight large diners. I'd gradually grown less impressed with the large human body. For too long I'd witnessed too many pounds of flesh that watched too many hours of TV haven eaten too many bags of chips. There'd been too many inadvertent naked revelations of masses of bulged, rolled, and dangled pale-white flesh. Sleepless at midnight in a dark house, the basement bathroom occupied by a frequently masturbating brother, I trod up the tall cold tile stairs only to have been startled by the rush of white undulating fat; my mother scurried naked out of the bathroom. The harsh loo light followed her mass of shaking cellulite across the hall and disappeared into the darkness of the bedroom she shared with my father. My mom was a sweet lady with red cheeks that blushed even redder if there was liquor nearby. Her short sensible black hair was not too short to be curled. She was short, with slender legs that protruded from a beach ball body; big boobs, big gut, big but not lazy. Her eyes were big, dark, and always hopeful, like a sad puppy in a velvet painting. She'd always worn a painted smile with a touch of matched bright red lipstick on her teeth that complimented the loud rainbow of colors which embellished the large floral pattern on one of her many constant muumuus. When mom was too busy, or too depressed to cook, we'd have frozen TV dinners, casseroles, or lasagna, with sides of garlic toast – and always dessert. When my father was around, mom had to be up and was obliged to perform domestic – and we would eat feasts. Dad's anger would fly if we didn't eat some of everything. His backhand and bare knuckles would glance off my skull if I spoke with food in my mouth, if I didn't eat in the correct order, or if I couldn't eat everything on my plate – and there would always be plenty on my plate. There would be choices of meats and potatoes, often pastas and sauces, with sweet beets, buttered corn, tins of sardines, and jars of pickles – sweet baby gherkins were my favorite – and there always was dessert, but not until I'd cleaned my plate off into my oral garburator. Salads didn't attend our table until after the TV and mom's magazines spoke to her about weight loss, women's liberation, and the super women who were now expected to have it all. On every radio and TV, Helen Reddy would sing, ♫I am woman hear me roar, in numbers too big to ignore.♫♪ I'd just discovered the opposite sex, and my brothers' porn stash, when I'd found a woman who wasn't too big and who was difficult to ignore; who didn't remind me of masses of cellulite that undulated in the spotlight of our midnight hallway. Twiggy was one of the world's first supermodels. I was a hormone addled boy about to enter my teens. Many of the girls in my age group resembled this waif-er thin model, my new ideal for a woman. Twiggy, this skinny woman on the cover of every magazine that entered my house, wouldn't fight for too large of a portion of food to fatten – and wouldn't take any crap from my father. I was in love. Trapped in a brutal and loveless marriage, she strived to meet the new ideal of woman-roaring; so mom started to teach interior design at the university, attended women's lib and Weight Watchers meetings, volunteered to help elect Pierre Eliot Trudeau as Prime Minister, helped Morgentaler fight for abortion rights, and raised her five children and a dog. It was a heavy amount of pressure to place upon anyone. She had already endured a strict and abusive religious zealot of a father. She had escaped him to earn a University degree, only to marry back into abuse. Her husband was a son-of-a-bitch, literally. After my dad's nasty mother had kicked her husband out into the depression's poverty, she raised a pod of cruel apprentices, our father apparently the worst. My family were all pretty well fat. Obesity and diabetes the common thread that has been fed by sedentary lifestyles filled with meat, potatoes, strokes, and heart attacks. Mom was always on a diet, in a house of five children who demanded desserts and Kraft Dinner. Diet programs like Weight Watchers and Slim-Fast provided mom and her chubby daughter hope. The magazine, newspaper, and TV advertisements had told them; "Give Slim-Fast a week, and see the weight come off." "...a shake in the morning, a shake for lunch, then a sensible dinner." "Weight Watchers; some talking, some listening, and a program that works. "...this very week you could be on the road to a slimmer, more attractive figure." They were promised "a figure you'll be able to keep for life" and their life depended upon it. Obesity has a proven connection; to heart disease, the leading cause of death for women; to Alzheimer's, now reaching epidemic proportions; and to diabetes, another simmering epidemic about to explode. Less concerned about their heart exploding, and more concerned with meeting the expectations of Jermaine Greer, Helen Reddy, and Betty Friedan – together my mom and my sister attended countless Weight Watchers meetings, chugged many Slim-Fast, and baked a sugar-coated cornucopia of angel food cakes, sticky-jimmy, rice-crispy squares, cookies... I was always concerned about my family's obesity and history – their poor health, the diabetes, the arthritis, the strokes, and the heart attacks – but I also felt shame. I didn't follow the family tradition. When the fists would start flying at home, I grew weary of cowering defeated on the couch, like the others. So when things began to look ugly, I'd escape to my new home – the woods – where bruises, cuts and scrapes were earned, not inflicted. I became a city-fied version of Tom Sawyer, barefoot and clothed in worn hand-me-downs, and I hung out under the stars, drank in the emerald elixir of the aurora borealis, and waited for my father's departure for the airport. He'd be pissed when he got back to town and he'd hit me, but he'd hit me anyway. But no knuckles could knock out of me the northern light shows, the flights off the cliffs into the sandpits, the adrenal escapes from wild dogs, the raids of local fields and gardens for crab-apples, carrots, and peas, or the kamikaze bike rides through midnight trails in the thick of the wood's darkness. ...and so when my weight had started to pack on as a youth, I became a distance runner, I became an extreme skier, I became a hardcore mountain biker, I became tough and dirty with hard-labour, and I became fit. ...and I became distant from my family, ashamed to let my new fit friends meet my sedentary clan. By the time my father was kicked out of our family in the mid-seventies, the damage had been done to all. But my father's exile had allowed my sweet-tooth sister to emerge from her cocoon of fear, and she became a social butterfly, albeit an obese butterfly. Her hefty income allowed her to adorn her plentiful frame with colorful fashions. At art gallery openings her plumage often overwhelmed the art all had come to see, while her laughter and boisterous pronouncements ensured she had the room's attention. Her outfits' yellows, blues, and reds blended into her fashion tornado and left a rainbow in her wake. She was frequently held aloft with outrageous high-heels, often covered in polka dots, or bows, or sequins, or all of the above. I loved her, but sometimes saw her as a sad loud clown. She was never happy with her excess weight. Our mother died. It was her obesity. It was her heart. It was her Alzheimer's. It was all too much. Mom's diet was over, and her Slim-Fast had been purchased by Unilever, the company that owns Dove soap, and Ben & Jerry's ice cream. Their TV commercials conflicted; Slim-Fast for weight loss and change; while pleading for acceptance the Dove Campaign for Real Beauty would sing; ♫I see your true colors shining through, I see your true colors, and that's why I love you, so don't be afraid to let them show, your true colors, true colors are beautiful, like a rainbow...♫♪ ...and the company that promotes their campaign for real beauty, calling for a world where beauty is a source of confidence, and not anxiety, is possibly the world's largest manufacturer of ice cream and weight loss products. Unilever profits from their fattening and unfattening products for the body image obsessed and depressed. ♫I see your true colors, and that's why I love you.♫♪ ...not likely, the people at Dove, Slim-Fast, and Unilever don't actually like your true colors, because they also sell the skin-whitening Fair & Lovely product line, "because every girl deserves to feel good about herself" – except dark skinned girls? ...so whiten that colored skin with their Fair & Lovely cream – eat their Ben & Jerry's ice cream, and then diet with their Slim-Fast; the Dove Campaign for Real Beauty and the Dove Movement for Self-Esteem are here for your Yo-Yo diet. I see Unilever's true colors... My true colors were showing. I sucked at marriage. My two matrimonial unions to formerly thin brides were over and the party in Vancouver had gotten older than I was – I needed change. Visits to my sister in Victoria had made British Columbia's capital city seem like a place I could settle down. Surrounded by ocean for sailing, surfing, and sunsets, the island had it all. In the same day I could downhill ski and water ski. There were mountains for biking, hiking, and snow – lakes and rivers for fly-fishing. I moved across the water and made Vancouver Island my home. It would be a chance to get to know my family's rainbow butterfly again. Immediately my sister wanted to find me a girlfriend, but her suggestions proved there was a huge gap or disconnect between our perceptions of the perfect mate, and it had grown to be a source of conflict between us. There were many dinners, before gallery openings and shows. She had a large circle of friends – many were rich and fat like her, and they were paraded through as potential mates, but there were few who would do. There was no Twiggy in this neck of the woods. My sister's friend Carol was particularly large. She often wore black and her dating profiles had a picture of a thin woman she had downloaded from the internet. When she was over for dinner, her hands would wander, under the guise of a friendly touch when she squeezed past me in the kitchen. When she laughed at my purported wit, her hand would touch my thigh – or her admiration of my muscle tone would prompt a firm grasp. This bothered me. My sister attributed it to a hatred of fat people, and it hurt her. She said that if Carol were my typical tall thin blonde, I would have welcomed the advances. I didn't know who was right. I felt guilt for not being attracted to the fat woman. I felt disgusted when this woman groped me. I rationalized that we had nothing in common; on my days off I sportingly risked life and limb while I'd maintain an elevated heart rate for as long as possible. I'd often returned from excursions bruised and bloodied. On her days off she fed. She couldn't wrap her head around my love for adrenal sports. No way I could've wrapped my arms around her. She would say, "You're lucky you can eat like that and stay so fit", and I'd get insulted. Lucky? No, I worked hard to stay fit. ...and so my sister confronted me, accused me of being a fat hater. She said it hurt her heart. I asked, "What about your porno stash beside your bed?" She rationalized through her embarrassment, said it was just for fantasy, but I pointed out, ...a contradiction – that of my sister's entire collection of naked firefighter calendars and Playgirl magazines, of her favorite posters and pictures of men unclothed that she had fastened to her wall, ...she hung no fat men.
on topic
License and Use
This Fed Rate Hike Expectations - she-hung-no-fat-men-by-bruce-dean on net.photos image has 1024x792 pixels (original) and is uploaded to . The image size is 167883 byte. If you have a problem about intellectual property, child pornography or immature images with any of these pictures, please send report email to a webmaster at , to remove it from web.
Any questions about us or this searchengine simply use our contact form
Published

02.05.23

Resolution

1024x792

Image type

jpg

File Size

167883 byte.