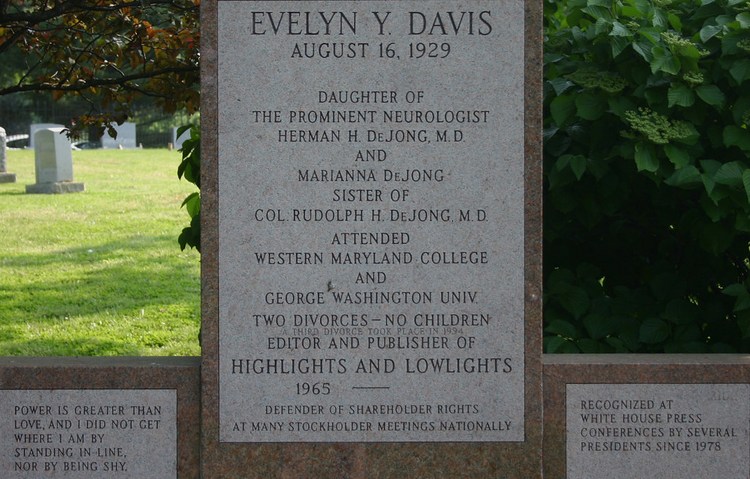 Evelyn Y. Davis
(PID:95076030)
Source
posted by
David
alias
dbking
on Friday 3rd of February 2006 10:42:36 PM
Evelyn Y. Davis Birthplace: Netherlands. Stock holdings: Owns shares in 90 companies. Occupation: Publisher, philanthropist, shareholder activist. Among pet issues: Term limits for corporate directors. Ms. Davis is still with us and as you can see from the headstone that awaits her, she is a bit eccentric. As the self described "defender of shareholder rights and many stockholder meetings nationally" Ms. Davis has earned the reputation. As a stock holder in General Motors when she was learning to drive, she felt as though being a stockholder entitled her to be taught how to drive by the chairman of the board of General Motors and she informed him of that. ------------------------------------------------------------------------------------------------------- Other gems from her life so far: It's easy to get an interview with Evelyn Y. Davis, but it's impossible to get a word in edge . . . ``I gave George Allen a big hug today, make sure you put that in your story,'' Davis says. ``You may quote me, I find him very attractive. ``In a politician, looks and personality are very important,'' Davis continues, as she always does, ``because what else has a politician got? Promises and b.s., you know?'' If you don't ``know,'' Davis will tell you. If you don't agree, she'll explain her side until you do. Or at least until you nod in agreement. And she has been explaining her philosophy to CEOs and company presidents since 1960, when, as an IBM shareholder, she stood up, ``shaking like a leaf,'' and asked a question. She no longer shakes - thanks to a $20 public-speaking course at the YMCA. Now, it's the company chairpeople now who get tense when Davis speaks. She owns about $700,000 stock in 120 companies and she attends 30 to40 shareholders meetings each year. She was in Norfolk on Thursday for Ford Motor Co.'s annual meeting. There's no doubt Davis can get the attention of corporate America. Need proof? When she arrived at the Norfolk airport, Waterside Marriott General Manager Dan Marone picked her up. Why? ``Because Mrs. Evelyn Davis is a celebrity in Norfolk,'' Marone says before putting forth the real reason, ``and Mr. Marriott, Bill Marriott Jr., is a personal friend of Mrs. Davis.' At Chairman Marriott's suggestion, the Norfolk hotel also bumped up the water temperature from 82 degrees to 87 degrees. ``Evelyn Y. Davis, the most famous stockholder in America,'' as she introduces herself, doesn't like cold water. What else? Well, when Davis was shopping for a new car last year, the chairmen of the Big Three automakers put on the sales pitch themselves. She picked Chrysler's offering, a Cirrus, and Chairman Robert Eaton delivered it. ``Bob Eaton delivered it to me in my home, to my front door. Not bad, huh? Naturally, that was the subject of a lot of gossip in Detroit, huh? That's probably what he wanted, right?'' Davis, thrice divorced - ``You may quote me, too: It's easier to get married than divorced'' - doesn't command attention from CEOs because of the value of her stocks. They listen to her because they have no choice, like Ford Chairman Alex Trotman on Thursday. She wanted to know what precautions Ford was taking to prevent a hostile takeover, such as the one proposed this spring at Chrysler by investor Kirk Kirkorian. ``I'd be glad to discuss that, Mrs. Davis,'' Trotman said, ``but I think it would be appropriate during part four of . . .'' ``No, no, no. This is appropriate now,'' she demanded. She persisted with the question until other shareholders shouted ``Sit down, sit down.'' During a general discussion later in the meeting, she came back with the question - and five or six others: ``OK, Alex, now you can answer my hard questions.'' Evelyn Yvonne Davis' hard questions seem all the more forceful because she fires them out, staccato-like, in a Dutch accent. She was born in Holland, but has lived most of her life in the United States. She lives now in the Watergate complex in Washington. The only thing Davis doesn't like to discuss is her age, but she's about the age at which most people retire. ``I'll tell you, if you don't use it,'' she says. ``Only a jealous woman would use my age, right?'' Davis follows politics almost as closely as corporations, but she thinks companies should stay out of making political contributions during primaries. She's a Republican, but . . .``I voted for Clinton because things were getting dull, with this Bush, and we haven't had a dull day since.'' Her conservative political philosophy extends to her view on HOV lanes, which she . . . ``I think they are not fair. You could have one person in a car who pays more taxes than three or four in another car.'' She also publishes a once-a-year corporate newsletter that she sells mainly to company chairpeople and presidents. ``Like I say, nobody knows corporate America better than Evelyn Y. Davis,'' says Evelyn Y. Davis. Most of the photos in her newsletter are of CEOs standing next to - guess who? - Evelyn Y. Davis ------------------------------------------------------------------------------------------------------------- From USA Today: 'Queen of the corporate jungle' stalks annual meetings By Gary Strauss, USA TODAY WASHINGTON — These are the best of times for Evelyn Y. Davis. For more than 40 years, the eccentric corporate gadfly has tormented CEOs at annual shareholders meetings, where she dresses them down for excessive pay packages, poor corporate performance — even their girth. Evelyn Y. Davis is famous for grilling CEOs and fighting for shareholder rights. Davis, long regarded as a grandstanding crackpot, is emerging as a formidable advocate for shareholder rights during the annual meeting season now in full bloom. She has already won several long-fought battles, currying widening support from shareholders ticked off over corporate scandals, exorbitant CEO pay and widespread stock losses. "My new title is queen of the corporate jungle," says Davis, a diminutive, Dutch-born Holocaust survivor who speaks with a thick accent. "I operate on my own, but my work benefits a lot of shareholders. Nobody knows Corporate America like Evelyn Y. Davis." Bristol-Myers Squibb's board is finally acquiescing to a longtime Davis proposal that all directors be elected annually, a measure designed to boost accountability. The drugmaker had opposed a similar proposal Davis had submitted annually since 1985. It is reversing course at its May 6 annual meeting. "She did an extraordinary job of keeping the proposal alive," says company spokesman Robert Hutchison. Earlier this month, publisher Dow Jones said it would support annual election of board members, citing Davis' efforts. CarrAmerica Realty is following suit. "Why is she winning? It seems that there's a more respectable attitude toward some shareholder proposals," says Eleanor Bloxham, head of the Corporate Governance Alliance advocacy group. Indeed, labor unions such as the AFL-CIO, big pension funds and other shareholder advocates are pressuring companies on everything from executive compensation to political contribution disclosures. About 1,000 shareholder resolutions will be voted on this year — an all-time high, according to the Investor Responsibility Research Center. While most of this year's shareholder resolutions focus on compensation, governance experts say angry investors are likely to support any measure designed to make companies and their corporate boards more accountable. Much of Davis' quirky reputation is based on her antics at annual meetings, where she has worn hot pants, bathing suits and hospital scrubs to draw attention. Even dressed in her typical Chanel suits, Davis, 73, makes an indelible mark — disrupting meetings by haranguing CEOs until they satisfy her scrutiny. "Her most lethal weapon is the fact that she does not care what anyone else thinks of her, so she's prepared to be rude, to interrupt, to be domineering and to do essentially whatever it takes to command attention," former Eli Lilly CEO Randall Tobias said in a CNBC interview. Among more than 50 of Davis' 2003 shareholder proposals: Limiting incoming directors to six years of service at AT&T, American Express, DuPont, FleetBoston, PepsiCo and Home Depot. Annual election of all directors at Lucent, Morgan Stanley and Starwood Hotels & Resorts. Broader disclosure of executive compensation at J.P. Morgan Chase, Consolidated Edison, Ford Motor and United Technologies. Davis is even seeking to move the date of BankAmerica's annual meeting so it doesn't coincide with other shareholder meetings she wants to attend. The peripatetic Davis plans to attend upward of 40 annual meetings, which fall mostly in April and May. "It's like opera season," Davis says. At Goldman Sachs' annual meeting earlier this month, Davis blasted CEO Henry Paulson over the investment bank's performance but later surprised him with a hug, concerned that he might contract the SARS virus on a pending trip to Shanghai. Davis' feisty demeanor and willingness to spar masks her financial acumen, formidable after decades of self-training and business administration studies at George Washington University. She is also persistent. She's introduced hundreds of shareholder proposals over the past few years. Many floundered. But Davis keeps introducing them. She may not hug every CEO like Paulson, but she does prefer dealing with them directly. "I don't deal with flunkies, only presidents and CEOs," Davis says. "They don't have to agree with what I say. But over the years, they've come to understand me. Nobody can take me for granted." To be sure, CEOs quickly learn to return a Davis phone call or pose with her for photographs, succumbing to her relentless chutzpah. CEOs at Chrysler and General Motors have personally delivered new cars purchased by Davis. She'll expect a third to do the same when she buys her next car. Not that it will do any good. "I don't want anyone to think they've got me in the bag," Davis says. CEOs are also expected to purchase Davis' annual newsletter, Highlights and Lowlights, which she publishes out of a cluttered, closet-sized office in Washington, D.C.'s Watergate complex, where she also resides in a spacious condominium. It features Davis' corporate governance issues, grip-and-grin CEO photos and her take on the Washington and international scene. It costs $525 a year — minimum order, two copies. Davis says she pulls in $580,000 annually from subscriptions. Not that she needs the income. Davis is a multimillionaire. While she says she holds shares in 90 companies, equities represent only a small portion of her portfolio. Outside of her corporate governance work, Davis focuses on the 14-year-old Evelyn Y. Davis Foundation, through which she's channeled substantial philanthropy to charitable causes, hospitals and colleges. Recently, the foundation endowed a University of Miami scholarship fund that bears her name with $100,000. She divorced the three men she married — an accountant after 18 months, a stockbroker after two months and a retired economist after three years — and has no children. "Stocks are my children," she says wistfully. Davis has found far more lasting pleasures sparring with corporate executives. "I'm a beautiful woman. Men find me extremely intriguing. But I have been unlucky in love," she says. "Power is greater than love. Power and control, that's what it's about." Complications from her third face-lift sidelined Davis during the 2001 proxy season. Now healthy and energized by her recent successes and growing clout among shareholders, Davis says she has no plans to slow down. She is already mapping out shareholder proposals for 2004. One new one would prohibit boards from awarding executives stock-option grants — a measure likely to further exasperate CEOs. "What else would I do with myself?" Davis says. "I love the challenges, the conflict and the intrigue."
on topic
License and Use
This Dow Jones Today - evelyn-y-davis on net.photos image has 1024x654 pixels (original) and is uploaded to . The image size is 230472 byte. If you have a problem about intellectual property, child pornography or immature images with any of these pictures, please send report email to a webmaster at , to remove it from web.
Any questions about us or this searchengine simply use our contact form
Published

08.12.22

Resolution

1024x654

Image type

jpg

File Size

230472 byte.