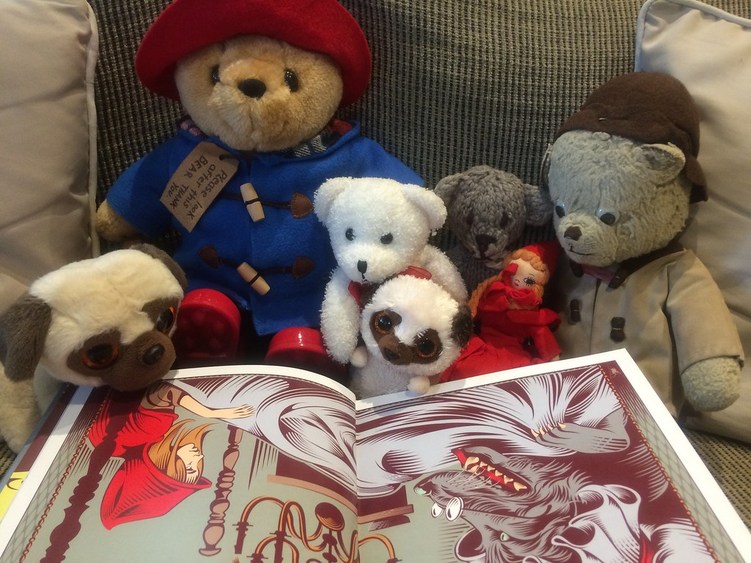 Paddington and Scout Celebrate World Storytelling Day
(PID:51053833848)
Source
posted by alias
raaen99
on Saturday 20th of March 2021 08:38:34 AM
PADDY: *Reading to Scout, Bogart, Cousin Paddington, Cabbage and Lettuce.* "My Grandmama, what big teeth you have." SCOUT: "I do hope that this is the version where Little Red Riding Hood gets saved by the huntsman." BOGART: "You mean there is a version where she doesn't?" LETTUCE: *Whimpers.* SCOUT: "Yes! There is a nasty version which was written back in the olden days to warn young ladies not to stray from the path!" COUSIN PADDINGTON: "Sshhh. Bogart and Scout, don't be disrespectful. Paddy is reading!" BOGART: "Oh! Sorry Cousin Paddington." SCOUT: "Bogart and I are sorry, Paddy." PADDY: "It's alright Scout. Don't worry, this is the version that does have the huntsman." SCOUT: "Thank goodness!" PADDY: "Now, where was I? Oh yes, 'And the Big Bad Wolf leapt from the bed and gobbled up Little Red Riding Hood in one, giant gulp!' Oh! Hullo everyone! Do you know what? Today is World Storytelling Day, so as part of the observance for the day, I am telling a story to everyone else. You may sit and listen if you like." What Paddy says is true. The 20th of March is indeed World Storytelling Day. The first such day was celebrated in Sweden in 1991. The ethos behind this event caught on around the globe, and now we celebrate World Storytelling Day at an international level. By 1997 the occasion had travelled to Australia and Latin America and by 2002 it had spread across the rest of Scandinavia. 2009 marked the first time it was celebrated across all six continents (excluding Antarctica of course!). Now World Storytelling Day takes place every year and centers around a different theme each time, for example dreams, trees and voyages. The aim of World Storytelling Day is to celebrate the art of oral storytelling, with as many people as possible around the world telling and listening to stories in their own languages on the same day. People taking part can link up with others around the globe who are also contributing, making it a truly international festival that creates new friendships and promotes a positive understanding of cultures around the world! So gather your loved ones, make sure everyone's sitting comfortably, and get ready to immerse yourselves in the magic of stories. The book that Paddy is reading to the others is one of my many versions of Grimm's Faerie Tales from my library. It is illustrated by Yann Legendre and was published in 2014 by Rockport Publishers. It is a very deluxe book. My Paddington Bear came to live with me in London when I was two years old (many, many years ago). He was hand made by my Great Aunt and he has a chocolate coloured felt hat, the brim of which had to be pinned up by a safety pin to stop it getting in his eyes. The collar of his mackintosh is made of the same felt. He wears wellington boots made from the same red leather used to make the toggles on his mackintosh. He has travelled with me across the world and he and I have had many adventures together over the years. He is a very precious member of my small family. Scout was a gift to Paddy from my friend. He is a Fair Trade Bear hand knitted in Africa. His name comes from the shop my friend found him in: Scout House. He tells me that life was very different where he came from, and Paddy is helping introduce him to many new experiences. Scout catches on quickly, and has proven to be a cheeky, but very lovable member of our closely knit family. Travelling all the way from London, Cousin Paddington was caught in transit thanks to the Coronavirus pandemic, so it looks like he is stopping with us for a long while. That makes me happy, as the more I look into his happy, smiling face, the more attached I am becoming to him. Bogart has only arrived in the last few weeks. He has travelled all the way from Georgia, via Alabama as a gift to me from a friend. I look forward to getting to know his character, but I can already say that he has lovely Southern manners and seems to be a fun and gentle soul with an inquisitive nature. Cabbage is Paddy's Pug Dog. He was a gift to Paddy from a friend who also likes Pugs. He is fiercely loyal to Paddy, Scout, Cousin Paddington and Bogart, but seldom stays around long enough to have his picture taken, as there are always new adventures to sniff out. Lettuce, is also very recent arrival. She was a present from my two goddaughters to me to keep Cabbage company. My eldest Goddaughter, Polly, wisely suggested the name Lettuce since we already have Cabbage. She is very soft and sweet natured. She likes cuddles and warm laps a lot and like her older brother Cabbage she likes to sniff out adventures.
License and Use
This Children's Place Near Me - paddington-and-scout-celebrate-world-storytelling-day on net.photos image has 1024x768 pixels (original) and is uploaded to . The image size is 206097 byte. If you have a problem about intellectual property, child pornography or immature images with any of these pictures, please send report email to a webmaster at , to remove it from web.
Any questions about us or this searchengine simply use our contact form
Published

06.17.21

Resolution

1024x768

Image type

jpg

File Size

206097 byte.