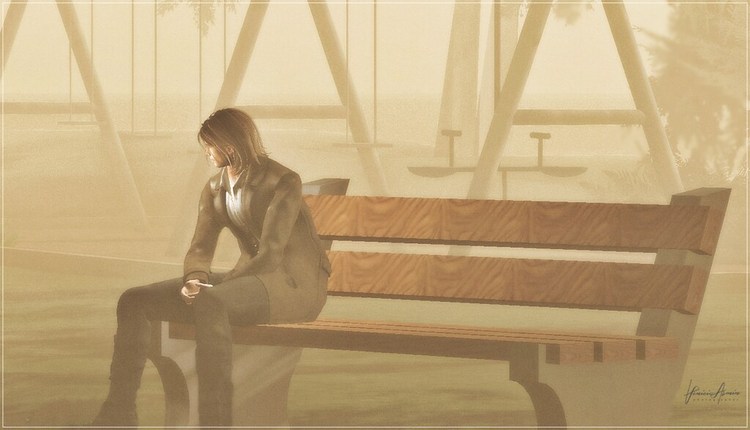 He does not wait, for he no longer has anyone. He does not seek, for he is tired of doing so. He does not imagine, because he has lost that capacity.
(PID:50295437158)
Source
posted by
Venicio Armin
alias
a.venicioarmin
on Wednesday 2nd of September 2020 12:25:57 AM
He does not wait, for he no longer has anyone. He does not seek, for he is tired of doing so. He does not imagine, because he has lost that capacity. He does not remember, because he does not want to do it. He does not desire, because he no longer knows what it means. He does not observe, he only looks. He does not dream, because he has lost the strength. He only breathes, and not by his own will. He simply survives. I have seen him a few times in the same place. The first time I simply looked at him, the second time I observed him more closely, and I saw his gaze, empty, opaque, without the slightest hint of life. But I, I kept walking. That same night, I couldn't sleep, I questioned how I was so indifferent, I should have done something, at least said hello. It was 5:45 a.m. on my watch on the little table next to my comforting bed. I got up, took a hot shower, shaved, dressed and went out. The night was cold, although spring was approaching. I made a stop at one of those 24-hour bars. There I drank my usual coffee with milk, accompanied by a hot, freshly baked bread and the inevitable butter, which melted as I spread each slice. The first lights of the day formed a dreamy reflection on the glass that separated me from the street. I was fascinated by this strange phenomenon, I thought that it had been years since I had seen the sunrise in this way, in fact, I did not remember when I had seen it last. The warm voice of the waitress brought me back to reality - would you like some more coffee? I said yes. I instantly changed my mind and asked her to please make me two coffees, one with milk in glasses to go. Within 10 minutes I was on the street with both glasses on my hands ready to walk to my company. I thought it would be a good gesture to bring one to my loyal secretary. She, besides being my other self in the company, was and is my confidant, in whisky outings, when alcohol was my only haven. It had been several months since I had invited her to those outings. There are actions that are not planned, and those that are, take time to prepare, in any order of life. But it had been two years since I had been very tidy, in terms of plans or decisions. I think that's why I didn't realise that the path I was taking wasn't exactly the right one. I was arriving at the children's playground, the same place where I saw that man. It was not sleep and my almost accepted mental disorder that allowed me to let myself be carried away by this action, not a preconceived one. It was about 50 meters from the bench, which was a central place for mothers or fathers with a good sense of care when taking their children to the hammocks. I did not expect to see the strange man, so I was not surprised that at that hour the bench and the square were deserted. I sat down, simply because he was there, and the walk would not have made much sense, if I did not. I put the glass with its lid and still with the coffee very hot and set out to taste mine. Although the sun was already able to turn the weather into a warm one, there was a fog, which rose, as if giving permission to the sun's rays, that was bent on sneaking in between it. It was in the fog that I saw him arrive, I felt a certain relief, as I could offer him coffee, to remedy my lack of empathy. He stood in front of me, and I greeted him warmly. - Please sit down, I have hot coffee if you like it? I look at myself, I look at the coffee out of the corner of my eye, and his words were - Sorry, this is my bench! I really thought about asking you if you had bought it, but I'm worried about how to say it. I opted for the last effort to be gentle, - I'm sorry I didn't know it was your place. -If it is and how can you see there are several around, if you don't mind I could sit on that one over there? I saw him pointing at it and my already almost null sense of cordiality, prompted me to tell him: - Well, I see it, then that's where you can sit, because I'm staying here. The man looked at the neighbouring bench, turned to me, and to my surprise and perplexity, listened: -I ask you, please, I must sit here, it's just that my daughter is in the hammock and here I can see her better in case something happens. A cold sweat ran down my back, I even looked at the hammock, and my body shook. All the hammocks were static, except for one that was moving frantically. Without thinking, I got up quickly and left the place, took the coffee glass that was on the bench and set out as fast as I could. -I accept the coffee, if you still have your offer? - Of course, I replied. I held the glass out to him, which he extended your hand very subtly, and with a gesture almost resembling a smile, he thanked me. I prepared to leave and greet him with a wave of my hand. Just two steps and listen: -You have a daughter too, I see her in the other hammock, but she doesn't want to upgrade. What is your daughter's name? Perhaps you would like to sit next to me so that we can both observe you. No one can ever be prepared for such a revelation, the consequence of which is that I fell on the bench, in a state almost like a nervous breakdown My daughter's name is Sidney, and yours? he asked again. Don't encourage me to tell you the truth, I only answered: Melissa. Beautiful jet-black hair, very pretty in contrast with those green eyes and that white face. Sidney always complains about her reddish hair, and I tell her that only a group of ladies chosen by God, have that gift, but she answers that when she is older she will dye it. Her mother will accept it, before she is 15 for sure. hahaha, she always indulges her and I leave her. That's how mothers are, right? - Yes, I think so. Well excuse me I must go to the office, it's too late for me. Do you like coffee? Yes delicious, thank you very much,... -Tomorrow you will bring Melissa again, by the way my name is Paul. Yes, Paul, I must go, have a nice day. I almost ran, passing the hammocks, when Paul's scream, paralyzed me, Lord, doesn't take Melissa away? or his wife comes looking for her, if so, I can take care of both of them. NO PAUL MY WIFE AND DAUGHTER ARE DEAD, TWO YEARS AGO, IN A CAR ACCIDENT, BECAUSE OF ME,... GOODBYE PAUL. El no espera, pues ya no tiene a quien. El no busca, pues ya se cansó de hacerlo. El no imagina, porque perdió esa capacidad. El no recuerda, pues no lo quiere hacer. El no desea, pues ya no sabe que significa. El no observa, solamente mira. El no sueña, pues ha perdido la fuerza. El, solamente respira, y no, por voluntad propia. Simplemente sobrevive. Yo lo he visto algunas veces en el mismo lugar. La primera vez simplemente lo mire, la segunda vez, lo observe más detenidamente, y vi su mirada, vacía, opaca, sin el menor indicio de vida. Pero yo, seguí caminando. Esa misma noche, no pude dormir, me cuestionaba como fui tan indiferente, algo debí haber hecho, saludarlo, por lo menos. Eran las 05:45 en mi reloj de la mesita al lado de mi reconfortante cama. Me levante, me di una caliente ducha, me afeite, me vestí y salí. La noche era fría, aunque ya se acercaba la primavera. Hice una parada en uno de esos bares abiertos las 24 horas. Allí tome mi acostumbrado café con leche acompañados con un pan caliente recién hecho y con la infaltable manteca, que se derretía, al untar cada rodaja. Las primeras luces del día, formaban un ensoñador reflejo sobre el vidrio que me separaba de la calle. Me quedé fascinado mirando aquel extraño fenómeno, pensé que hacia años que no veía el amanecer de esa forma, en verdad, no recordaba cuando lo había visto la última vez. La voz cálida de la mesera, me devolvió a la realidad, - quiere un poco mas de café? Le respondí que sí. Al instante cambie de opinión y le pedí que por favor me preparara dos cafés, un con leche en vasos para llevar. A los 10 minutos estaba en la calle con ambos en cada mano dispuesto a ir caminando a mi empresa. Me pareció un buen gesto llevarle uno, a mi leal secretaria. Ella además de ser mi otro yo en la empresa, fue y es mi confidente, en salidas de whiskys, cuando el alcohol era mi único remanso. Ya hacia bastantes meses que no la invitaba a esas salidas. Hay acciones, que no son planificadas, y las que sí lo son, lleva un tiempo de preparación, en cualquier orden de la vida. Pero ya hacía dos años que no era muy ordenado, en cuestiones de planes o decisiones. Creó que por eso, no me percate que el camino que tome no era precisamente hacia el lado que correspondía. Estaba llegando a la plaza de juegos para niños, el mismo lugar donde vi a aquel hombre. El no dormir y mi ya casi aceptado, desorden mental, fueron los que me permitió dejarme llevar por esa acción, no preconcebida. Estaba a unos 50 metros del banco, que ocupaba un lugar central, para las madres o padres, con un buen sentido del cuidado, al llevar a sus hijos a las hamacas. No esperaba ver al extraño señor, así que no me sorprendió que a esa hora el banco y la plaza estuvieran desiertas. Me senté, simplemente porque estaba allí, y la caminata no hubiese tenido mucho sentido, si no lo hacía. Acomode el vaso con su tapa y todavía con el café bien caliente y me dispuse a degustar el mío. Si bien el sol ya estaba en condiciones de tornar el clima hacia cálido, había una niebla, que se levantaba, como dando permiso a los rayos del sol, que se empecinaba en colarse entre ella. Fue entre la niebla que lo vi llegar, sentí cierto alivio, ya que podía ofrecerle el café, para remediar mi falta de empatía. Se paró frente a mí, y lo salude cordialmente. - Siéntese por favor, tengo café caliente si le es de su gusto? Me observo, miro de reojo el café, y sus palabras fueron, - perdón este es mi banco!,.. Realmente pensé en preguntarle si lo había comprado, pero me inquieto la forma de decirlo. Opte por el último esfuerzo de ser gentil, - lo siento no sabía que era su lugar. -Si lo es y cómo puede ver hay varios alrededor, si no le molesta pude sentarse en ese que esta allí? Lo vi señalarlo y mi ya casi nulo sentido de la cordialidad, me impulso a decirle: - bien, lo veo, entonces es allí donde puede sentarse, porque aquí me quedaré. El señor miro el banco vecino, volvió la mirada hacia mí, y para mi sorpresa y perplejidad, escuche: -Se lo pido, por favor, debo sentarme aquí, es que mi hija, está en la hamaca y aquí la puedo ver mejor por si algo sucede. Un sudor frio recorrió mi espalda, inclusive mire hacia la hamaca, y mi cuerpo tembló. Todas las hamacas estaban estáticas, salvo una que se movía frenéticamente. Sin pensarlo, me levante rápidamente y le deje el lugar, tome el vaso de café que estaba sobre el banco y me dispuse a salir tan rápido como pudiera. -Le acepto el café, si todavía sigue firme su ofrecimiento? - Claro por supuesto, le respondí. Le acerque el vaso hasta su mano, que extendió muy sutilmente, y con un gesto casi parecido a una sonrisa, me agradeció. Me dispuse a retirarme saludándolo con un movimiento de mi mano. Solo dos pasos y escuche: -Usted también tiene una hija, la veo en la otra hamaca, pero no quiere elevarse. Como se llama su hija?. Tal vez quiera sentarse al lado mío para que ambos podamos observarlas. Nunca alguien puede estar preparado para semejante revelación, consecuencia de ello, es que caí sobre el banco, en un estado casi cercano a un ataque de nervios. Mi niña se llama Sidney, y la suya? Volvió a preguntarme. No me anime a decirle la verdad, solo respondi: Melissa. -Bello cabello negro azabache, muy bonita contrasta con esos ojos verdes y esa cara blanca. Sidney siempre se queja de su cabello rojizo, y yo le digo que solo un grupo de señoritas elegidas por Dios, tienen ese regalo, pero ella responde que cuando sea mayor se lo teñirá. Su madre lo aceptara, antes de los 15 seguro. hahaha, ella siempre la consiente y yo la dejo. Así son las madres, no? - si eso creo Bueno discúlpeme debo ir a la oficina, ya es muy tarde para mí. Le gusto el café? Si delicioso, muchas gracias,… -mañana traerá nuevamente a Melissa?, a propósito mi nombre es Paul. Si, Paul, debo irme, que tenga un buen día. Casi corrí, pasando las hamacas, cuando el grito de Paul, me paralizo, Señor, no se lleva a Melissa? o viene su esposa a buscarla, de ser así, puedo cuidarlas a ambas. NO PAUL MI ESPOSA Y MI HIJA ESTAN MUERTAS, HACE DOS AÑOS, EN UN ACCIDENTE CON EL AUTOMOVIL, POR CULPA MIA,… ADIOS PAUL.
License and Use
This Children's Place Near Me - he-does-not-wait-for-he-no-longer-has-anyone-he-does-not-seek-for-he-is-tired-of-doing-so-he-does-not-imagine-because-he-has-lost-that-capacity- on net.photos image has 1024x587 pixels (original) and is uploaded to . The image size is 91961 byte. If you have a problem about intellectual property, child pornography or immature images with any of these pictures, please send report email to a webmaster at , to remove it from web.
Any questions about us or this searchengine simply use our contact form
Published

07.28.21

Resolution

1024x587

Image type

jpg

File Size

91961 byte.