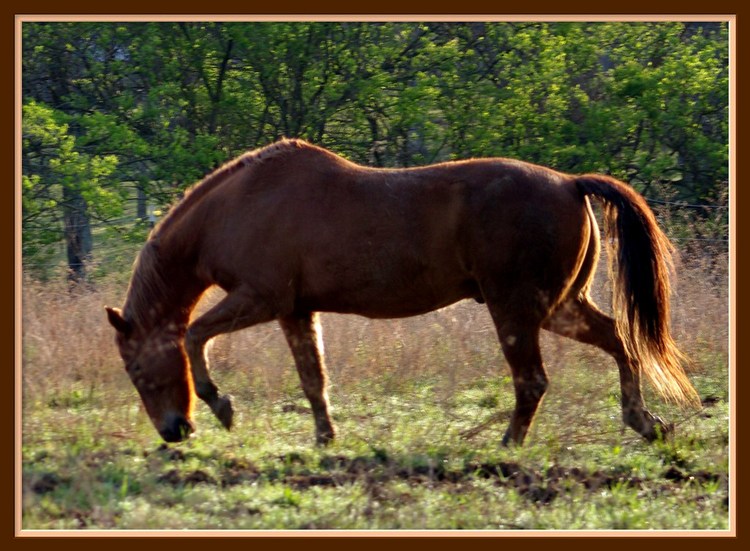 MORNING DANCE (and 11 things about me)
(PID:3455222442)
Source
posted by
Jenny Gandert
alias
Jenny Gandert Photography - aka "Rays From Heaven"
on Sunday 19th of April 2009 07:47:52 AM
We always dance around my place on the weekends. What about you? I was tagged by <accidentalphotographer1 to list 11 things about myself with my next upload. I had to leave that upload private until I had time to rest from a day of walking and working outside. Here goes! 11. Sometimes I just have to do things backwards or different than anyone else would do just to entertain myself. I'm never bored and this is one of the reasons why. I thought it would be nice to start with number eleven to give a little punch to this "thing about me". 10. I find humor in everything and tend to laugh a lot. Sometimes that is a chuckle to myself, but more often, it means my loud, open laugh. 9. I sing when alone (often) in the car and sometimes around the house. If I don't know the words to the song, no need to worry... I'll sing my own version. That also means cleaning up lines in otherwise good songs... for instance, I sing, "I'm on the Highway to Help" for AC/DC's old song... I think the state highway patrol should use my version for their song. ;-) I also write songs - for myself. I personally believe a few of the ones I've written could have been hits. 8. This one would be obvious if you knew me personally. I have naturally kinky-frizzy-curly hair and I blow dry it every morning followed by hot rollers. I finally grew it out long enough to wear it natural when the weather is really humid. I was once on a date where he took me to restaurant where we ate outside. He was hanging on my every word (I thought) and once I finished, he looked lovingly into my eyes and said, "Wow! I've been watching your hair curl right before my very eyes!" 7. Writing is one of my hobbies and I have written a children's book and made copies for a couple friends and myself, but am revising it this spring and will then look for a publisher. I have been working on a novel (on and off) for years. 6. Six is my least favorite number. 5. Chocolate loves me. I used to love it, but it's like an annoying friend that just doesn't know when to leave . You can't tell it's chocolate anymore when it hangs around on my stomach and chin! 4. I do not like condiments - no mayonnaise, ketchup, mustard or salad dressing for me! 3. I don't keep the house as clean as I used to before photography. I love digital photography most and I love this whole Flickr community. I have come to care about many of my contacts and look forward to seeing what is happening in their lives through their photos. Oh yes, and I love all of your comments, invites and faves on my photos too! 2. You can probably tell this by my photostream... I love animals! They are an unending source of love. 1. I wholly believe in God and Jesus and life after this one that we are in. I feel closest to God when I am out in the nature that He created. NOW IT'S YOUR TURN!!!! If you are listed as one of my eleven, please list 11 things about yourself on your next photo. If you go by a screen name, I'm calling you by that below to honor your privacy. If you aren't listed, feel free to do it anyway if you want to. I probably assumed you wouldn't want to do this or I think I know a lot about you already. Chuck Madden - www.flickr.com/photos/[email protected]/ (Chuck, you are very mysterious. We know so little about you!) SivamDesign - www.flickr.com/photos/sandeepak/ njchow82 - www.flickr.com/photos/[email protected]/ Christiaan_25 - www.flickr.com/photos/christiaan_25/ Janice Wagnon - www.flickr.com/photos/janicewagnon/ PomMom1 - www.flickr.com/photos/pommom1/ I Am So Blessed - www.flickr.com/photos/lori_davis/ Jim270 - www.flickr.com/photos/jim270/ Pixellie - www.flickr.com/photos/pixellie/ (C'mon Bill! I know you can do it! Get Jill to do it if you don't want to.) WolfCub - www.flickr.com/photos/petpursuits/ Jayred - www.flickr.com/photos/bluemistral/ All Rights Reserved. Copyright: © Jenny Gandert Large View
on topic
License and Use
This Children's Place By Me - morning-dance-and-11-things-about-me- on net.photos image has 1024x752 pixels (original) and is uploaded to . The image size is 201893 byte. If you have a problem about intellectual property, child pornography or immature images with any of these pictures, please send report email to a webmaster at , to remove it from web.
Any questions about us or this searchengine simply use our contact form
Published

08.08.22

Resolution

1024x752

Image type

jpg

File Size

201893 byte.