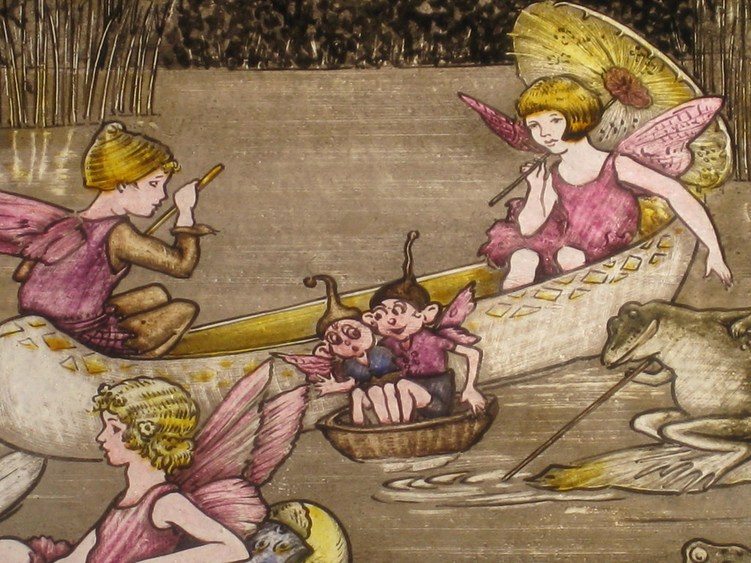 Detail of the First Ida Rentoul Outhwaite Stained Glass Children's Library Window - George Street, Fitzroy
(PID:42781002910)
Source
posted by alias
raaen99
on Monday 10th of September 2018 10:24:32 AM
The first Ida Rentoul Outhwaite Children's Library Stained Glass Window, "Regatta" is taken from the story "Serana: The Bush Fairy", from the book "Fairyland", published by A. and C. Black in London in 1926. The original illustration was executed in pen and ink, so it is brought to colourful life in the pink, brown, green and golden yellow stained glass panel. Juvenile faeries, both male and female, naughty pixies and frogs ride down a river in everything from canoes to improvised vessels made of nutshells, cups and lily pads with paper sails. One of two water police frogs in the bottom right of the panel hooks a naughty pixie as he sails by with his silver topped cane, making the whole scene quite a chaotic one. The faerie girls all wear contemporary 1920s sun dresses, and have either fashionable Marcelle Wave or bobbed hairstyles, which is contrary to the little boy faerie, who seems to have what we may consider to be more traditional faerie garb. The faerie girl at the top right of the melee even has a 1920s stub handled parasol to shade her! The canoe rowed by a frog with two girl faeries in it also has a connection to 1920s modernity, with a Chinese lantern hanging from the stern of the boat: a common site on punts at the time. In 1923 with Fitzroy still very much a working class area of Melbourne with pockets of poverty, the parish of St. Mark the Evangelist decided to address the need of the poor in the inner Melbourne suburb. Architects Gawler and Drummond were commissioned to design a two storey red brick Social Settlement Building. It was opened in 1926 by the Vicar of St. Mark the Evangelist, the Reverend Robert G. Nichols (known affectionately amongst the parish as Brother Bill). Known today as the Community Centre, the St. Mark the Evangelist Social Settlements Building looks out onto George Street and also across the St. Mark the Evangelist's forecourt. When it opened, the Social Settlement Building's facilities included a gymnasium, club rooms and children's library. Opened in 1926, the children's library, which was situated in the corner room of the Social Settlements Building, is believed to be the first known free dedicated children's library in Victoria. The library was given to the children of Fitzroy by Mrs. T. Hackett, in memory of her late husband. The library contained over 3,000 books, as well as children's magazines and even comics. The Social Settlements Building was only erected because Brother Bill organised the commitment of £1,000.00 each from various wealthy businessmen and philanthropists around Melbourne. Mrs Hackett's contribution was the library of £1,000.00 worth of books. Another internationally famous resident of the neighbourhood, Australian children's book illustrator Ida Rentoul Outhwaite, then at the zenith of her career, was engaged by the relentless Brother Bill to create something for the library. Ida donated four stained glass windows each with a hand-painted panel executed by her, based upon illustrations from her books, most notably "Elves and Fairies" which was published to great acclaim in Australia and sold internationally in 1916 and "Fairyland" which had been published earlier that year. These four hand painted stained glass windows were equated to the value of £1,000.00, but are priceless today, as they are the only public works of Ida Rentoul Outhwaite ever commissioned that have been executed in this medium. Ida Rentoul Outhwaite was only ever commissioned to create one other public work; a series of four panels executed in watercolour with pencil underdrawing in 1910 for the Prince Henry Hospital's children's wards in Melbourne (now demolished). Of her panels, only two are believed still to be in existence, buried within the hospital archives. The four Ida Rentoul Outhwaite stained glass windows each depict faeries, pixies, Australian native animals and children, taken from her book illustrations. At the time of photographing, the windows - three overlooking George Street and one St. Mark the Evangelist's forecourt - were located in the community lounge, which served as a drop-in lounge and kitchen for Fitzroy's homeless and marginalised citizens. Today the space has been re-purposed as offices for the Anglicare staff who run the St. Mark's Community Centre, possibly as a way to protect the precious windows from coming to any harm. The only down-side to this is that they are not as easily accessed or viewed as when I photographed them, making my original visit to St. Mark the Evangalist in 2009 extremely fortuitous. The Ida Rentoul Outhwaite Children's Library Stained Glass Windows are one of Australia's greatest hidden treasures, which seems apt when you consider that the pixies and faeries they depict are also often in hiding when we read about them in children's books and the faerie tales of our childhood. The fact that they are hidden, because it is necessary to enter a little-known and undistinguished building in order to see them, ensures their protection and survival. The windows are unique, not only because they are the only stained glass windows designed and hand-painted by Ida Rentoul Outhwaite, but because they are the earliest and only examples of stained glass art in Australia that deals with theme of childhood. I am indebted to Peter Bourke who ran the St. Mark's Community Centre in 2009 for giving me the privilege of seeing these beautiful and rare windows created by one of my favourite children's book artists on a hot November afternoon, without me having made prior arrangements. I also appreciate him allowing me the opportunity to photograph them in great detail. I will always be grateful to him for such a wonderful and moving experience. Ida Sherbourne Outhwaite (1888 - 1960) was an Australian children's book illustrator. She was born on the 9th of June 1888 in the inner Melbourne suburb of Carlton. She was the daughter of the of Presbyterian Reverend John Laurence Rentoul and his wife Annie Isobel. Her family was both literary and artistic, and as such, gifted Ida was encouraged from an early age to embrace her talent of drawing. Her elder sister, Annie Rattray Rentoul (1882 - 1978), was likewise encouraged to write, and both would later form a successful partnership. In 1903 six fairy stories written by Annie and illustrated by Ida were published in the ladies' journal "New Idea". The following year the Rentoul sisters collaborated on a book called "Mollie's Bunyip" which was received with instant success because it combined the idea of European faeries, witches and elves and the Australian bush. "Mollie's Staircase" followed in 1906. In 1908 the Rentoul sisters published their first substantial story book, "The Lady of the Blue Beads". On 9 December 1909 Ida married Arthur Grenbry Outhwaite (1875-1938), manager of the Perpetual Executors and Trustees Association of Australia Ltd. (Annie remained unmarried her entire life). After her marriage, Ida was known as Ida Rentoul Outhwaite, but did not publish anything substantial as she established her family and household until part way through the Great War. In 1916 she brought out her first coloured work; "Elves and Fairies", a de luxe edition produced entirely in Australia by Thomas Lothian. The success of the book, with its delicate watercolour plates, was due both to Ida's artistic talent and to the business acumen of her husband, who provided a £400.00 subsidy to ensure a high-quality production and consigned royalties to the Red Cross, thereby encouraging vice-regal patronage. "Elves and Fairies" is still her best known and loved work. Encouraged by her latest success, Ida travelled to Europe after hostilities ended and in 1920 exhibited in Paris and London. The critics compared her to other artists of the golden years of children's illustration such as Arthur Rackham and Edmund Dulac, thus sealing her international success. She signed a contract with British book publishers A. & C. Black who published five books for her over the next decade, including "The Enchanted Forest" (1921), with text by her husband, and, probably the most popular of all the Rentoul sisters' collaborations, "The Little Green Road to Fairyland" (1922). "The Fairyland of Ida Rentoul Outhwaite" (1926), another sumptuous volume, with text by her husband and sister, was less successful. A. & C. Black also produced a number of postcard series using her illustrations from "Elves and Fairies" as well as her other books published by them. In 1930 the last of her books published by A. & C. Black was released, but already times were changing, and the interest in Ida's work was rapidly fading. Angus & Robertson brought out two more books in 1933 and 1935 but they received relatively little attention. Her last two exhibitions, which between 1916 and 1928 were almost annual events, were held in 1933. The Second World War changed the world, and Ida and Annie's work was relegated to a bygone era, shunned and forgotten. Ida suffered the loss of both of her sons during the war, and she spent her last years sharing a flat in Caulfield with her sister, where, survived by her two daughters, she died on 25 June 1960. She did not live to see the resurgence of interest in her work some twenty-five years later, when in 1985, her picture of "The Little Witch" from "Elves and Fairies" was published on an Australian stamp, opening the fairy world of Ida Rentoul Outhwaite to a whole new generation of children and adults alike.
on topic
License and Use
This Children's Place By Me - detail-of-the-first-ida-rentoul-outhwaite-stained-glass-childrens-library-window-george-street-fitzroy on net.photos image has 1024x768 pixels (original) and is uploaded to . The image size is 230553 byte. If you have a problem about intellectual property, child pornography or immature images with any of these pictures, please send report email to a webmaster at , to remove it from web.
Any questions about us or this searchengine simply use our contact form
Published

07.01.22

Resolution

1024x768

Image type

jpg

File Size

230553 byte.