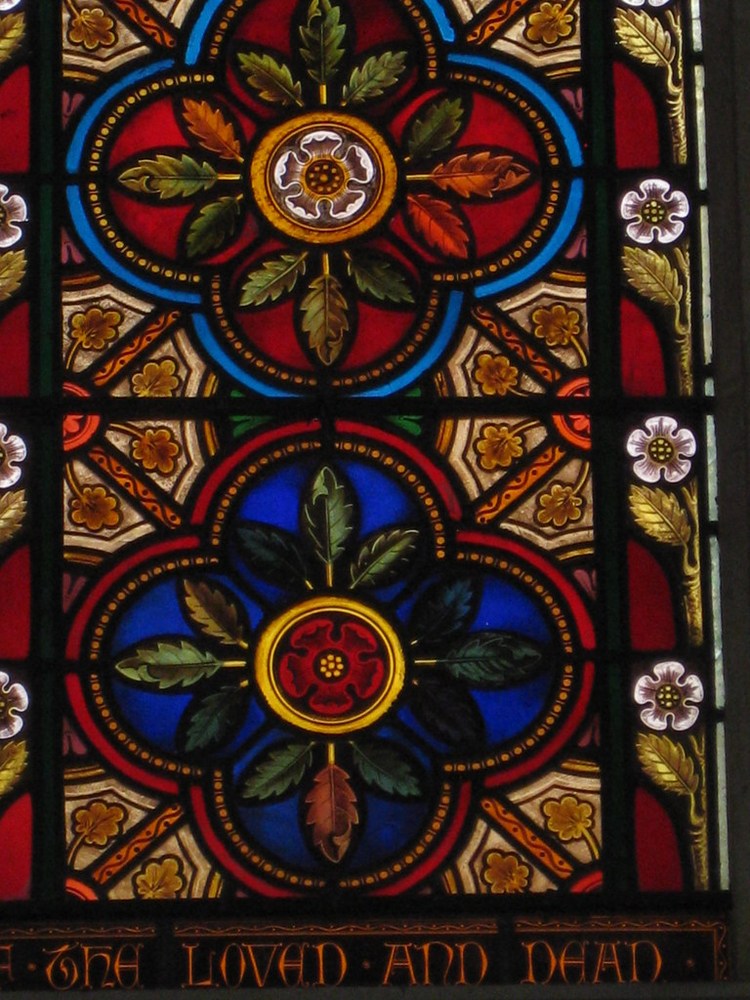 Detail of the Chancel Lancet Windows by Ferguson and Urie; the Former Saint George's Presbyterian Church - Chapel Street, St Kilda East
(PID:33456568338)
Source
posted by alias
raaen99
on Sunday 10th of March 2019 12:45:28 AM
The large triple lancet windows in the Chancel of the former Saint George's Presbyterian Church were presented by Lady Margaret McCulloch, second wife of Sir James McCulloch, fifth Premier of Victoria and one of the original founders of the church. Made by Melbourne stained glass manufacturers Ferguson and Urie for the church in 1880, they are perhaps the most beautiful of all the stained glass windows in the church. They are very rich in colour, are quite ornate and would have been very costly to install. The inscription reads: "Presented by Lady McCulloch in Memory of the Loved and Dead." The centre lancet window picture depicts "Jesus as the Good Shepherd" with a lamb in his arms. The image of Jesus clutching a lamb is commonly found in windows such as these. The image refers to a passage in John's Gospel in the New Testament, wherein Jesus describes himself as the good shepherd. The image of the Good Shepherd is designed to remind parishioners of Jesus' love for all his sheep, even the black ones, and the value that each person has for him. He stands benevolently with his shepherds' crook, clutching the white lamb in the crook of his arm. The lamb's eves are closed and it looks comfortably at peace next to Jesus' breast. At his feet the passages of Mark 10: 13 -14 are referenced: "People were bringing little children to Jesus for him to place his hands on them, but the disciples rebuked them. When Jesus saw this, he was indignant. He said to them, 'Let the little children come to me, and do not hinder them, for the kingdom of God belongs to such as these'." The outer windows both have a cartouche beautifully depicting a cherubic child of indiscriminate sex with cascading tresses about their face. Such images of children praying were typical in all forms of media during the Victorian era and represent the late Nineteenth Century ideal of piety instilled from a young age. No doubt these two images were meant to instill such thoughts in the children of the congregation, and remind their parents of their parental duty in a Presbyterian household. Both cartouches are flanked above and below by a red quatrefoil with a blue frame, containing green rose boughs and a central white Tudor Rose, representing purity, innocence and yet again, piety. There are also blue quatrefoils with a red frame, containing green rose boughs and a central red, five petal Tudor Rose, representing the five wounds of Jesus Christ from the crucifixion. The left lancet window depicts a child praying in bed. Beneath is referenced the Biblical passage of Samuel 3 -10: "The Lord came and stood there, calling as at the other times, 'Samuel! Samuel!' Then Samuel said, 'Speak, for your servant is listening'." The child in the cartouche may represent the child Samuel, who looks suitably wide eyed and awe struck to have heard the voice of the Lord as he listens attentively. The right lancet window depicts Samuel upon his knees praying with his eyes cast upwards. It is based upon "The Infant Samuel" oil painting by Sir Joshua Reynolds painted circa 1776'' which is today held in the collection of the Tate Gallery in London. Whether an intentional design or just a quirk of luck, the child actually looks directly into the face of Jesus in the middle pane. This particular image of Samuel has been reproduced many times in many different medias since the late 1700s. Perhaps more interestingly, "The Infant Samuel" by Sir Joshua Reynolds was used in the first Australian Christmas stamp in 1957, which was a purple four pence stamp, designed and engraved by Mr. Donald Cameron. Beneath the image of Samuel is referenced the Biblical passage of Timothy 3 -15: "and how from infancy you have known the Holy Scriptures, which are able to make you wise for salvation through faith in Christ Jesus". Lady Margaret McCulloch (née Boak Inglis) (1827 - 1904), was born at Kirkintilloch, Dunbartonshire. The daughter of William Inglis of Wallflat, Dumbartonshire, she was Sir James McCulloch's second wife. She met Sir James by way of her father, who was an associate of Sir James. Sir James McCulloch (1819 - 1893), was a politician and the fifth Premier of Victoria between 1863 and 1868. was born in Born at Glasgow, Scotland, the son of George McCulloch, he grew up in a staunch Presbyterian household. He entered the mercantile house of J. & A. Dennistoun upon the completion of his education. James married Susan Renwick daughter of the Reverend James Renwick a dissenting minister of the Free Church, of Muirton, Forfarshire, Montrose, in 1841. She died at Montrose four years later. As a junior partner James decided to leave Britain and its sad memories, and arrived in Melbourne in 1853 to open a branch of J. & A. Dennistoun with Mr. Robert Sellar. When the branch closed nine years later, McCulloch, Sellar & Co. was formed in connection with Leishman, Inglis & Co. of Leith. Between 1856 and 1857 and again between 1862 and 1863 James was the president of the Melbourne Chamber of Commerce. In addition he was also a local director of the London Chartered Bank. In his last two years in Glasgow he had been collector of the Trades House, an influential educational and charitable institution, and in Melbourne he supported such charities and public causes as the Benevolent Asylum, the Melbourne Hospital and the St Kilda volunteers. James became Premier of Victoria and Chief Secretary in June 1863; in May 1864 he also became the Postmaster-General. James remained in office until September 1869. He took a second wife, Margaret Boak Inglis, daughter of his associate William Inglis of Wallflat, Dumbartonshire, whom he married in Melbourne on the 17th of October 1867. James was knighted in 1870 and made a member of the Most Distinguished Order of Saint Michael and Saint George and Margaret became Lady McCulloch. The newly knighted Sir James McCulloch was Premier of Victoria again between 1870 and 1871 and yet again from 1875 to 1877. During this last period, he passed a bill abolishing all government funding to religious schools, a measure which was supported by all denominations except the Anglicans, since it freed church schools from government supervision. Sir James' government also introduced a bill to create a system of free, secular government schools, but the Catholics and Anglicans joined forces to block it. Tired and disillusioned, he resigned from Parliament in 1878. Residing in St Kilda, it is because of his enthusiasm and liberality that Sir James inspired the founders to think and act in large terms, and establish a proper Presbyterian church in St Kilda which, according to the Saint George's Presbyterian Church's 1876 - 1926 Jubilee Souvenir Book became "a noble edifice of which any denomination might be proud." Sir James became one of Saint George's Presbyterian Church's first elders and trustees. Sir James left for Britain early in 1886 and lived at Garbrand Hall in Ewell, Surrey. Even though he left Australia, he still held a fondness for his beloved Saint George's Presbyterian Church in East St Kilda. In 1890 he inquired what debt still remained on the church, and upon being informed, paid off one half of the amount owing. This was in addition to the countless funds he had already put into the initial Church Building Fund. Sir James died at Garbrand Hall in 1893. He had no children with either his first or second wife. Lady Margaret never ventured back to Australia after her husband's death and lived for the most part in Chislehurst, Kent, where she died in 1904. She bequeathed the sum of £5,000.00 to establish a Sir James McCulloch tutorship in the Theological College of the Presbyterian Church in England. She also bequeathed a painting; "Christ's Lesson in Humility" by English genre painter Charles Robert Leslie (1794 - 1859), and a bust of her late husband to the Melbourne National Gallery (now the National Gallery of Victoria). The former Saint George's Presbyterian Church, which stands on busy Chapel Street in St Kilda East, is a well known and loved local landmark, not least of all because of its strikingly tall (33.5 metre or 110 foot) banded bell tower which can be spotted from far away. In the Nineteenth Century when it was built, it would have been even more striking for its great height and domineering presence. Designed by architect Albert Purchas, the former Saint George's Presbyterian Church is often referred to as his ecclesiastical tour-de-force, and it is most certainly one of his most dramatic and memorable churches. The former Saint George's Presbyterian Church was constructed on a plot of land reserved in Chapel Street for the Presbyterian Church of Victoria in 1866. Initially services were held in a small hall whilst fundraising efforts advanced the erection of a church. The architect Albert Purchas was commissioned to design the church and the foundation stone for the western portion of the nave was finally laid in April 1877 by Sir James McCulloch. The first service was held in the church on the 1st of October 1877. The first clergyman of the former Saint George's Presbyterian Church was the Reverend John Laurence Rentoul (father to world renown and much loved Australian children's book illustrator Ida Rentoul Outhwaite). However, the swelling Presbyterian congregation of St Kilda and its surrounding districts quickly outgrew the initial Saint George's Presbyterian Church building, so Albert Purchas was obliged to re-design and enlarge the church to allow a doubling in capacity. Robert S. Ekins was the contractor and his tender was £3000.00. It is this imposing church building, reopened in 1880, that we see today. The "Australasian Sketcher with Pen and Pencil" noted that the total length of the building was 118 feet and 6 inches (36 metres), by 40 foot (12 metres) wide and that the striking octagonal tower to the north-west was 110ft 6 in high. It perhaps reflected better the wealth and aspirations of the congregation. The former Saint George's Presbyterian Church is constructed on bluestone foundations and is built in an ornate polychromatic Gothic Revival style in the tradition of English designers like William Butterfield and John L. Pearson. Built of red brick building, it is decorated in contrasting cream bricks and Waurn Ponds freestone dressings. It features a slate roof with prominent roof vents, iron ridge cresting and fleche at the intersection of the nave and transepts. The front facade of the church is dominated by the slender, banded octagonal tower topped by a narrow spire. The entrance features a double arched portal portico. The facade also features a dominant triangular epitrochoidal (curved triangular form) rose window. The church, like its bluestone neighbour All Saints Church of England, is built to a T-shaped plan, with an aisleless nave, broad transepts and internal walls of cream brick, relieved with coloured brickwork. The former Saint George's Presbyterian Church was one of the first major church design in Melbourne in which polychrome brickwork was lavishly employed both externally and internally. The inside of the former Saint George's Presbyterian Church is equally as grand as the exterior, with ornamental Gothic Revival polychromatic brickwork, a lofty vaulted ceiling, deal and kauri pine joinery and pulpit and reredos of Keene's cement. The building originally contained a complete set of Victorian stained glass windows by well known and successful Melbourne manufacturers Ferguson and Urie, all of which remain intact today except for one of the non-figurative windows which was replaced by a memorial window to Samuel Lyons McKenzie, the congregation's beloved minister, who served from 1930 to 1948, in 1949. The earliest of the Ferguson and Urie windows are non-figurative windows which feature the distinctive diaper pattern and floral motifs of Fergus and Urie's work, and are often argued to be amongst the finest of their non-figurative designs. The large triple window in the chancel was presented by Lady McCulloch in memory of the 'loved and dead'. Another, in memory of John Kane Smyth, the Vice-Consul for the United States of America in Melbourne, has the American Stars and Stripes on the top ventilator above it. An organ by Thomas C. Lewis of London, one of the leading 19th century English organ builders, was installed in the south transept in 1882. It was designed to blend with its architectural setting, with pipework styled to avoid the obstruction of windows. The action of this organ was altered in 1935, but the pipework, and the original sound, have been retained. Over the years many spiritual and social activities were instituted at Saint George's, Presbyterian Church some of short duration such as the Ladies' Reading Club which operated between 1888 and 1893. There were segregated Bible classes for young men and women, the Presbyterian Women's Missionary Union, formed in 1892, a cricket club and a floral guild. Guilds teaching physical culture for girls, boys and young men began in 1904. They were entirely financed by John Maclellan and the idea extended to other denominations throughout Victoria. John Maclellan died in 1936 and the guilds ceased at Saint George's Presbyterian church through lack of funds although in 1977 the members of the girls' guild were still holding bi-annual reunions and raising money for charity. Sadly, the Presbyterian congregations may have been large in the Nineteenth Century, but by St George's Presbyterian Church's 110th centenary, its doors had already closed during the week due to dwindling numbers and an ageing congregation as a result of the general decline in church attendances after the Second World War exacerbated by the changing nature of St Kilda and the decrease in numbers of residents living in the vicinity of the church. So it stood, forlorn and empty and seemingly nothing more than a relic of a glorious but bygone religious past. However in 1990, Saint Michael's Grammar School across the road leased the Victorian Heritage listed building during weekdays, and it was eventually sold to them in 2015. It now forms part of the school's performing-arts complex, and it has a wonderful new lease of life. St George's Presbyterian Church is sometimes hired out for performances, and I had the pleasure of receiving an invitation to hear Handel's Messiah performed there in 2009. The ecclesiastical acoustics made the performance all the more magnificent. I remember as I sat on one of the original (hard) kauri pine pews, I looked around me and admired the stained glass and ornamental brickwork. I tried without success over several subsequent years to gain access to the church's interior, settling for photographs of the exterior instead, but it wasn't until 2018 that I was fortunate enough to gain entry to photograph the church's interior. The former St George's Presbyterian Church was opened up to the public for one Sunday morning only as part of Open House Melbourne in July 2018. It was a fantastic morning, and I am very grateful to the staff who manned the church for the day and watched bemused as I photographed the stained glass extensively and in such detail. Albert Purchas, born in 1825 in Chepstow, Monmouthshire, Wales, was a prominent Nineteenth Century architect who achieved great success for himself in Melbourne. Born to parents Robert Whittlesey Purchas and Marianne Guyon, he migrated to Australia in 1851 to establish himself in the then quickly expanding city of Melbourne, where he set up a small architect's firm in Little Collins Street. He also offered surveying services. His first major building was constructing the mansion "Berkeley Hall" in St Kilda on Princes Street in 1854. The house still exists today. Two years after migrating, Albert designed the layout of the Melbourne General Cemetery in Carlton. It was the first "garden cemetery" in Victoria, and his curvilinear design is still in existence, unaltered, today. In 1854, Albert married Eliza Anne Sawyer (1825 - 1869) in St Kilda. The couple had ten children over their marriage, including a son, Robert, who followed in his father's footsteps as an architect. Albert's brother-in-law, Charles Sawyer joined him in the partnership of Purchas and Sawyer, which existed from 1856 until 1862 in Queens Street. The firm produced more than 140 houses, churches, offices and cemetery buildings including: the nave and transepts of Christ Church St Kilda between 1854 and 1857, "Glenara Homestead"in Bulla in 1857, the Melbourne Savings Bank on the corner of Flinders Lane and Market Street (now demolished) between 1857 and 1858, the Geelong branch of the Bank of Australasia in Malop Street between 1859 and 1860, and Beck's Imperial Hotel in Castlemaine in 1861. When the firm broke up, Albert returned to Little Collins Street, and the best known building he designed during this period was Saint. George's Presbyterian Church in St Kilda East between 1877 and 1880. The church's tall polychomatic brick bell tower is still a local landmark, even in the times of high rise architecture and development, and Saint, George's itself is said to be one of his most striking church designs. Socially, Albert was vice president of the Royal Victorian Institute of Architects for many years, before becoming president in 1887. He was also an inventor and philanthropist. Albert died in 1909 at his home in Kew, a wealthy widower and much loved father. The stained glass firm of Ferguson and Urie was established by Scots James Ferguson (1818 – 1894), James Urie (1828 – 1890) and John Lamb Lyon (1836 – 1916). They were the first known makers of stained glass in Australia. Until the early 1860s, window glass in Melbourne had been clear or plain coloured, and nearly all was imported, but new churches and elaborate buildings created a demand for pictorial windows. The three Scotsmen set up Ferguson and Urie in 1862 and the business thrived until 1899, when it ceased operation, with only John Lamb Lyon left alive. Ferguson and Urie was the most successful Nineteenth Century Australian stained glass window making company. Among their earliest works were a Shakespeare window for the Haymarket Theatre in Bourke Street, a memorial window to Prince Albert in Holy Trinity, Kew, and a set of Apostles for the West Melbourne Presbyterian Church. Their palatial Gothic Revival office building stood at 283 Collins Street from 1875. Ironically, their last major commission, a window depicting "labour", was installed in the old Melbourne Stock Exchange in Collins Street in 1893 on the eve of the bank crash. Their windows can be found throughout the older suburbs of Melbourne and across provincial Victoria.
on topic
License and Use
This Children's Place By Me - detail-of-the-chancel-lancet-windows-by-ferguson-and-urie-the-former-saint-georges-presbyterian-church-chapel-street-st-kilda-east on net.photos image has 768x1024 pixels (original) and is uploaded to . The image size is 229509 byte. If you have a problem about intellectual property, child pornography or immature images with any of these pictures, please send report email to a webmaster at , to remove it from web.
Any questions about us or this searchengine simply use our contact form
Published

07.07.22

Resolution

768x1024

Image type

jpg

File Size

229509 byte.