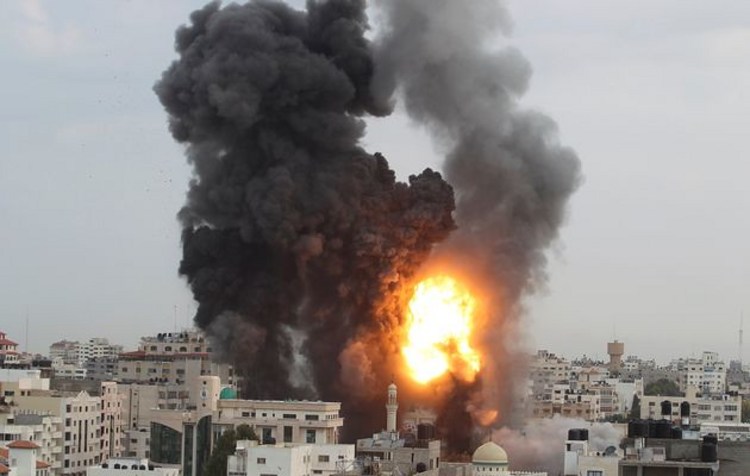 An explosion and smoke are seen after Israeli strikes in Gaza City
(PID:8194762318)
Source
posted by alias
Thanks DOMINiQUE xxx
on Saturday 17th of November 2012 10:48:34 PM
Image by: SUHAIB SALEM / REUTERS An explosion and smoke are seen after Israeli strikes in Gaza City. Israeli aircraft pounded Hamas government buildings in Gaza on Saturday, including the building housing the prime minister's office, after Israel's Cabinet authorised the mobilisation of up to 75,000 reservists, preparing the ground for a possible invasion into Gaza. www.timeslive.co.za/world/2012/11/17/the-latest-in-the-is... Jordan's king orders aid for Palestinians - Sapa-AFP Jordan's King Abdullah II on Saturday ordered the dispatch of urgent humanitarian aid to Palestinians in the Gaza Strip, targeted by Israeli air strikes for a fourth straight day. The Jordanian Hashemite Charity Organisation was instructed to "send urgent humanitarian aid to the Palestinian people in Gaza who are facing suffering and difficult living conditions due to Israeli attacks," the royal palace said. King Abdullah also called for the adoption of "urgent procedures needed to... support the Jordanian military field hospital currently working in the Gaza Strip," the statement said. The palace said the measures were aimed at providing "all the necessary medical care to children of the brotherly Palestinian people... in view of the difficult circumstances in the face of Israeli aggression". Since Wednesday afternoon, Israel has carried out hundreds of air strikes, targeting every city in the densely populated enclave, which is dotted throughout with Hamas facilities and rocket launching sites. On Friday, King Abdullah told US Secretary of State Hilary Clinton in a phone call that he was "deeply worried" about the implications for the whole region of Israel's air strikes on the Gaza Strip, according to the palace. The king, whose government has a 1994 peace agreement with the Jewish state, has been facing a wave of domestic protests initially sparked by big fuel price increases but which have taken on increasing political overtones. Thousands of protesters made unprecedented calls on Friday for the king to go, as police blocked them from heading to the royal palace to vent their anger over the austerity measures. Egypt to hold talks with Qatar, Turkey, Hamas over Gaza - Reuters Egypt's president will hold four-way talks with the Qatari emir, the prime minister of Turkey and Hamas leader Khaled Meshaal in Cairo on Saturday to discuss the Gaza crisis, a presidential source said. Egypt has been working to reinstate a truce between Israel and the Palestinian group Hamas in Gaza, after an informal truce brokered by Cairo broke down. Israel launched a massive air campaign on Wednesday with the declared aim of deterring Hamas from launching cross-border rocket salvoes that have plagued southern Israel for years. "Egypt's presidency will meet today with (exiled Hamas leader Khaled) Meshaal, Qatari Emir Hamad bin Khalifa al-Thani and Turkish Prime Minister Tayyip Erdogan to discuss the situation in Gaza," the presidential source told Reuters. He said it would be a meeting of all four leaders. Erdogan, who arrived in Egypt earlier on Saturday, has been an outspoken critic of Israel, while Qatar's emir visited Gaza in October, breaking the isolation of the Palestinian group. Karzai condemns strikes in Gaza, supports cease fire - Sapa-AFP Afghan President Hamid Karzai on Saturday condemned Israel's airstrikes on Gaza and called for an "immediate stop" to violence against civilians, a statement from his office said. "President Hamid Karzai strongly condemns the strikes by Israel against the Palestinian territory that have killed and injured a number of innocent civilians," the statement said. "Harming civilians is unjustifiable on any side and anywhere," the president was quoted as saying. "Afghanistan fully supports any efforts that can ensure a ceasefire," he added. According to Palestinian medics, 38 Gazans have been killed and 345 wounded since Israel launched the aerial campaign on the Palestinian enclave on Wednesday. In the same period, three Israeli civilians have been killed. Afghanistan does not have diplomatic relations with Israel, and has supported the Palestinian cause for a separate state in the past. "We have always defended Palestinians' right for an independent state and we will continue to stand behind them in the future," foreign ministry spokesman Janan Mosazai told AFP. Civilian casualties caused by NATO strikes in Afghanistan have roiled relations between Karzai and Israel's top ally the United States, which leads NATO forces to fight against the Taliban insurgency. Hamas prevents foreigners leaving Gaza - Sapa dpa Hamas was preventing a group of foreign citizens, including at least 22 journalists, from leaving the Gaza Strip, one of the reporters unable to exit said Saturday. The group, which also includes Turkish nationals working for the Red Crescent, was told by the Hamas-run Interior Ministry they could not cross into Israel. Israel said it was keeping the Erez crossing point, on the northern border of the Gaza Strip, open. Muslim World must retaliate against Israel for Gaza: Iran - Sapa AFP Islamic countries must close ranks and respond to Israel's deadly attacks on the Gaza Strip, Iran's Defence Minister Ahmad Vahidi said on Saturday. "Putting an end to the Zionist (Israeli) regime's crimes is only possible through a united, revolutionary retaliation by the Muslim world," Vahidi said in remarks carried by the official IRNA news agency. Israel is "massacring the oppressed Palestinian people, including women and children" and its strikes amount to a "clear example of war crimes," the defence minister charged. The Jewish state launched a major air offensive on Gaza on Wednesday with a strike that killed the top military commander of the Islamist movement Hamas which rules the territory. Foreign Minister Ali Akbar Salehi, whose country is a key backer of Hamas, on Thursday urged the United Nations and European Union to pressure Israel to halt its offensive, saying the security of the Middle East was at stake. Salehi has also announced his readiness to visit Gaza. And speaking to exiled Hamas chief Khaled Meshaal on the telephone, Salehi said Iran was ready to send "medical and medicinal aids" to Gaza, the official IRNA news agency reported. On Saturday, media reports said Iran was preparing to dispatch a parliamentary delegation to the Palestinian territory. The foreign ministry is "talking with Egyptian officials to facilitate the visit through Rafah," a terminal at Gaza's southwestern border with Egypt, according to MP Mansour Haqiqatpour. Previous attempts by Iran's hardline parliament to dispatch a team into Gaza failed during the rule of former Egyptian president Hosni Mubarak. Palestinian medics said on Saturday that 38 Gazans have been killed since Israel launched the aerial campaign, while Israel's army says Palestinian militants have fired more than 580 rockets over the border. Three Israelis have been killed and 13 injured by the rocket fire. Tunisian minister in Gaza, tells Israel to halt "aggression" - Reuters Tunisian Foreign Minister Rafik Abdesslem visited the Gaza Strip on Saturday and denounced Israeli attacks on the Palestinian enclave as unacceptable and against international law. "Israel should understand that many things have changed and that lots of water has run in the Arab river," Abdesslem said as he surveyed the office of Hamas Prime Minister Ismail Haniyeh reduced to rubble in an overnight air strike. "(Israel) should realise it no longer has a free hand. It does not have total immunity and is not above international law," he added. "What Israel is doing is not legitimate and is not acceptable at all." Israel launched a concerted air campaign against the densely populated territory on Wednesday with the stated aim of halting regular rocket fire out of Gaza that has disrupted life across southern Israel. Palestinian militants have fired hundreds more rockets in the last three days, even targeting the far-away centres of Israeli commerce and government — Tel Aviv and Jerusalem. Abdesslem is the second high-profile visitor to Gaza since the start of the latest wave of violence, with Egyptian Prime Minister Hisham Kandil travelling to the territory on Friday. Their appearance in the enclave reflects ever-stronger Arab solidarity with Gazans and their Islamist leaders following uprisings across the region, which have propelled Islamist-led governments to power in Egypt and Tunisia. "The Arab League should bear its responsibilities to stop this flagrant aggression on our people in Gaza," Abdesslem said. Officials in Gaza said 38 Palestinians, half of them civilians including eight children and a pregnant woman, had been killed since Israel began its air strikes. Three Israeli civilians were killed by a rocket on Thursday. Israel airstrike kills 4, brings death toll to 34 - Sapa-AFP Israeli air strikes on central and southern Gaza killed four people on Saturday, medics said, with Palestinian security sources confirming at least three of them were militants. The latest deaths raised the overall death toll in Gaza to 34 as a relentless Israeli air campaign against Gaza militants entered its fourth straight day. "Three men died in an Israeli air strike on Maghazi camp in central Gaza," said emergency services spokesman Adham Abu Selmiya. Separately, medics said another person was killed in a strike on a motorcycle in the Tel al-Sultan neighbourhood of the southern city of Rafah, which took place shortly before a visit by Tunisian Foreign Minister Rafik Abdessalem He was, who is expected to arrive through the Rafah border crossing with Egypt at around 0800 GMT, official sources said. A Palestinian security source told AFP the three who died in central Gaza were all militants from the armed wing of the ruling Hamas movement, the Ezzedine al-Qassam Brigades, naming them as Ali Manameh, Hossam Abdel Jawad and Assaf Gharwish. Hamas says cabinet headquarters struck in Israeli strike - Sapa-AFP Israeli air strikes hit the cabinet headquarters of Gaza's Hamas government, the group said early Saturday, with eyewitnesses reporting extensive damage to the building. "The cabinet headquarters was targeted with four strikes and the government stresses that it remains committed to its positions and its stand alongside the people," the Hamas government said in a statement. "The IDF (army) has targeted (Hamas prime minister) Ismail Haniya's headquarters in Gaza," an Israeli army spokesman told AFP. "Over the past six hours, the IDF targeted 85 more terror sites,"/ the military spokesperson's official Twitter account added. Eyewitnesses and Hamas officials said the headquarters in the Nasser neighbourhood of Gaza City was virtually leveled in the strike. "The headquarters was completely destroyed and neighbouring houses were damaged as a result of the barbaric Israeli bombing," a Hamas official told AFP. On Friday morning, Haniya and a slew of other top Hamas government officials lined up in front of the building to welcome Egypt's Prime Minister Hisham Qandil, on a brief solidarity trip to the Gaza Strip. The raid on the building came as Israel renewed strikes across Gaza, bombing the headquarters of the Hamas police force in western Gaza City and the government's internal security headquarters in the north of the city. In the northern Jabalia camp, a strike left at least five people injured from the same family, according a source at the Kamal Odwan hospital. The string of attacks came after a relative lull in the violence that began on Wednesday with an Israeli strike that killed a senior Hamas commander. Since then, at least 30 Palestinians have been killed, with over 280 wounded, and Gaza militants have fired hundreds of rockets at Israel, killing three people and wounding 16. Rocket targets Jerusalem as Israel mobilises - Sapa-AFP Palestinian militants fired rockets at both Jerusalem and Tel Aviv on Friday, aiming for Israel's political and commercial hearts and prompting the call-up of thousands more reservists in readiness for a potential ground war. The Israeli military said it had sealed off all the main roads around the Gaza border, declaring the area a closed military zone, in the latest sign that Israel's patience with the rocket fire was at an end and it was poised to launch its first ground offensive on the territory since 2008-9. An AFP correspondent reported seeing tanks massed along the frontier, and a steady stream of reservists arriving throughout the day. US President Barack Obama reiterated US support for Israel's right to defend itself during a call with Israeli Prime Minister Benjamin Netanyahu about the conflict in Gaza. New Israeli air strikes on Gaza on Friday night killed six Palestinians, raising the toll in two days of violence to 30, a Hamas health ministry spokesman said. An Israeli military spokesman said one strike destroyed a Hamas military drone production workshop. Israeli ministers approved the call-up of as many as 75,000 reservists as Netanyahu held late evening talks at the defence ministry in Tel Aviv with his inner circle, Channel Two television reported. The military wing of the Islamist Hamas movement that rules Gaza said it fired the rocket at Jerusalem, the first from the territory ever to strike the outskirts of the Holy City. It marked a major escalation by Hamas in the face of a deadly pounding since Wednesday by Israeli aircraft that has sparked outrage across the Arab and Islamic world. A rocket attack also killed three Israelis. Neither rocket on Friday caused casualties or damage, police said, but they sowed panic in both of the Jewish state's main population centres, setting off warning sirens and sending people scurrying to shelters. One hit a Jewish settlement bloc in the occupied West Bank just south of Jerusalem, which is home to many commuters. "A rocket fired from Gaza hit an open area outside of Jerusalem, causing no injuries or damage," an army spokesman told AFP. Police said it hit in the Gush Etzion bloc of settlements that stretches south of Jerusalem past Bethlehem from just five kilometres (three miles) beyond the city limits. A second rocket crashed into the sea off Tel Aviv "some 200 metres (yards)" from the beachfront US embassy, sending beachgoers fleeing, an eyewitness told AFP. The two rockets were the farthest Gaza militants have ever fired into Israel, exceeding even the 60 kilometres (36 miles) achieved by a rocket that hit the sea off Jaffa, just south of Tel Aviv, on Thursday. UN and Palestinian officials said UN chief Ban Ki-moon would travel to the region in days to push for a truce. "Ban went to the region during the last Israeli offensive against Gaza in 2009 and worked hard to end that conflict. He is looking to produce a truce and ceasefire this time as well," one senior UN diplomat said. Even before the latest rocket fire, senior cabinet minister Moshe Yaalon warned that Israel was poised for a ground offensive. "We are preparing all the military options, including the possibility that forces will be ready to enter Gaza in the event that the firing doesn't stop," he said. As ground troops massed, there was no let-up in Israeli air attacks. A child was among the dead reported by the territory's emergency services on Friday, two of whom were brought in to Gaza City's Shifa hospital as Egyptian Prime Minister Hisham Qandil toured the wards on an unprecedented solidarity visit. Israel denied its aircraft had killed the pair. Qandil kissed the dead body of four-year-old Mohammed Yasser, voicing outrage at his loss. "This tragedy cannot be tolerated, and the whole world bears the responsibility to stop the aggression," he said. The overthrow early last year of veteran strongman Hosni Mubarak, a staunch supporter of Egypt's three-decade-old peace treaty with Israel, has cast a chill over the already lukewarm relationship between the two neighbours. Egypt's new Islamist President Mohamed Morsi, who like Hamas has his roots in the Muslim Brotherhood, has moved to establish closer relations with the Gaza authorities. Washington appealed to Egyptian leaders as well as to allies such as Turkey to use their sway with the Palestinians in a flurry of telephone diplomacy aimed at containing the crisis. President Obama called Turkish Prime Minister Recep Tayyip Erdogan while Secretary of State Hillary Clinton spoke twice with her Egyptian counterpart Mohammed Amr and also with Jordan's King Abdullah II. "In all of the conversations that she has had... we all agree on the need to de-escalate this conflict," State Department spokeswoman Victoria Nuland. In Obama's call to Netanyahu, the president "reiterated US support for Israel's right to defend itself, and expressed regret over the loss of Israeli and Palestinian civilian lives", the White House said in a summary of the conversation. Netanyahu, who initiated the call, expressed his deep appreciation for US investment in the Iron Dome rocket and mortar defense system, "which has effectively defeated hundreds of incoming rockets from Gaza and saved countless Israeli lives", according to the readout. www.timeslive.co.za/world/2012/11/17/the-latest-in-the-is...
on topic
License and Use
This Children Of Men Summary - an-explosion-and-smoke-are-seen-after-israeli-strikes-in-gaza-city on net.photos image has 630x400 pixels (original) and is uploaded to . The image size is 39242 byte. If you have a problem about intellectual property, child pornography or immature images with any of these pictures, please send report email to a webmaster at , to remove it from web.
Any questions about us or this searchengine simply use our contact form
Published

08.12.22

Resolution

630x400

Image type

jpg

File Size

39242 byte.